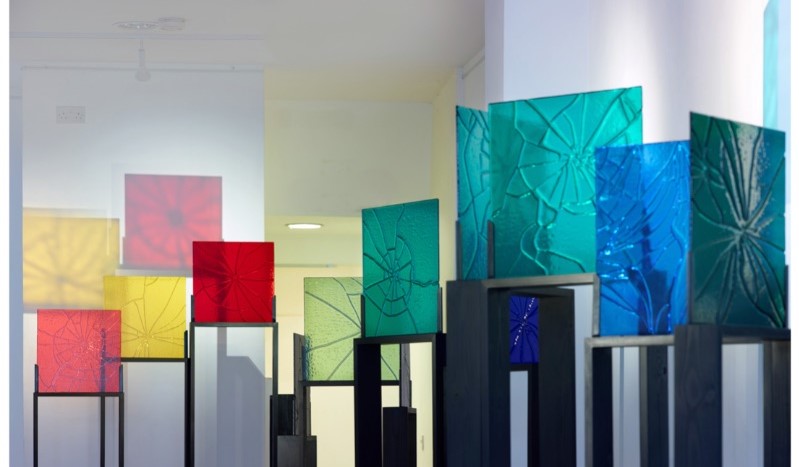 After a delay due to the pandemic, Roberta de Caro, Glass Fellow and former BA Fine Art and MA Art & Material Histories student, has successfully run a socially engaged art initiative for domestic abuse survivors, with plans for expansion.
From the Fragment to the Whole is a project that uses glass as a metaphor for the process of rebuilding one's life after domestic abuse. It involves a series of glass-making workshops for survivors, using fragments of broken glass to make new artwork. Participants are invited to break a sheet of clear glass, collect the shards, and reassemble them onto a colourful sheet. This is then fired in a kiln to create a new glass panel. The breakages come together, showing the beauty of repair. These artworks are then exhibited together in a light installation.
We last shared an update on this project in February 2020, just as workshops were about to take place at the Coin Street Neighbourhood Centre, Lambeth. Due to the Covid pandemic and lockdown, these had to be cancelled. On her website, Roberta discusses how covid restrictions changed the format of the project from group sessions to 1-1 workshops.
"I now believe that one-to-one sessions are a better option for the purposes of the projects due to the delicacy and privacy of the issues discussed. This individual approach allows for a level of intimacy and connection that cannot be replicated in a group setting. The power of these sessions is in the sharing of these stories and in transferring them into the process and the material. The conversations are an integral part of the work on par with the glass itself."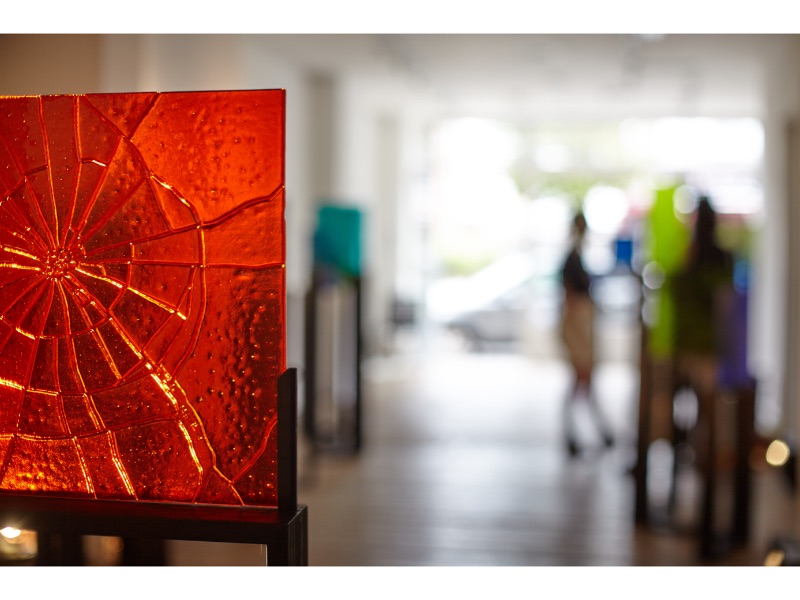 The project's first development took place in 2021, funded by the City & Guilds of London Art School Student Initiated Project Prize. This was presented at the MA Interim Show 2021, from which Roberta was awarded £15,000.00 by Arts Council England National Lottery Project Grant to run the first large project. This was delivered between March and July 2022, involving 24 participants and culminating in an exhibition at Espacio Gallery. Roberta worked in collaboration with alumni and staff members David MacDiarmid, Dr Matthew Rowe, Philippa Beveridge, Alistair Blake, Jyoti Bharwani, Charlie Norton and Martina O'Shea to run the project and create the exhibition. Renowned artist Silvia Levenson was invited as a guest speaker, joining Roberta and glass tutor Philippa Beveridge in an artist talk facilitated by art history lecturer Dr Matthew Rowe.
Roberta is now planning a new development of the project, in collaboration with Art School alumni, technicians and tutors, to deliver 1-1 workshops to survivors of domestic abuse alongside a new series of group workshops for previous participants.
Visit Roberta's website for updates and to find out more about supporting the project.