Artist and academic John Wigley, has been made an Art School Fellow, an honorary, lifelong title which celebrates significant contributions made to the Art School by an external person, usually through achievements in art, craft, heritage or materiality and/or education or pedagogy.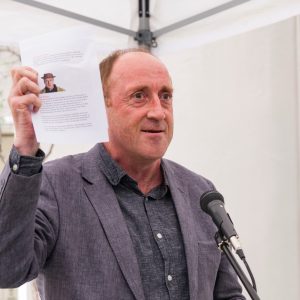 The Art School Board of Trustees and Senior Management Team chose to award the title to John in recognition of his contribution to the progress of the Art School in his role as validating body Link Tutor at Birmingham City University. In its previous incarnation as  University of Central England, Birmingham City University was the first validating body to validate the Art School's Fine Art Painting and Sculpture BA (Hons) degrees in 1997 and Conservation BA (Hons) degree in 1998, consolidating the Art School's position as a centre of excellence for teaching contemporary fine art and the conservation of cultural artefacts.  All BA (Hons) and MA degrees at the Art School are now validated by Ravensbourne University London.
Graduating in Fine Art from Reading University, the Royal College of Art and the British School of Rome, John's career as an artist and lecturer has involved national and international exhibitions and exchanges in both Europe and America. Employing an understated humour, his work tracks his life journey from the South of England, to the North and finally to the Midlands, and his fundamental quest to understand the meaning of belonging and the purpose of existence. John is currently an Associate Professor in Birmingham School of Art, Birmingham City University and a Senior Fellow of the Higher Education Academy.
John was presented with the honorary title at the recent MA Fine Art Prize-Giving and Celebration afternoon, by Head of Fine Art, Robin Mason, where he shared his delight at being part of the Art School's creative community and praised the Art School's dedication to supporting students to excel in contemporary art, craft and conservation, remarking that the work that went on behind the Art School's quiet façade was truly remarkable.