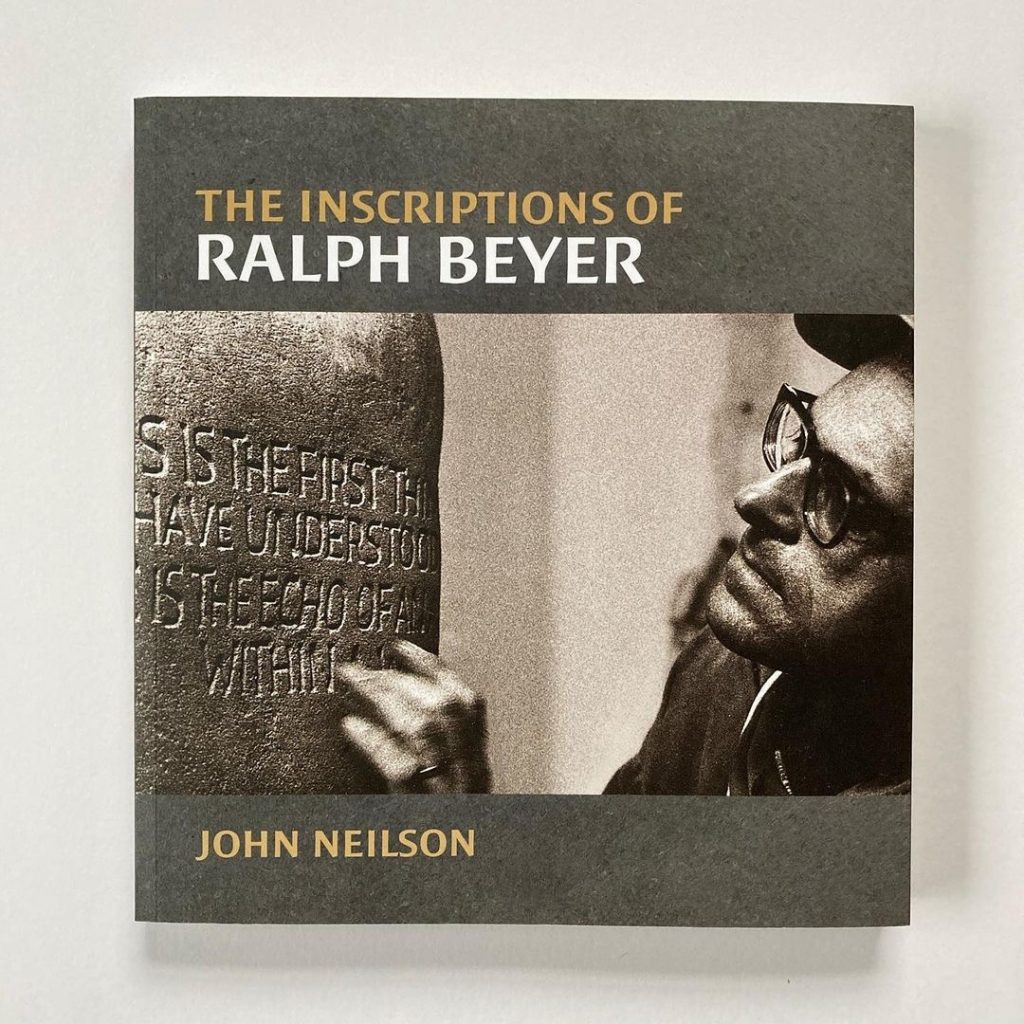 John Neilson, an accomplished letter carver and visiting tutor on the Historic Carving courses at the Art School, has written a new, beautifully illustrated book about the influential letter carver, Ralph Beyer, who also taught Lettering at the Art School from 1983-1994.  The Inscriptions of Ralph Beyer by John Neilson, is the first major publication that unveils Beyer's legacy and considers his work in depth.
Ralph Beyer came to live and work in Britain following exile from Nazi Germany. He disrupted the formal traditions of letter carving in stone by introducing a more irregular and expressive style, typified in his best-known work, 'Tablets of the Word' in Coventry Cathedral.
The tablets of the word by Ralph Beyer – Andrewrabbott, CC BY-SA 4.0, via Wikimedia Commons 
His work was influenced by both his childhood in Germany and his life in Britain, absorbing his father's interest in modern architecture and 'primitive' art and in Britain associating with Henry Moore and Nikolaus Pevsner.
Art School Lettering Tutor, Tom Young, who trained at the Art School on the full time Lettering course that ran until 1996, explains how Beyer's influence is still seen on the Stone Carving course today:
"The course as it exists today is a little different to the one Ralph would have known. Lettering at City & Guilds of London Art School is a part of the Historic Carving course and consequently shares the timetable with a number of other disciplines including stone carving, modelling, and drawing. Because of this, the curriculum focuses on the formal work that will enable students to undertake commissions once they have left the Art School. Two of our visiting tutors, John Neilson and Charlotte Howarth run workshops where the focus is on more expressive work. Charlotte was taught by Ralph when she was a student at the Art School and her reminiscences about that time are included in the book. John, of course, is the author of the book…"
In a post on the Lund Humphries blog, John Neilson reflects on his first introduction to Beyer's work on a school trip to Coventry Cathedral as a boy, when his work "seemed to me a conscious attempt at fake naivety, and showed a poor understanding of letter design." John explains that at the age of 14 he was "already very interested in lettering and thought I was something of an expert on the subject." However, following a rigorous education in calligraphy and historical letterforms in London, he looked upon Beyer's work with a fresh pair of eyes:
"This immersion in tradition and precision was the best possible grounding, but also made different, fresher approaches seem all the more attractive. Thus I slowly became aware of Ralph Beyer's carved lettering, and came to see that although his letterforms had little to do with conventional notions of correctness, there was a quality about his inscriptions which set them apart from simply mediocre work and made them extremely interesting. Writing this book has, in part at least, been an attempt to pin down – or at least discuss – what that quality might be."
The Inscriptions of Ralph Beyer by John Neilson will be available in the Art School library.