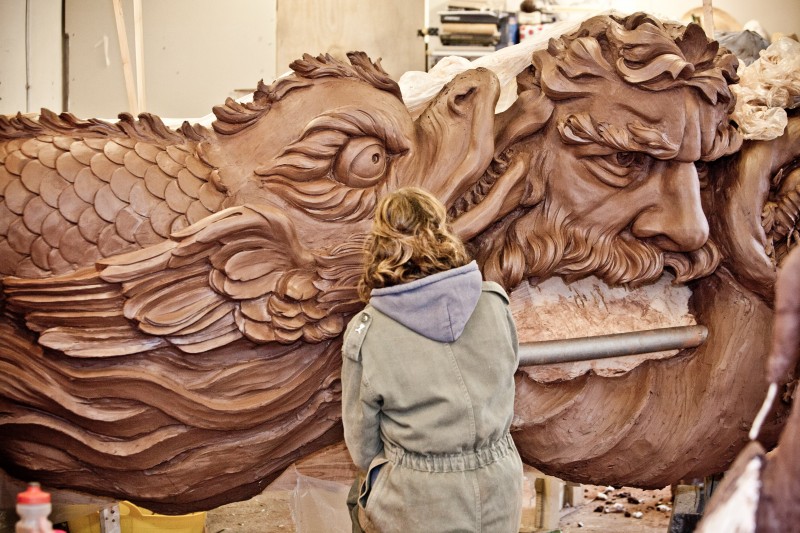 On the occasion of the Queen's Diamond Jubilee in 2012, the Historic Carving Department was commissioned to create the prow sculpture for the Royal Barge heading the Thames River Pageant from Putney to Greenwich. It was a great honour for the School to have been entrusted this important commission, which uniquely allowed to demonstrate its commitment to keeping alive historic craft skills of the highest order.
The gilded superstructure clasping the prow of the barge was designed by the then Head of Historic Carving Alan Lamb, while the overall design for the barge was overseen by Emmy award-winning production designer Joseph Bennett.
Alan was inspired by Prince Frederick's Barge, designed by William Kent and built in 1731, which is on display in the National Maritime Museum. Alan's design is a joyful concoction of nautical iconography. The figurehead of Britannia riding atop two hippocampi is supported by pairs of maritime images running along the port and starboard sides of the vessel: Father Thames holding nets full of fish and shells, classical-style dolphins baring sharp teeth, cornucopia of overflowing shells and vegetation representing England, Scotland, Wales and Northern Ireland. In total the structure measures 5m in length and 2m in height.
The work on the full-size clay model was executed under Alan's direction by a team of more than 40 students, tutors and alumni who for a period of five months concentrated all the skills taught across the School's curricula, from modelling, to casting and gilding. Over two tonnes of terracotta clay are being used to create the model, which will be cast in acrylic resin and gilded with 22ct gold leaf. Watch the video above to see how it was made.
The sculpture included images of:
The Royal Cypher
A personification of "the fair wind"
Cornucopias (horns of plenty) spilling over with shells and crabs
Two enormous sculptures of Old Father Thames
Two two-metre high statues of scaly sharp-toothed classical dolphins.
Flowers and vegetables representing the four realms of the UK
Figures of Britannia riding sea horses designed by Nina Bilbey, senior stone carving tutor
Alan Lamb said: "We want to produce a work of art worthy of the occasion but also something that people will find interesting and entertaining as well as majestic .While still based on traditional images, the dolphins and other sea creatures should appeal to children's (and adults') sense of fun, while Old Father Thames and Britannia lend the grandeur that the sculpture needs to perform its ceremonial function."