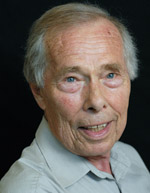 Martin Ravndal Hauge who died in his native Norway on 17 October 2022 aged 85, was a long-standing supporter of students at City & Guilds of London Art School, along with his wife Atla Lund Hauge who passed away on 20 February 2022. They will be greatly missed.
Martin had spent a career teaching at the Institute of Biblical Studies at the University of Oslo and was a published author.
Atla was a published children's and youth author, teacher and winner of Riksmålforbundet's children's and youth book prize in 1995.
Martin and Atla first came into contact with the Art School in the 1990s when their daughter Idun Ravndal a Norwegian Painter, studied Fine Art with us. Idun went on to graduate in 1994, but sadly died on 11 October 2002 aged just 33.  In Idun's memory and in recognition of her time spent at the Art School, Martin and Atla set up the Idun Ravndal Travel Prize to support a student to take a research trip each year towards their studies.
More recently in 2020, Atla and Martin made generous provisions for a future legacy which will provide further, long term support of Fine Art students, and will permanently recognise Idun's very happy years at the Art School – which, in their own words, 'gave insight and the basic rock on which to stand, to start from and to come back to'.
In 2020, the Art School unveiled its own memorial to Idun, through the renaming of one its Victorian fine art studios. The studio plaque celebrates Idun's time at the Art School and was created by fine art alumna and then Painter Stainers' Decorative Surfaces Fellow, Ana Kazaroff.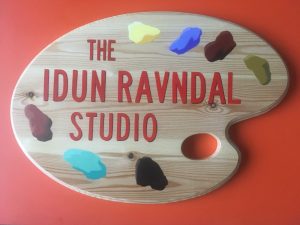 We send our deepest condolences to Martin and Atla's friends and family.