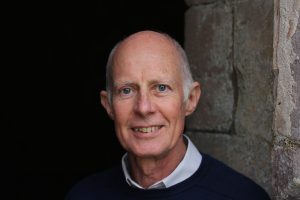 On 13 September 2017, at the Prize Giving Ceremony for the MA Fine Art students, Professor Roger Kneebone was named the Art School's first Honorary Fellow. Following an introduction by Tom Groves, Head of Art Histories – in which he described watching Roger's 'performance' of performing surgery as a quasi-artistic act – Professor Kneebone spoke passionately to gathered graduands and guests about his belief in the importance of cross-disciplinary dialogue in fostering new and innovative ways of thinking and approaches to disciplines, in the arts, science and beyond.
Professor Kneebone is a clinician and educationalist who leads a multidisciplinary research group at Imperial College London, where he is Professor of Surgical Education.
His innovative work on contextualised simulation builds on his personal experience as a surgeon and a general practitioner, and his interest in domains of expertise beyond medicine. Roger has built an unorthodox and creative team of clinicians, computer scientists, design engineers, social scientists, artists, performers and prosthetic experts.
Roger has an international profile as an academic and innovator and from 2013 to 2016 was the Wellcome Trust Engagement Fellow. He publishes widely and speaks frequently at national and international conferences. He is especially interested in collaborative research at the intersections between traditional disciplinary boundaries and brings his considerable knowledge and insight to thinking on art and the nature of craft.
We are delighted that Roger accepted our invitation to be the Art School's first Honorary Fellow and look forward to working with him on future projects, and to welcoming him to the Art School as a highly valued member of our extended community of artists, craft specialists and thinkers.