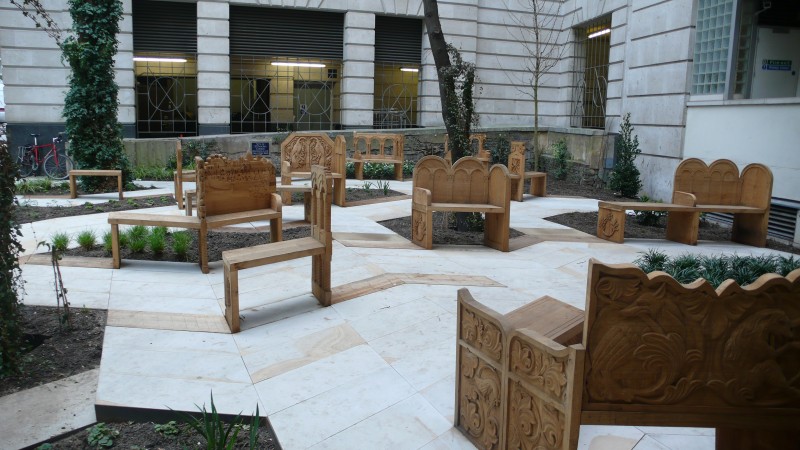 Over summer 2011, a team of tutors and students worked on a commission for the Corporation of London to carve Romanesque-style benches for St. Pancras Church Gardens, London.
St Pancras Church Garden is on the site of St Pancras Church, a late 11th century church destroyed by the Great Fire of London in 1666. The church was never rebuilt, and the site was used first as a burial ground, but then lied basically abandoned until in 2010 the City of London acquired the leasehold of the site in order to turn it into a public garden.
The area was to be redisegned, based on the proposal submitted by Studio Weave, which connected to the history of the site and the Romanesque architecture of the church that used to stand in that same spot.  The poetic idea behind the design is that the church, tucked away in this hidden courtyard in the middle of the modern City of London, has somehow re-emerged, sprouting from the earth in the form of beautifully carved Romanesque wooded benches.
City & Guilds of London Art School was commissioned to produce the benches, which were individually carved during Summer 2011, by a team of tutors and students. The students based the design of the benches on historically referenced Romanesque church carvings.
The garden on St Pancras Lane Cheapside, EC2, was opened to the public in March 2012. To read more about Studio Weave's proposal, read here.