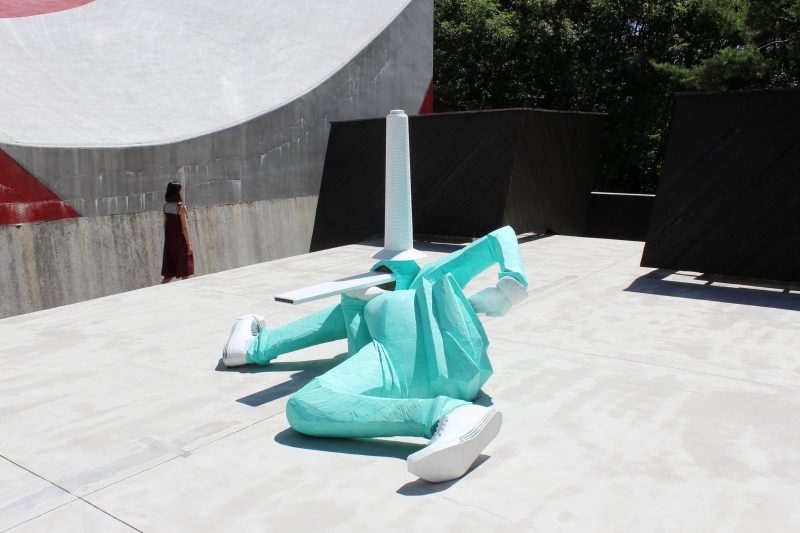 I am currently working as a sculptor but have been a B-BOY (break dancer) even before this. Being a B-BOY is the base for making my works. I emphasise the movement of the body in the way a B-BOY does. I mainly work with wood carvings, expressing the momentum and motion, and in contrast symmetrical poses.
In addition to the sculptures of B-BOY, I also refer to sculptures that are abstracted to the limit as "BUTTAI" (object in Japanese) and create photography works and films.
It looks like a contrastive expression to a sculpture work that is three-dimensional, but it is a work created from the perspective of a B-BOY's body expression. They are all in one extension of a "B-BOY".  The two expressions exist in a contradictory relationship in all senses of "representation and abstraction", "three dimensions and two dimensions", "gravity and weightlessness", and "static and movement" on their extended lines.
In recent years I have been using 3D scanning and 3D printers to change the size of the sculptures and output, replacing them with other materials, and mass-producing.
Taku Obata was born in 1980 in Saitama, Japan, where he is currently based.
In 1999, he formed the hip-hop dance crew Unityselections and refined his style of breakdancing through live performances. In 2008 Obata received a Master's Degree in Sculpture from the Tokyo University of the Arts. That year, he won the grand prize at the Tokyo Wonder Wall Grand Prix.
Instagram: TAKU_OBATA
Twitter: @TakuSpeFAD
Links to films: