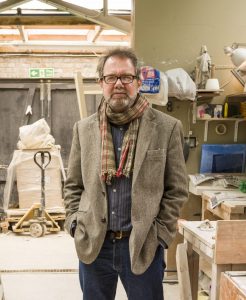 Tim Crawley, Head of Historic Carving, will be stepping aside from his role this summer, after leading the Art School's renowned Historic Carving Department for the past eight years. To ensure continuity and a smooth transition, Senior Stone Carving Tutor, Nina Bilbey, will lead the department whilst the Art School is in the process of recruiting Tim's successor for the start of the new academic year in September.
Commenting on Tim's contribution to the Art School, Tamiko O'Brien, Art School Principal said: "We are hugely grateful to Tim for all of his considerable achievements as Head of Department. He leaves an amazing legacy; in only eight years the department has gone from strength to strength. It is also truly impressive that throughout that time he has maintained his carving practice, completing some very significant commissions, and through this, making opportunities for students and alumni to engage in high profile professional projects. We wish him our warmest best wishes as he steps away from this role to fully embrace his career as an architectural sculptor." She went on to confirm that whilst Tim is stepping back from his role as Head of Department, he will remain an important member of the Art School's community, with plans to return as a guest lecturer.
Tim began his association with the Art School in 1979 when he embarked on the three-year Diploma in Conservation and Restoration, specialising in stone and woodcarving. Following his graduation, Tim developed his practice as an architectural sculptor, working principally with stone. His early career centred around the restoration of historic monuments, carving pieces for King's College Chapel, Cambridge; Ely Cathedral and Westminster Abbey.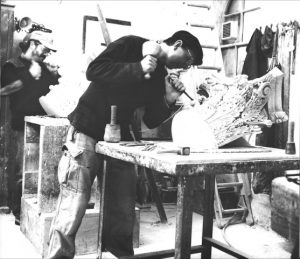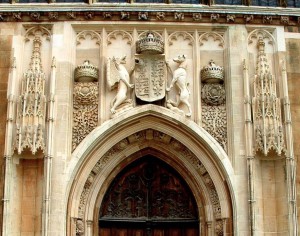 A young Tim studying stone and woodcarving at the Art School 1979-82; Heraldic sculpture, West Door of King's College Chapel, Cambridge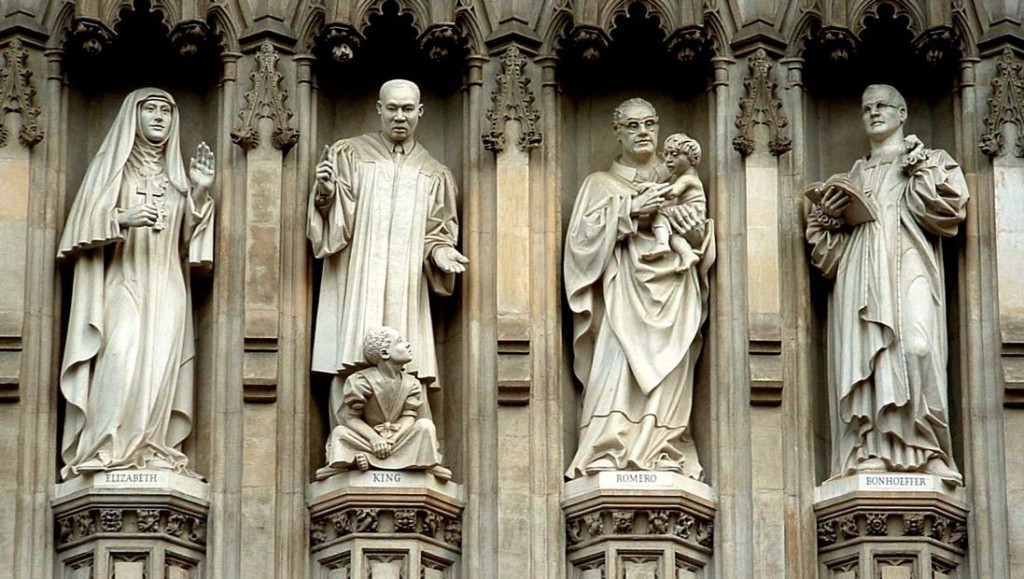 Ten Modern Martyrs, Westminster Abbey West Door
Monumental Lion and Unicorn Sculptures, St George's Bloomsbury
As his prolific career progressed, he designed and carved original sculpture for both historic and contemporary buildings. His award-winning work includes: designing and carving Heraldic sculpture for the Wren-designed gateway at Temple Bar, London; the design and production of four monumental sculptures of Lions and Unicorns for the steeple at Hawksmoor's St George's, Bloomsbury; and a marble fountain for Kenilworth Castle, Warwickshire. In 2017/18 he researched, designed and prototyped a new dragon sculpture during the restoration of the Great Pagoda, Kew, which was then carved and replicated by a team of carvers, including several Art School alumni, and fixed to the corners of the octagonal, ten-storey tower.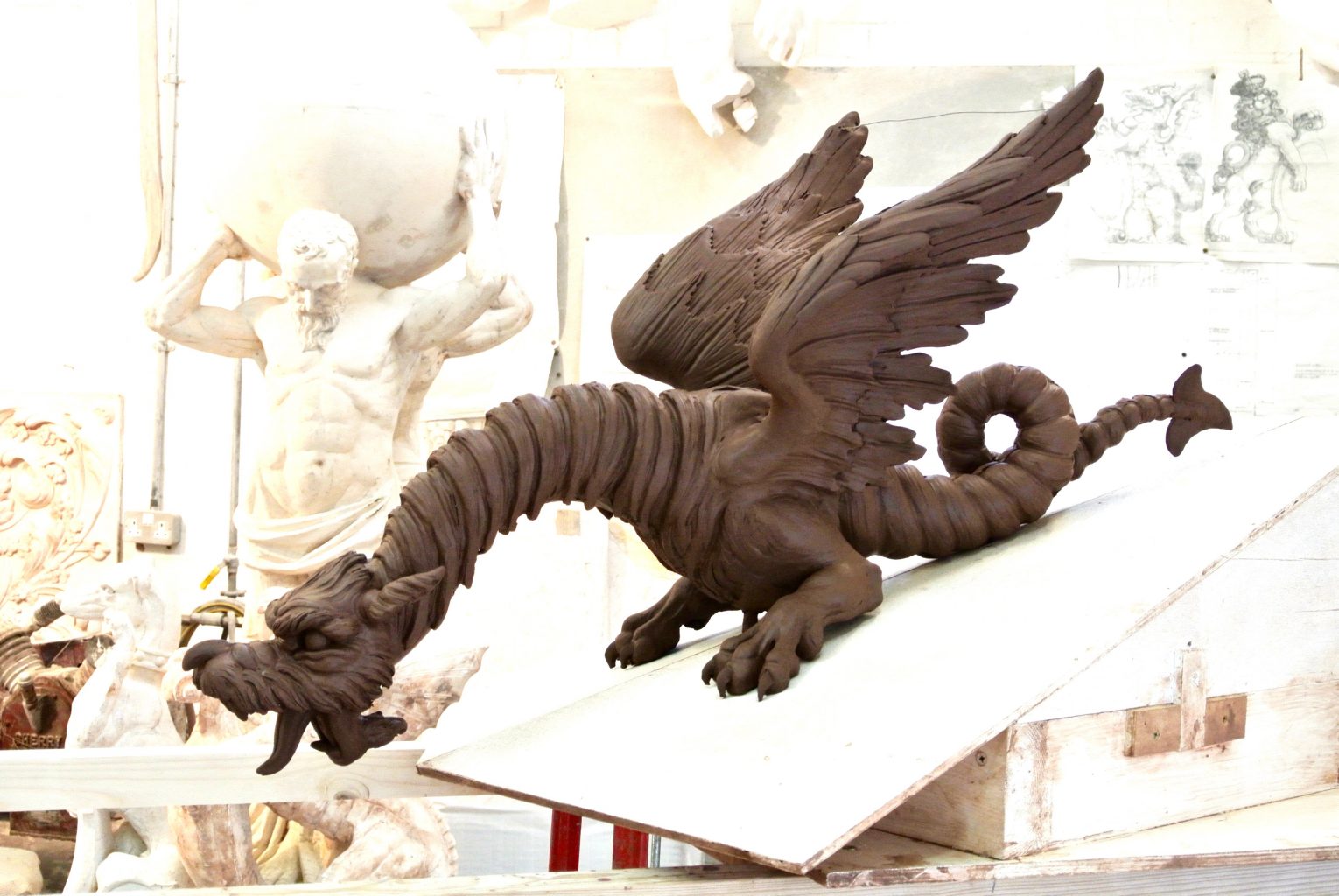 Dragon clay prototype, Great Pagoda, Kew.
During his tenure at the Art School, the Historic Carving Department has seen several major developments. The academic structure of the carving courses has evolved and strengthened, with the very high standard of the Diploma courses recognised through their validation now as BA (Hons) Historic Carving and MA Carving, the only carving courses at this level in the UK. This significant milestone is testament to Tim's leadership and the high quality of teaching and excellent standard of student work in the department. As well as development of the academic structure, the physical structure of the Historic Carving Department has also been enhanced during this time. With funds raised through private donations and grants, the Wood and Stone Carving Studios underwent a major refurbishment and upgrade during 2018/19, providing increased space and improved facilities including a sound-insulated, stone cutting chamber and a beautiful new woodcarving studio.
In his heartfelt address to Tutors and students about his plans to step aside from his leadership role, Tim drew reference to the special and unique atmosphere at the Art School which makes it such an exceptional place to work and study. He attributes this to both the thriving creative community of tutors, technicians and students, and the Art School's ongoing commitment to keeping alive specialist craft skills, teaching with traditional techniques, tools and materials.
Tim also praised the students and teaching team on their amazingly positive response to the current 'Lockdown' situation. He said: "I'm full of admiration for the way carving staff and students have responded to the challenges of our current situation. With spontaneity, enthusiasm and great good humour we have forged a new way of interacting so that our work can continue. It's indicative of the Art School's approach and the strength of our community that we have been able to respond in this way and tap into new reservoirs of creativity and ingenuity."
Once he has stepped back from his role at the Art School, Tim intends to fully focus on his thriving carving practice from his Cambridge workshop. Meanwhile, colleagues and students at the Art School look forward to thanking Tim in person with one of their legendary themed parties!
For more information about the Art School's undergraduate and postgraduate stone and woodcarving courses, please visit www.cityandguildsartschool.ac.uk