The successes of our MA Fine Art students were celebrated yesterday in the Prize-Giving and Celebration event held at the Art School, which was followed by the Private View of the MA Fine Art Show. The Show remains open every day this week until 5pm on Sunday 15 September.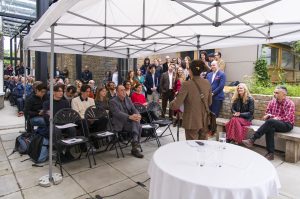 Principal, Tamiko O'Brien, addressing the graduands and guests
After the proceedings were opened with congratulations from Art School Principal, Tamiko O'Brien, MA Fine Art students Lucienne O'Mara and Madeleine Yuille addressed the graduands and spoke warmly about the strong, supportive community of fellow students and tutors at the Art School and their sadness and reluctance to leave it behind. They paid tribute to Wendy Saunders who was studying on the MA course when she tragically passed away earlier this year.  Fine Art Tutor, Reece Jones also remembered Wendy and presented her family with her MA Fine Art (aegrotat). Wendy's work is included in the Show.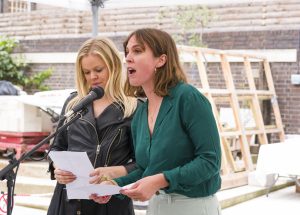 Lucienne O'Mara and Madeleine Yuille (MA Fine Art 2019)
Head of Fine Art, Robin Mason and MA Fine Art, Senior Tutor, Teresita Dennis, presented the MA Fine Art graduates with letters of congratulations, and Director of the Art School Property Trust, Magnus von Wistinghausen, announced the winners of the MA prizes and awards. Scroll down for the full list of winners.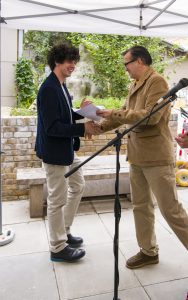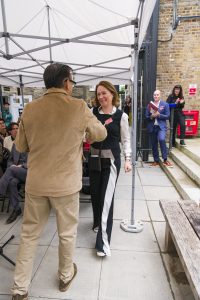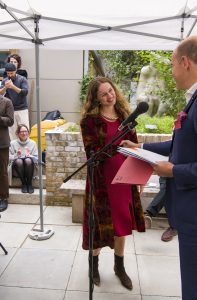 L-R: Robin Mason congratulating Hugo Flores and Geraldine van Heemstra (MA Fine Art 2019); Magnus von Wistinghausen presenting Charlotte Osborne (MA Fine Art 2019) with the City & Guilds of London Art School Prize for Outstanding Work in Print prize.
Student Eleanor Watson won the coveted ACS City & Guilds of London Art School Studio Prize, which was presented to her by Kimberley Ahmet, Senior Manager at Artists' Collecting Society. This prize recognises a graduating MA Fine Art student for excellence in their MA Show presentation. The award consists of funding towards the cost of renting a studio for the year following graduation, with any fund remaining awarded to the student as a stipend. The prize also includes membership to ACS and a one-year subscription to Bridgeman Studio.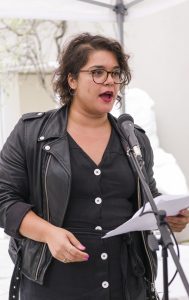 Kimberley Ahmet, Senior Manager at Artists' Collecting Society
International artist Gray Wielebinski, one of our three 2019 artists in residence who are all exhibiting current work as part of the MA Show, spoke to the graduates and their guests about how much they have enjoyed working alongside the MA students, as part of our thriving community, and highlighted the special and unique atmosphere of creative endeavour at the Art School. Gray is looking forward to a residency at Casa de Dona Laura in Portugal funded by Calouste Gulbenkian Foundation and has upcoming exhibitions at Lychee One in London and Organon in Odense, Denmark during this month.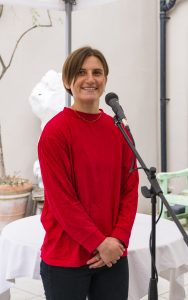 Gray Wielebinski, Artist in Residence 2019
Artist and academic John Wigley, was presented with the lifelong title of Art School Fellow, which celebrates significant contributions made to the Art School by an external person, usually through achievements in art, craft, heritage or materiality and/or education or pedagogy.  The Art School Board of Trustees and Senior Management Team chose to award the title to John in recognition of his contribution to the progress of the Art School in his role at Birmingham City University, which first validated the Art School's Fine Art and Conservation degrees.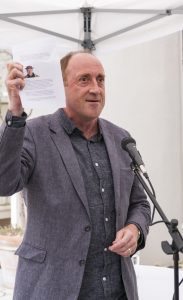 John Wigley, Art School Fellow
Following the afternoon of celebrations, guests enjoyed viewing the outstanding work displayed throughout the exhibition, and at 6pm the doors of the Art School were opened to welcome visitors to the bustling Private View, which continued until later in the evening. The MA Fine Art Show continues until 5pm on Sunday 15 September, and is well worth visiting to view the impressive and diverse contemporary fine art made by our 15 graduating MA Fine Art students, 8 first year MA Fine Art students, 3 artists in residence, 3 Fellows and 1 Chair of Students!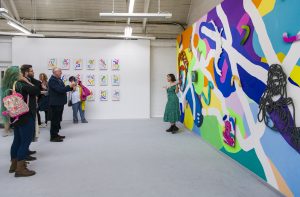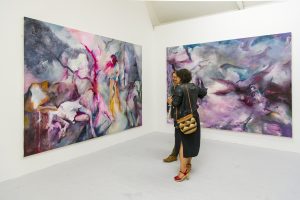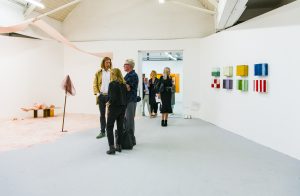 2019 PRIZES AND AWARDS
The Norman Ackroyd Prize for Etching – Geraldine van Heemstra
The ACS City & Guilds of London Art School Studio Prize – Eleanor Watson
The Astor Materials Prize (for an ongoing part-time MA student) – Ian Ryan
The Tony Carter Award – Lucienne O'Mara
City & Guilds of London Art School MA Prize for Outstanding Critical Engagement – Charlotte Osborne
City & Guilds of London Art School Prize for Outstanding MA Fine Art Exhibition – Hugo Flores
City & Guilds of London Art School Prize for Outstanding Work in Print – Charlotte Osborne 
The Slaughterhaus Print Studio Prize – Eleanor Watson