The exquisite craftsmanship of Grinling Gibbons, the celebrated 17th century Master woodcarver, holds a special place at the Art School. Senior Woodcarving Tutor, Peter Thuring, has long been an admirer of the prodigious carver and has just published an elegant book, 'Grinling Gibbons, The Painter in Wood', featuring his photography of the famous and substantial collection of Gibbons' work which adorns the walls in the Carved Room at Petworth House, West Sussex.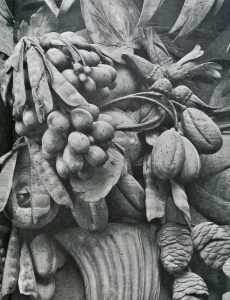 Peter Thuring, is an experienced professional photographer and for many years a carver and gilder working for the National Trust from a workshop in Petworth House. He became enthralled by Gibbons' work when the close proximity of his workshop meant he could make regular trips to the Carved Room to admire the ornate carvings.
He recently embarked on a project to photograph the beautiful Triple Surrounds. His ambition was to present the carvings, for the first time, in the light in which they were originally intended to be seen, as they are currently in a different location from that for which they were originally designed.
This was no simple task. Peter had to take shots from the top of a scaffold tower using powerful lights and a 5×4″ plate camera in order to capture the fine detail and nuance of the work. He was careful to ensure the lighting was poised at the correct angles for each part of the Surround, to show the carvings in the way Gibbons originally intended. The resulting monochrome photographs feature in his new book, 'Grinling Gibbons, The Painer in Wood' along with a foreword by Max Egremont, a history of the Carved Room at Petworth by Andrew Loukes and an introduction by Peter.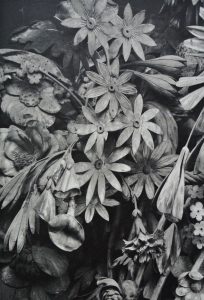 Peter Thuring is currently leading a new guided element to the curriculum within our Postgraduate Woodcarving Diploma. This part of the curriculum focuses on the work of Grinling Gibbons. Several students on our ornamental wood carving courses are generously supported by The Drapers' Company (of which Gibbons himself was a member) through The Drapers' Company Grinling Gibbons Wood Carving Scholarships.
Peter has negotiated an opportunity for postgraduate students to study these carvings from close range during their annual clean, and will direct a close study of the material with a view to the students learning from the techniques of a carver universally recognised as an unparalleled virtuoso of his age.
The Drapers' Company have generously supported the latest phase of our Masterplan, an ambitious programme  to renovate and enhance the Art School's studios and facilities, providing a grant towards the creation of a new woodcarving studio in Summer 2018.
For more information about 'Grinling Gibbons, The Painter in Wood' by Peter Thuring, please contact the Art School at office@cityandguildsartschool.ac.uk