BA (Hons) Conservation Studies alumni Hans Thompson (2013) and Max Malden (2012) and current part-time MA Conservation student (and BA alumna 2015) Kirsty Walsh, featured in a lengthy article in The Observer, published on Sunday 2 February 2020.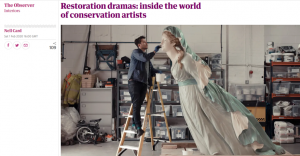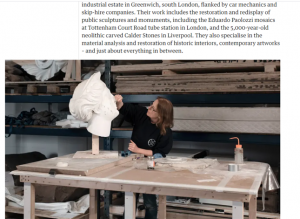 The detailed feature explores the recent work of Orbis Conservation, the thriving conservation firm founded by friends and colleagues Hans and Max in 2013, and later employing Kirsty after she graduated from the Art School.
The article's author, Nell Card, interviews the three conservation experts about their current projects and the sorts of complex issues they tackle when they plan the conservation treatment of the objects in their care.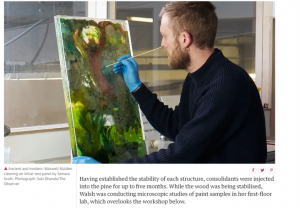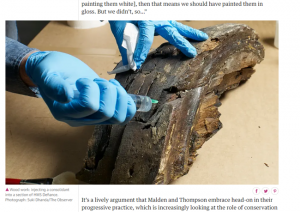 Their most ambitious and large-scale conservation project to date has been the conservation and restoration of six 19th century wooden figureheads from British naval warships, that will be exhibited in The Box, a gallery and museum due to open during May 2020 in Plymouth. Other significant projects include conservation of Eduardo Paolozzi's Mosaic in Tottenham Court Road Tube Station and the carved, late Neolithic Calderstones.
Almost all alumni from our Conservation Department find conservation work in the heritage sector.  Our rigorous Conservation syllabus, including art histories and historic decorative and making techniques, conservation ethics and approaches, analysis and reporting plus analytical and conservation scientific processes, fully equips graduates to work on these types of high-profile, historically-significant projects.