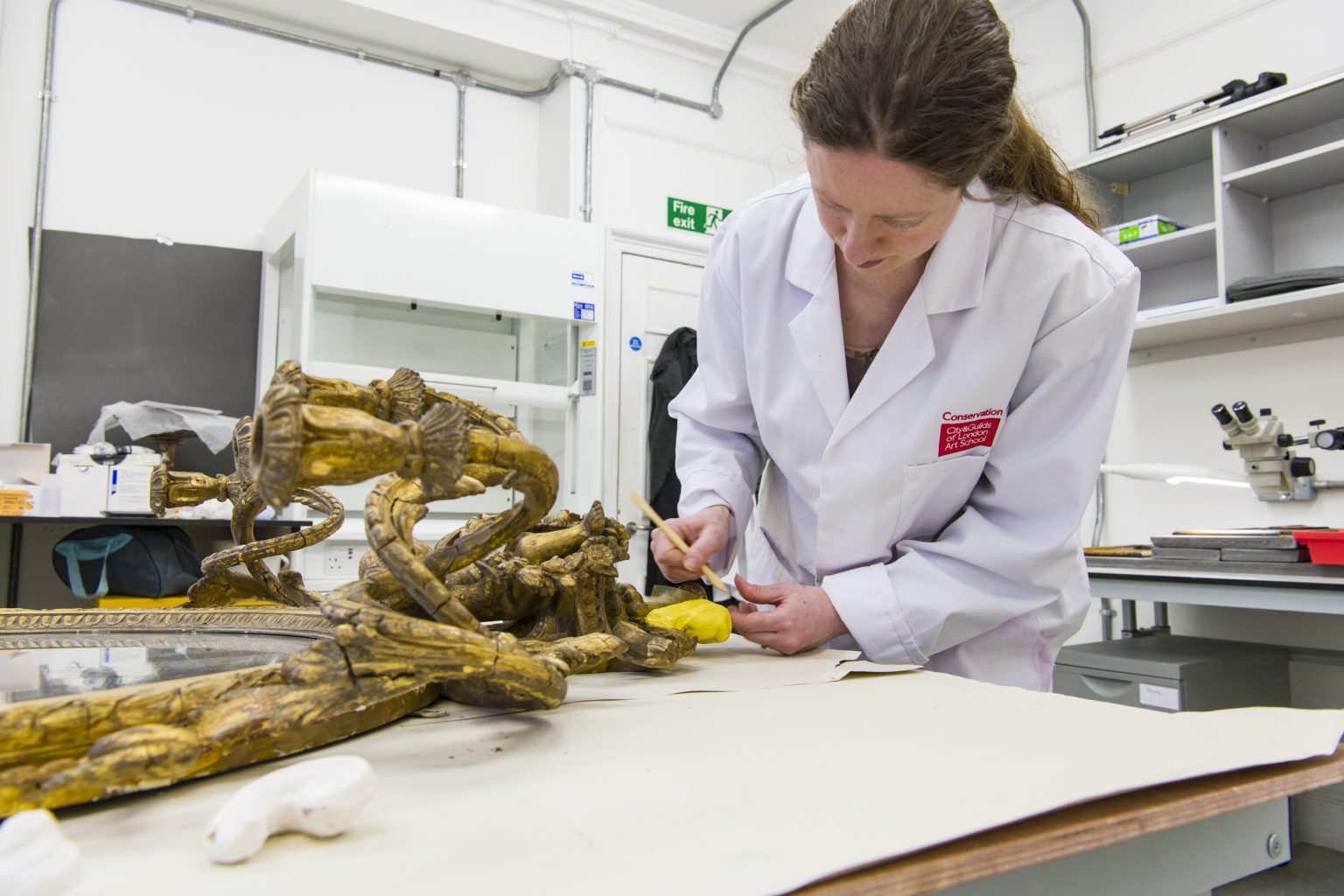 Final year student, Charlotte Okparaeke, creates a mould from a section of ornament on a girandole mirror
The Art School's Conservation students consolidate and deepen their conservation knowledge and skills by treating cultural objects that have been loaned to the Art School by major heritage institutions or private collections.
In the final year of BA (Hons) Conservation, students undertake full conservation projects, which include meticulous analysis, investigation and research, treatment proposal and execution, and finally comprehensive report writing including future care recommendations.
Girandole mirror frame
For one of her final year projects, Charlotte Okparaeke, has been working with a girandole gilt wood and compo mirror frame, on loan from a private collector. Her brief was to stabilize the frame and ornament, and to restore the original scheme, replacing missing components where possible.
In order to replace parts of the ornament, Charlotte identified 3D printing as an appropriate method to create accurate replica pieces, where the reverse section is still complete.  3D printing is being increasingly used in conservation, and Charlotte was able to utilise the expertise and equipment in the Prototyping Department at  Ravensbourne University London thanks to a new collaboration with our validating partner.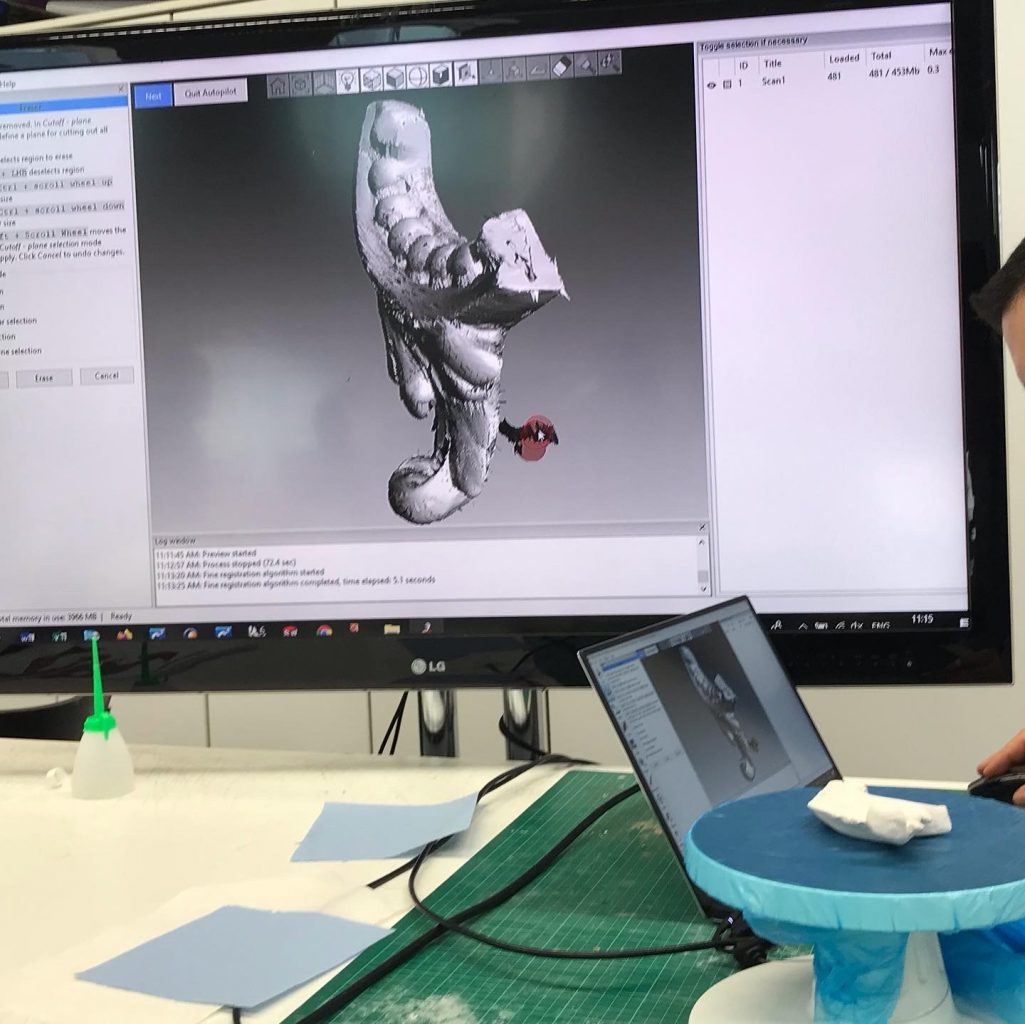 3D scanning a section of ornament in the Prototype Department at Ravensbourne University London
A mould was taken from the surviving section and a plaster cast made. This cast was then scanned and will be refined and reversed with Meshmixer software, then 3D printed to obtain the mirror image.
The 3D print may be used as a positive from which a further mould and cast can be produced in the material of choice. Or it can be used as a negative, providing a ready-made mould. The scan can also be re-sized to allow for shrinkage in the final casting material, such as compo putty.
Charlotte had intended to explore these different options to find the best solution for the mirror but her work has been interrupted by the coronavirus lockdown measures.
Meanwhile she dry cleaned the frame with a soft brush and has experimented with consolidants and wet cleaning methods. A low concentration of rabbit skin glue was proving effective to both clean and readhere loose flakes of gilding.
Peter Laszlo Peri concrete sculpture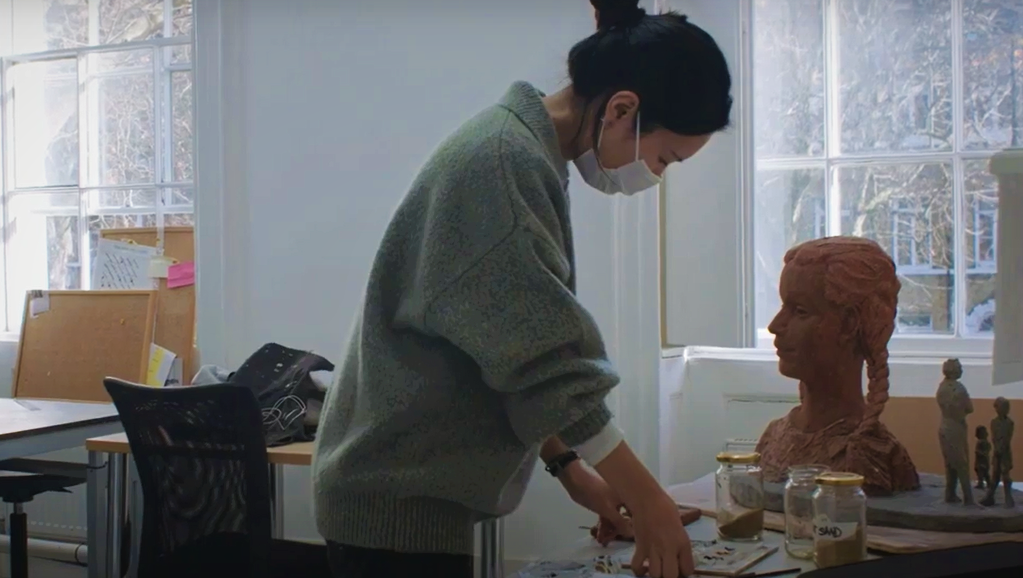 For her MA Conservation, Miyuki Kajiwara is conserving a 1943 concrete sculpture by Peter Laszlo Peri called 'Anne and the Rest of my Family'. As an artist involved in the Constructivism movement, Peter Laszlo Peri pioneered work with concrete modelling, rather than using the more common technique of concrete casting, and made many works using this method.  His works are displayed in Berlin, and in Tate, London.
The sculpture that Miyuki is conserving has an old repair base that needs to be removed, corroded armatures, and losses that need to be filled and retouched. Miyuki's thesis specifically focuses on the polychromy of Laszlo Peri's concrete sculptures between the 1930s and 1950s, which is applied as highlights or to add additional colour to the surface. Polychromy is visible in several of his works but has not previously been researched from a conservation perspective.
Miyuki is using contemporary analytical techniques including microscopy, FTIR spectroscopy, Micro-Raman spectroscopy and X-ray fluorescence to analyse the binder and the pigments the artist has used.
Miyuki has a particular interest in the conservation of modern and contemporary sculpture, which is an area not as commonly studied as the conservation of more historical pieces. A scholarship awarded by the Art School and supported by the Gabo Trust for Sculpture Conservation, has facilitated her postgraduate studies and allowed her to specialise in this specific area of interest. The Gabo Trust was founded by the family of the sculptor Naum Gabo (1890-1977) and provides support for the further education of professional conservators, particularly in the area of modern and contemporary sculpture conservation, which is often made with new materials that are not so well researched.