Inline with guidance from the Government and Public Health England,  the Art School closed its facilities to all staff and students from 6pm on Tuesday 17 March 2020.  Since that time, we have been delivering our Foundation, undergraduate and postgraduate courses remotely, developing effective methods to continue the high quality education the Art School is renowned for.
Through interactive tutorials, seminars, demonstrations, reviews and one-to-ones, our tutors have approached this new online arena in an agile and resourceful way, determined to replicate the Art School experience as closely as possible. Our students have also adapted amazingly well during this period, establishing makeshift home studios and workshops, and continuing to practice remotely.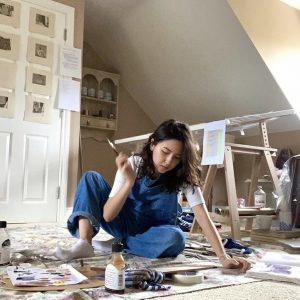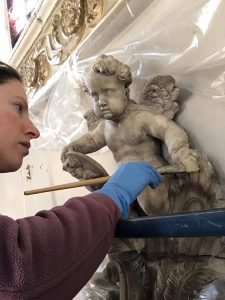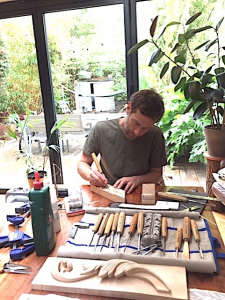 Top: BA Fine Art graduating student Polina Pak.  L-R: Charlotte Okparaeke (BA (Hons) Conservation) treating the Joseph Wade Memorial for one of her final year projects; First year BA (Hons) Historic Carving: Woodcarving & Gilding student, Tom Buchanan, carving an acanthus bracket.
We are absolutely committed to the ongoing progression of all our students and to celebrating the achievements and successes of our final year students, which seem all the more impressive considering the current circumstances. Where possible, their work will be featured in online showcases, meanwhile we are planning exhibitions for our BA and MA graduating students when circumstances allow.  Excitingly, you can now view the brilliant work of our Foundation Diploma in Art & Design students in our purpose-built virtual gallery space that launched this week. Explore the Foundation Show 2020 here.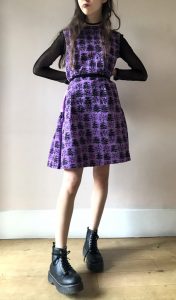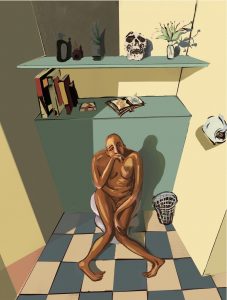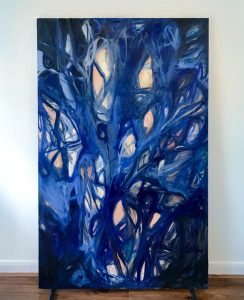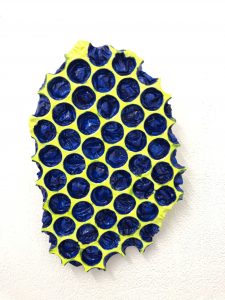 Works featured in the online Foundation Show 2020. Clockwise from top left: Anna Merati; Maurice Matua; Callum Jones; Issy Romano.
Preparations for a safe return
In the meantime, the Art School is making preparations for a safe return for students and staff for the new academic year, starting in September 2020. Strictly adhering to guidance issued by the Government and Public Health England, we are putting measures in place to ensure social distancing and safety procedures can be carried out effectively.
To this end, we are carefully planning the allocation of studio spaces and opening hours for our workshop facilities. To maximise on studio and lab space and time for students, we will be running larger group activities such as lectures and seminars online in the first term, whereas appropriately-spaced one-to-ones and small group tutorials, so integral to our approach, will continue to take place in Art School studios.
Course timetabling will be adapted so that start and end times, and breaks and lunch times can be  staggered to avoid congestion in communal areas.
We are installing hand sanitiser stations throughout the site and reviewing Public Health England and World Health Organisation advice regarding face coverings and PPE. Following a thorough deep clean of the buildings, we are increasing the cleaning rota on a continuous basis and preparing clearly defined routes into and out of the Art School.
We are confident that whilst working within these safety guidelines, we can continue to provide high quality and intensive specialist courses to all our students, maintaining the vibrant, creative atmosphere that is always present at the Art School.
A few places available for 2020/21
We have a few places available on all our courses for 2020/21, which we expect to start in September and October as planned. You can find out more about each course by following the links:
• Foundation Diploma in Art & Design
• BA (Hons) Fine Art
• MA Fine Art
• BA (Hons) Historic Carving: Woodcarving & Gilding
• BA (Hons) Historic Carving: Architectural Stone
• PgDip/MA Carving
• BA (Hons) Conservation: Stone, Wood & Decorative Surfaces
• BA (Hons) Conservation: Books & Paper
• MA Conservation
• MA Art & Material Histories
If you have specific questions about a course or want to know more, you can arrange an online open day with our Heads of Departments. If you are ready to apply for a course, you can find application information and downloadable forms here.  Interviews will be held online or by email.
If you are an international student and have accepted a place at the Art School commencing in 2020/21, please keep yourself informed about the current position with regards to travel and visa processing centre availability. You can contact the Coronavirus Immigration Hotline (Monday to Friday, 9am to 5pm) on +44 (0)800 678 1767 or email CIH@homeoffice.gov.uk. Let us know if you need any assistance with this.
What to do if you have coronavirus symptoms
Continue to stay at home for 7 days if you have either:
– a high temperature – this means you feel hot to touch on your chest or back (you do not need to measure your temperature)
– a new, continuous cough – this means coughing a lot for more than an hour, or 3 or more coughing episodes in 24 hours (if you usually have a cough, it may be worse than usual).
Do not go to a GP surgery, pharmacy or hospital. You do not need to contact 111 to tell them you're staying at home. Testing for coronavirus is not needed if you're staying at home. Please see government advice about self-isolation.
If you are unable to cope with your symptoms at home, or your condition worsens, you can use the NHS 111 online coronavirus (COVID-19) service. If you do not have internet access, call NHS 111. For a medical emergency dial 999.
If someone in your household develops COVID-19 symptoms, all other members of the household need to stay at home for 14 days.
How to avoid catching coronavirus
Public Health England and the NHS advise the following measures to stay healthy:
– limit contact with others and stay at home as much as possible
– maintain social distancing
– wash your hands with soap and water often – do this for at least 20 seconds
– use hand sanitiser gel if soap and water are not available
– do not touch your eyes, nose or mouth if your hands are not clean
– cover your mouth and nose with a tissue or your sleeve (not your hands) when you cough or sneeze
– put used tissues in the bin immediately and wash your hands afterwards