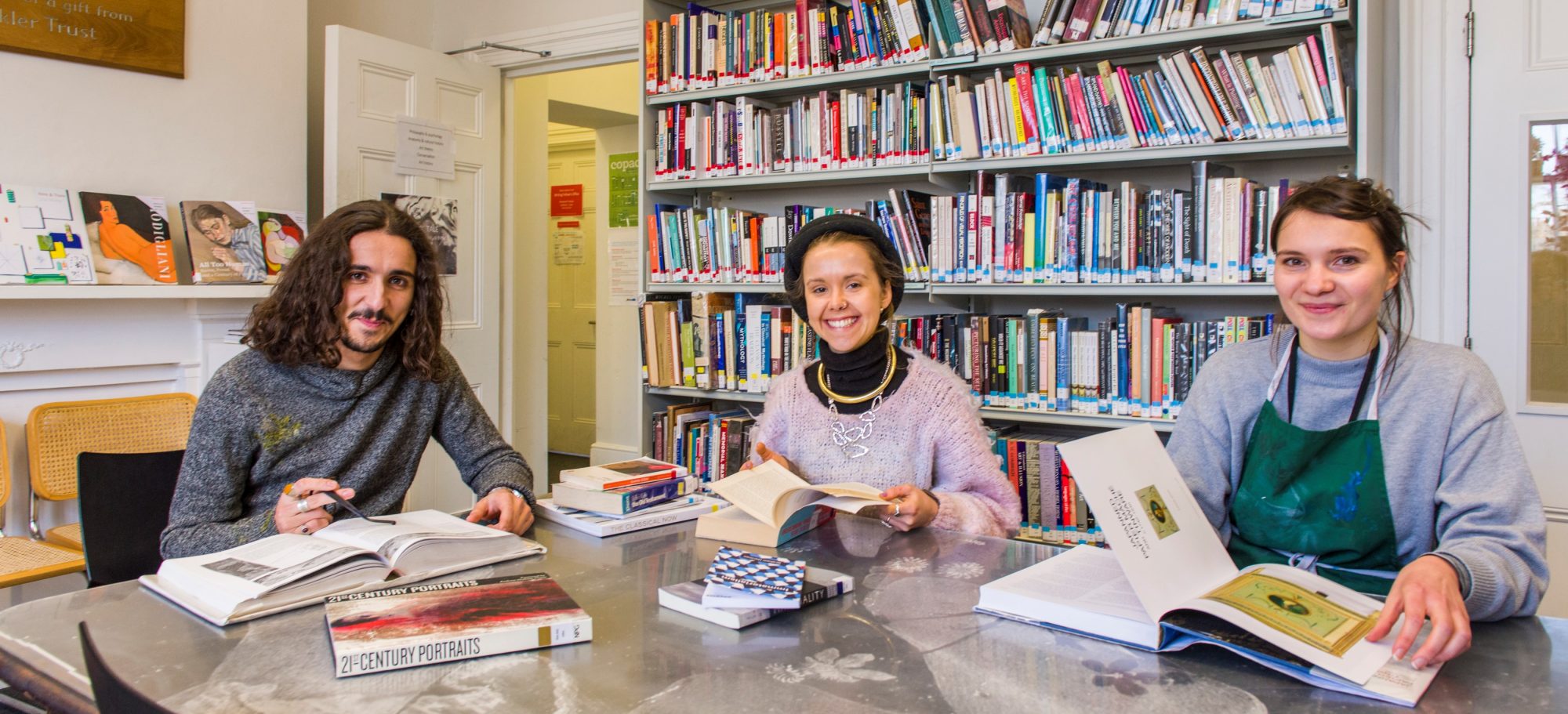 We are currently taking applications for entrance onto our 2021/22 courses. If you'd like to apply for one of our courses, please submit a completed application form, with your digital portfolio on Flickr where applicable, and ask your referee to send a completed academic reference form to admissions@cityandguildsartschool.ac.uk
Whether you are applying within the UK, from the EU/EEA, or anywhere else in the world, we recommend that you read the following information before you complete the application form.
Please follow these links to apply for Study Abroad or the Summer School.
In the sections below, you will find information about the application and selection process, including when you should apply, what you need to submit, how your application will be progressed, and what you can expect at interview and following. We also detail current course fees and other charges, prospective term dates and further key information.
Our Admissions Team are currently available by email, Monday to Friday, at admissions@cityandguildsartschool.ac.uk
Although we currently find email correspondence to be the most effective way to assist applicants, if you would prefer to speak to us, we are very happy to arrange a virtual chat. Please contact us at admissions@cityandguildsartschool.ac.uk for further details.
Flickr portfolio advice
If you are applying for our Foundation course or one of our Fine Art courses then you must provide a link to a Flickr portfolio when completing our application form. For all other courses you have the option to include a digital portfolio but this is not a requirement.
For the digital portfolio, we recommend that you display 15-20 images. You should choose what you consider to be your strongest work undertaken within the last two years, representing the range of your interests and practice. We are not only interested in seeing finished work, so please include work in progress.
Will the 2021/22 courses be affected by Covid-19?
I live overseas and I have accepted a place for 2021/22. Will I be able to travel to the UK to start my course?
I am thinking of studying at the Art School, what should I do?
What fees will I pay?
I am an EU/EEA/Swiss national. Would I pay international fees?
Are there additional costs?
How can I fund my studies?
Are there any grants or financial awards?
What are the entry requirements?
What are the application deadlines?
What happens to my application?
What about the interview and portfolio?
How does the interviewer make a decision?
What happens after the interview?
What do I need to provide to apply for a Student Visa?
What are the term dates for 2020/21?
What general advice, guidance & support is available?
Where can I find more information about the course I am interested in?
I am ready to make an application, what do I do?
What if I change my mind and want to transfer or withdraw?
Further questions?
Is there any data on previous applications?