'I had been looking for etching courses and as far as I have found, this one is quite unique. The course was very coherently structured and demystified a lot about etching for me. I learned more than I expected and I came away with the confidence to set up and make etchings by myself.' Fionnbharr 
Level: Beginners
Tutor: Laura Clarke
SHORT COURSE OVERVIEW
This week long course offers the opportunity to learn the fundamentals of Etching –  hard ground, soft ground, aquatint and steel plate colour printing, and to gain an in depth knowledge into a process that has been used by artists for hundreds of years. But most importantly, get your hands inky and have fun!
COURSE DESCRIPTION
We are very proud of our historic Print Room, which has been central to practice at the Art School since the late 19th century and is quite a unique find these days. It gives students access to the Intaglio process in its historical context and offers the same experiences, in terms of techniques, problems and solutions, as faced by the Old Masters Rembrandt, Goya and Picasso.
On our short course, you'll learn how to make prints through the process of Intaglio Etching, a rare opportunity for students at this level. We'll cover hard and soft ground, sugarlift aquatint, colour etching, as well as printing with collage and multiple plate printing. We'll also examine the historical background of printmaking and how it has been used by artists from its origins to present day.
The traditional Intaglio process involves various methods of 'cutting' an image into the surface of a metal plate, using waxy acid resists and then etching. Once the plate is inked, the incised lines hold the ink whilst the rest of the plate is wiped clean. The plate, in contact with damp paper, is passed through a roller press under pressure. The paper is forced into the sunken areas to receive the ink.
By the end of the course you'll have a confident understanding of the etching process, and your own prints to take home.
Please note that the Print Room, where this course takes place, is accessed by a staircase.
What's included: all materials and sundries eg paper, inks, tools, metal and presses.
What isn't included: your meals, and please bring sketchbooks or images for ideas and inspiration.  You'll also need to bring aprons or old clothing you don't mind getting inky and pencils, graphite, drawing materials.
Places on Summer School are sold through the Eventbrite website.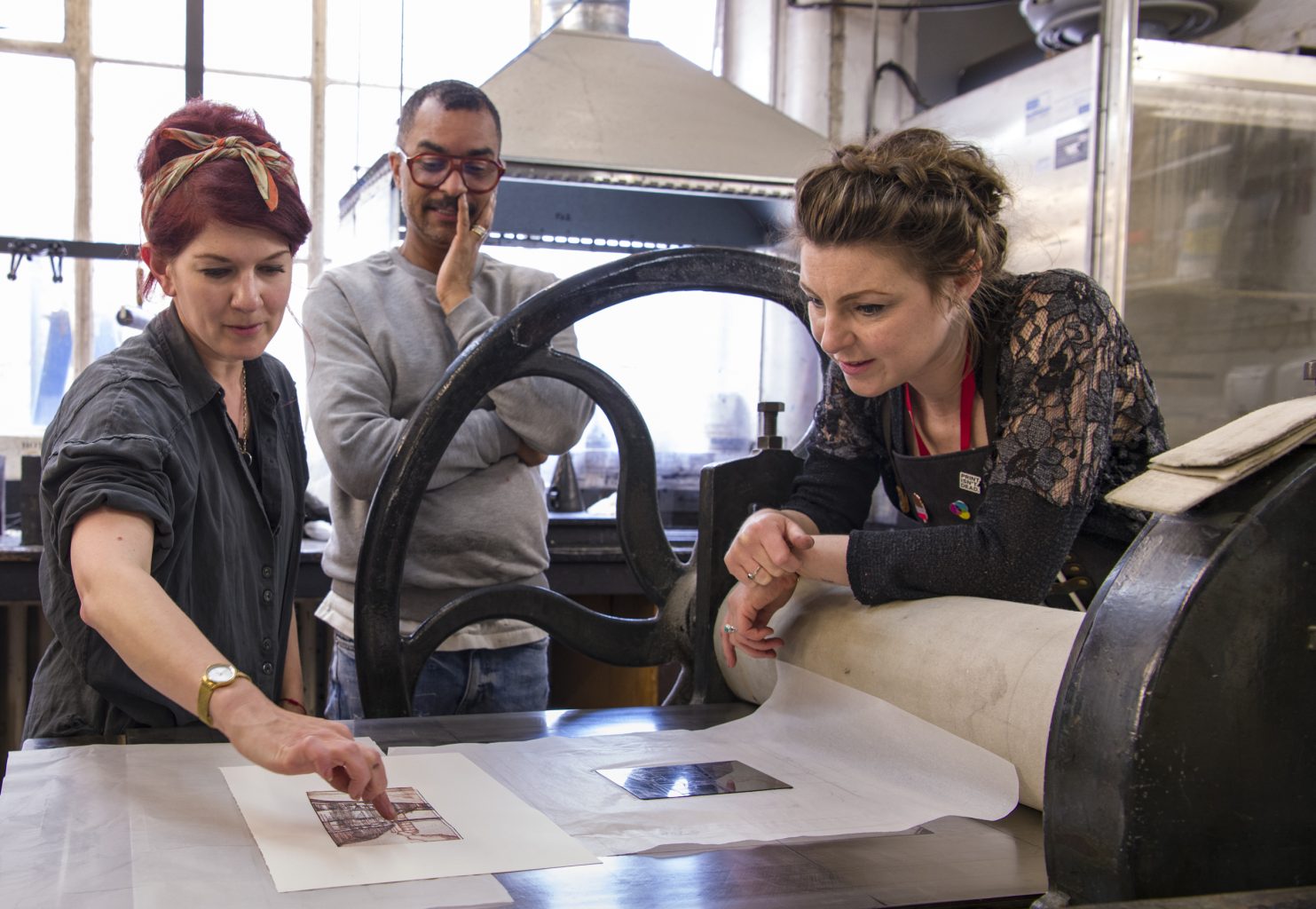 'It was a privilege to work in the historic print room and the tutor was very skilled in gently guiding each of us to achieve our learning goals.' Lucie
'The teacher, Laura, was amazing. Very well prepared, clearly very experienced and willing to share all her knowledge. Excellent.' Alexandra
'I valued being able to discuss and share our creative ideas with the tutor in an open way, and the tutor was very patient and generous.'  Jenna
'I really loved the tutor, Laura Clarke, she has a knowledge, patience, passion and she shared her time and advice generously. It was really amazing.' Laura
'This was an excellent introduction to etching. Laura is a very enthusiastic and knowledgeable tutor.' Mike
'I found it enormously stimulating and fulfilling. I achieved far more than I expected and learned a huge amount as well as having great fun.'  Martin
Find out about our Foundation Diploma in Art & Design,  BA (Hons) Fine Art and MA Fine Art.