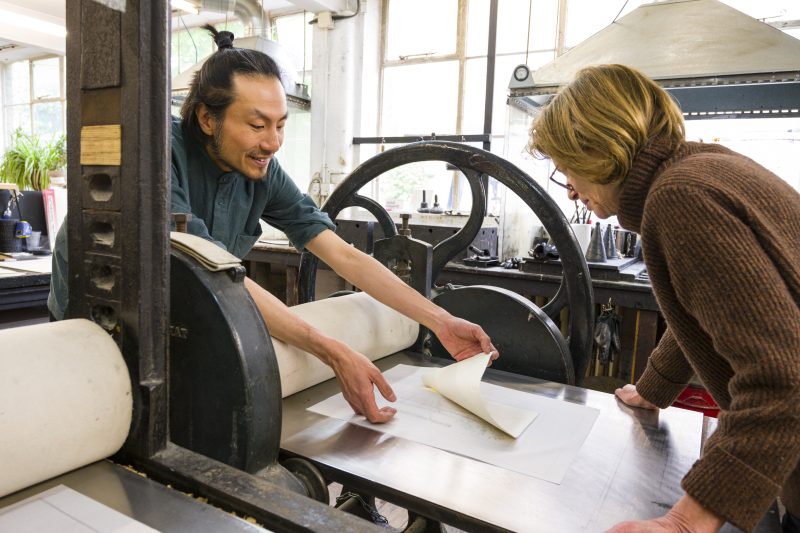 The Engraving Room at City & Guilds of London Art School was established in the late 19th century. Today, it offers a facility for printmaking open to every student in the School, as well as Print Room Associates by prior appointment. It is permanently staffed and open five days per week during undergraduate term time. Evening classes are held on Tuesdays.
Professor Norman Ackroyd CBE RA ARCA was instrumental in re-establishing the Engraving Room as a thriving centre for teaching and practice after being invited in 1995 to consider its potential for the future.
We focus on the teaching of traditional intaglio processes – including hard and soft ground, sugar lift, aquatint and colour etching. Teaching is delivered by practising artists working with etching. We want all of our students to achieve the understanding and confidence to make the process their own through a hands on experience. By teaching the full range of methods, we provide an historical context of the intaglio process and offer the same experience in terms of techniques, problems and solutions as that employed by Rembrandt, Goya and Picasso.
Our aim is to provide continuity and to keep the bridge to the Old Masters open. As more and more colleges and art schools abandon traditional etching, this position is becoming increasingly unique. While our core strength is the intaglio process, monotype printing is catered for on our off-set lithographic press. We also have a small silkscreen printing facility with a vacuum printing bed and a photo-stencil exposure unit.
Teaching in the Print Room is provided by five part-time tutors and several Printmaking Research Fellows. Jason Hicklin is the lead tutor and Head of Printmaking. Jason graduated from the Central School as a post-graduate in 1992 and was elected a member of the Royal Society of Painter-Printmakers in 1993. Christopher Roantree graduated with an MA in printmaking from the Royal College of Art in 2003, and Niamh Clancy, who specialises in screen printing, is also an MA graduate from the Royal College of Art.
Follow this link to watch an online discussion between Jason Hicklin and Vincent Eames, founder and Director of Eames Fine Art,  about the importance of passing on traditional etching skills for use in contemporary printmaking.
The Print Making Research Fellow is a part-time post initiated in 1998. It exists to provide a transition from post graduate study to the establishing of an artist's own practice. The Fellows work two days per week alongside a tutor, gaining experience of teaching and perfecting practical skills. On other week days the Fellows are free to use the Print Room to develop their own work, providing a useful insight for the School's students. All the current Print Room tutors were previously Print Making Research Fellows with us.