City & Guilds of London Art School is grateful to the Sir Denis Mahon Foundation for establishing a new grant at the Art School created to honour the memory of Sir Denis Mahon, renowned collector and historian of Italian art, and to continue his legacy and lifelong interests in fine art, carving and conservation.
Intended to encourage and support students at the Art School to realise ambitious sculptural projects, the £5,000 annual grant will be available until academic year 2022/23. It is open to submissions annually from second year BA Conservation, Carving and Fine Art students working with sculpture for use in their final year. They are invited to submit their applications (which should reflect Sir Denis' studies, research and interests) to the Art School for the Grant and between one and three students will then be selected for recommendation to the Sir Denis Mahon Foundation for consideration.
In this first instance, the Grant has been awarded to three particularly strong candidates, who will share the £5,000 grant.
ROISIN FRANCIS (BA (Hons) Fine Art) – Roisin will create three sculptures comprising two sets of cast fragments of a female figure, one in mirrored glass and the other in powdered glass (pâte de verre). They will be accompanied by a small section of wall covered in a heat sensitive material. The wall will allow an interactive element as viewers can touch or lean on the wall, leaving imprints from their body heat, "creating a sort of heat mirror to compliment the mirrored surface of one of the sculptures".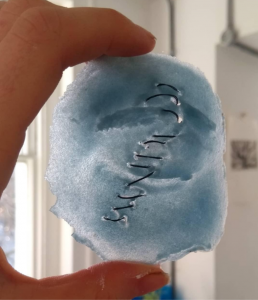 In her own words: I am trying to remind people of the unseen and intangible, and to consider the limits of the human perception of the world. As well as highlighting the fragility of the human body, allowing people to literally see themselves reflected back in one of the most fragile materials … Temporal, I try to capture a time out of time, moments between events, which is captured in a fleeting reflection. I feel it is an important piece of work that should exist in the world, which is why I make all of my work.
It is very clear from all that is said/written about Sir Denis Mahon, that he was very keen to make art accessible to all … Having an interactive piece of art also encourages engagement from a wider audience, increasing accessibility to the work. In terms of artists, Giorgio Morandi's use of depicting objects as pure form has already been an inspiration in my casting work. Particularly with casting, objects become a washed-out ghost of what they once were, stripped of their essential qualities of colour and material. Creating distance from the original object, which Morandi does perfectly in paint.
JOHANNES WAGENKNECHT (MA Conservation) – Johannes will examine and work on an early concrete sculpture from 1834, the "Dog of Alcibiades", which is currently at Chatsworth House. It was a popular garden sculpture in 18th and 19th century Britain and is based on a Roman marble sculpture from the 2nd century ACE, which is currently in the British Museum. Austin & Seeley produced these dogs in an early form of Portland cement and Roman cement. The project will involve examination, documentation and practical conservation of the garden sculpture.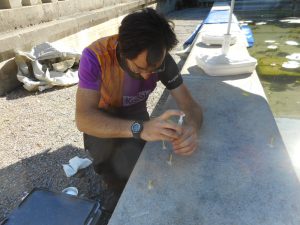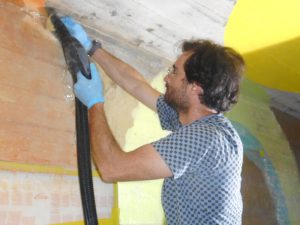 In his own words: With the support of the grant, I will be able to work as closely as possible to the professional standard in concrete heritage preservation.
This project is an opportunity to further investigate early forms of concrete and the industry in late 18th and early 19th century Britain. Concrete conservation will be vital in the future as most of the buildings and sculptures made a hundred and more years ago reach the end of their service life. To be able to care for our cultural heritage, we need to properly understand the material science involved with concrete. This will enable us to come up with appropriate solutions for complex conservation problems. I hope to be able to add to the body of research in this area.
At first, it might seem that early Portland cement has little to do with the Baroque, Renaissance Italy and fine art. Of course, this is not the case as the subject of this grant illustrates. The concrete dog is based on a Roman sculpture from the 2nd century ACE, which is very likely a copy itself from a Greek sculpture. Looking at the 20th century, we find that Henry Moore experimented with concrete in the 1920s and 1930s, making a total of twenty concrete sculptures. This was at a time when the material was still mainly used for building works. It is evident how important this material was for the architectural developments of the 19th and 20th centuries on a global scale.
I think that Sir Denis Mahon would agree that the British concrete industry is worth investigating for its national and global contribution, as it influences all aspects of life as we know it.
The grant will allow me to work according to the professional standard in the conservation field. Furthermore, the investigation of historical concrete is by no means completed and there is still a lot of unknowns regarding this material. New information about fabrication and materials used in the early concrete industry might emerge during this investigative project.
I came into the conservation field through my fine art background. Through work experience and the past two years in the Art School, I have further developed my conservation skills and knowledge. In my final year, I want to focus on concrete as I know it is an expanding sector in the conservation world. Apart from that, the material itself has impacted life drastically in the last two centuries with the rapid expansion of the concrete industry. This material and its cultural impact will be felt positively and negatively by future generations. Apart from the material science involved, I am interested in the cultural developments orbiting the concrete industry.
DAN RUSSELL (BA (Hons) Historic Carving: Architectural Stone) – Dan will carve a life-size abstract figure in stone, focusing on drapery, inspired by, and depicting, the personal protection equipment of the NHS. To achieve this, he will design the PPE drapes into the required figurative form on ply-board. This will be held with nails and a cloth fixative to enable him to use this life-size arrangement as a model. He will then carve this arrangement in stone.
The stone drapery will be the PPE (scrubs) garments that nurses and doctors wear, and a mask will be used as the slumped head. This will be formed into the shape of the dying Christ to represent the sacrifice that medical staff have made to help others. This artwork will show an abstract human figure, mixed with the realism of draped clothing, which will act as a memorial to Covid-19 sufferers and the heroes who have fought the virus.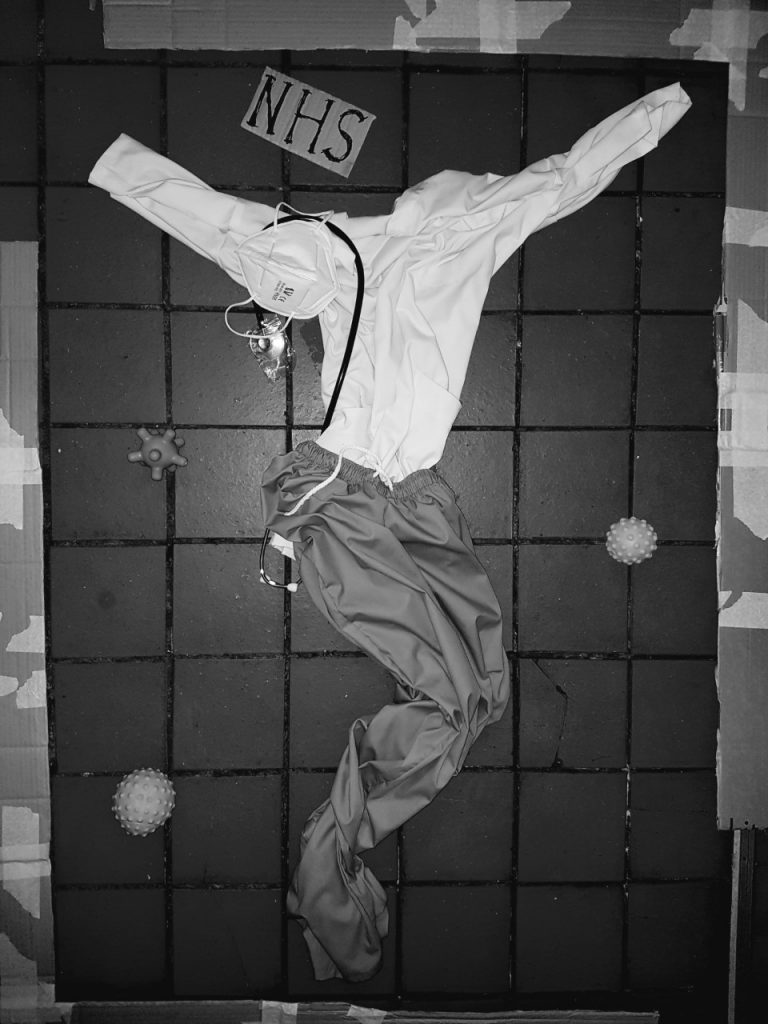 In his own words: My inspiration for this project are the doctors, nurses and care staff who have been on the front line of the Covid-19 outbreak.
I believe that my proposed design has many characteristics and elements relating to the interests of Sir Denis Mahon, who is known for his knowledge of history and his collection of Italian Baroque paintings, including masterpieces by Guido Reni, Guercino and Luca Giordano. A running theme in all of these Baroque artists' paintings is the use of drapery. Such an example in his collection is the detailed oil study of a group of twelve that Giordano made in preparation for the ceiling frescoes in the Palazzo Medici Riccardi in Florence in 1682-85. The overall theme of these highly elaborate showpiece frescoes is the progress of mankind by means of Wisdom and Virtue.
My drapery carving will represent the ongoing virtues of the NHS staff, despite the failure in wisdom from our world leaders. Like many of the Baroque paintings in Sir Denis Mahon's collection, my carving will contain biblical imagery. It is by no means meant to be a religious carving, but one marking sacrifice and honour. Also, Sir Denis had an interest in the abstract as suggested through his friendships with Henry Moore and Eduardo Paolozzi.
For the past two years, I've thoroughly immersed myself in the Art School, and have been the proud recipient of "The Masons Company Prize for Studentship and Commitment"; a "Knights of the Round Table" award winner and a "British Arts Medal Society" award winner.
The new Sir Denis Mahon Sculptural Project Grant is one of over 40 grants and awards available to students at the Art School. The Art School itself provides some of the grants but many are funded by a number of organisations and individuals who value our commitment to championing specialist subjects, providing high levels of tutor contact time (about twice that of other London-based arts university courses) and continuing to deliver high standards of excellence. Over 40% of our students usually benefit from one of our grants in an average year, which can be used to part-fund tuition fees or particular work projects.
If you would like to find out more about how you can support the Art School and its students please click HERE or contact Development & External Relations Manager Hannah Travers on h.travers@cityandguildsartschool.ac.uk.