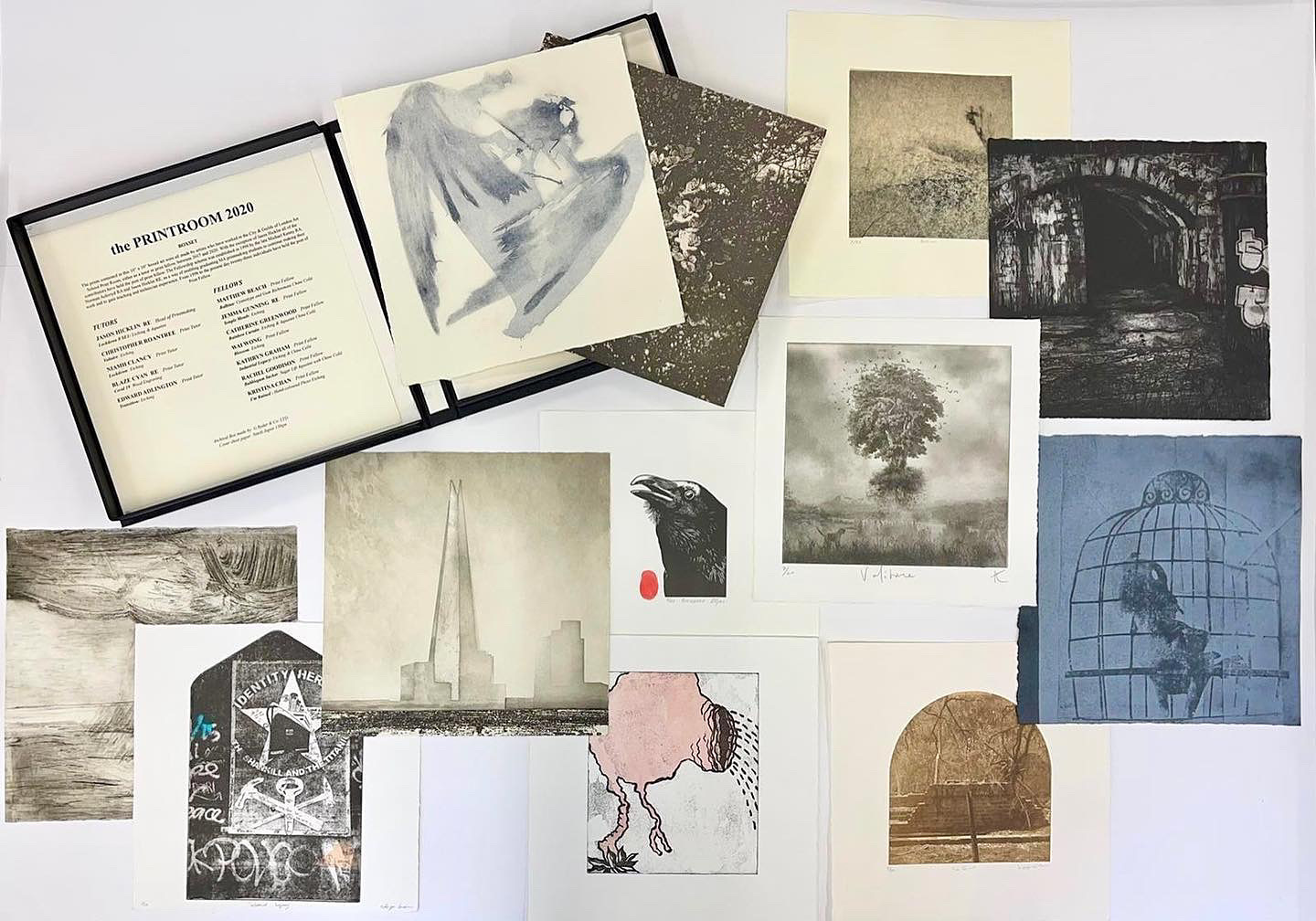 We are delighted that the City & Guilds of London Art School Print Room 2020 Box Set will be on show, and available to buy, at Woolwich Contemporary Print Fair 3-6 November. All proceeds will go to the Ukraine Humanitarian Appeal.
The prints contained in this beautiful 10″ x 10″ boxed one-off set are all from editions of 20 and were made by artists who have worked in the City & Guilds of London Art School Print Room, either as a Tutor or Print Fellow, between 2017 and 2020.
The Art School's traditional etching and engraving room was established by artist and master printmaker Jason Hicklin under Professor Norman Ackroyd in 1998, with the first Printmaking Fellowships taking place shortly after. The Fellowship offers artists who have a commitment to printmaking, and who have completed an MA in art making, a chance to continue developing their practice within the Art School's lively atmosphere. Fellows also have the opportunity to gain teaching and technician experience with students enrolled across Foundation, BA, and MA courses while being supported by a dedicated team of tutors and professional staff. The Box Set works to represent the results of the Art School's vibrant programme — for example Rachel Goodison completed her MA at the Art School prior to applying for a Fellowship position. Fellowship alumni, such as Blaze Cyan and Chris Roantree, have also returned as Tutors following additional periods of professional practice.
From 1998 to the present day twenty-three individuals have held the post of Print Fellow.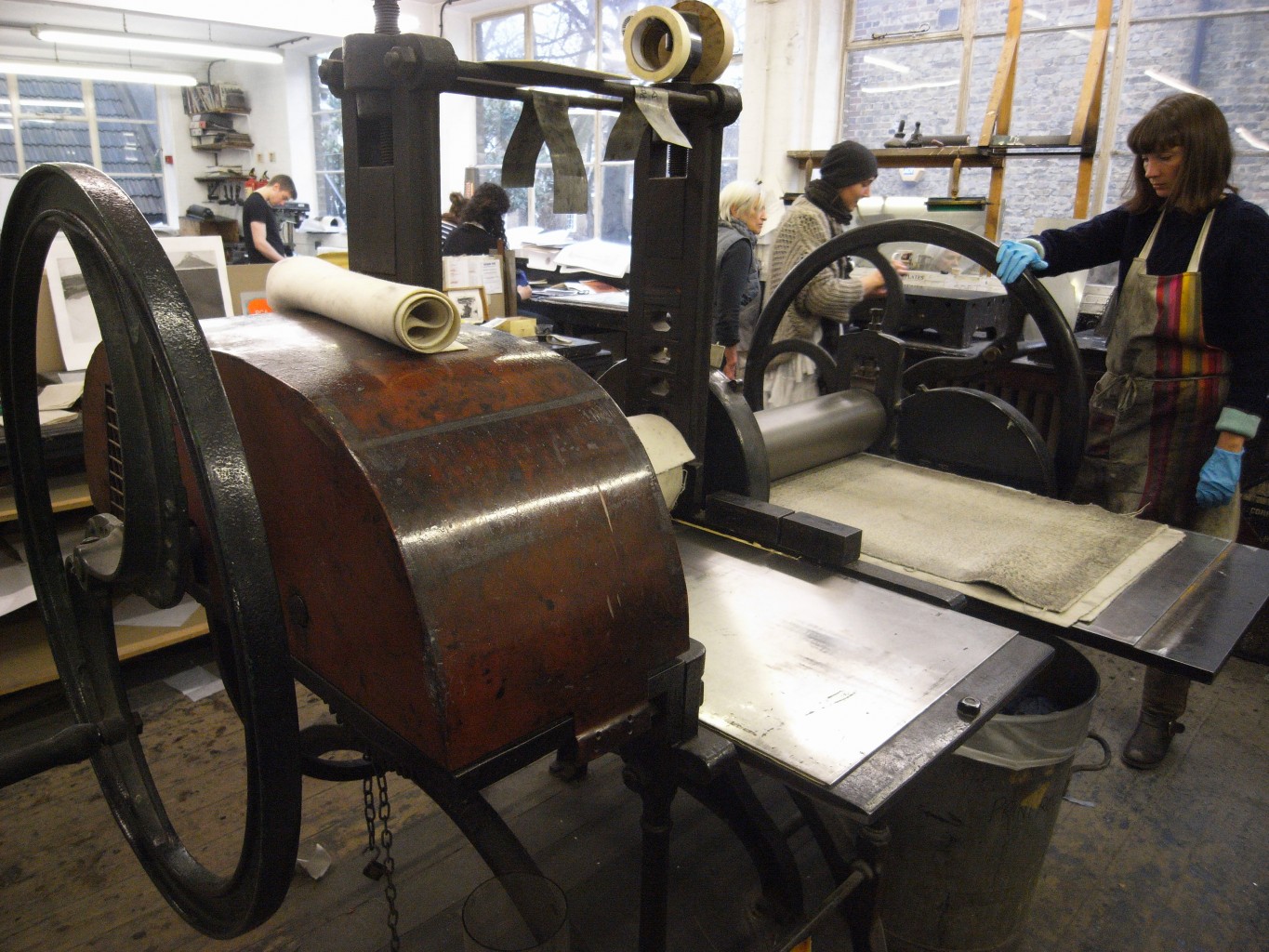 Unfortunately, professional practices across the UK were presented with unprecedented challenges due to Covid-19, and these artists' practices are without exception. As a mode of cultural production, printmaking requires very specific industrious equipment that often cannot be reproduced in the domestic sphere. The Box Set works were meticulously crafted between three national lockdowns when Covid safety regulations allowed. 
"This project allowed me to escape into a world of metal, acid and inks helping to understand the situation we have come to find ourselves in." — Jemma Gunning
Yet many of the works presented took inspiration from this new found collective condition. Jemma Gunning, for example, sketched during daily isolation walks; later responding to these sketches creating a haunting urban environment. Blaze Cyan's work also draws upon ideas of haunting through the depiction of the raven as a harbinger of death, and invoking Edgar Allan Poe's 'The Raven' wherein the narrator laments the loss of his love Lenore, echoing lost loved ones at the hands of Covid-19. Animality and environment feature in other works as well. Drawing inspiration from a 2019 artist residency in Australia's Blue Mountains at a time when bushfires reached their peak, Kristina Chan depicts the tentative balance between the land, natural disaster, and human impact. Also invoking themes of history and time, Catherine Greenwood collaborated with a composer during the first national lockdown, connecting ancient landscape and human interaction through print and music in a duration of turbulence. Kathryn Graham focuses on walls; all encompassing and all surrounding. She explores the blur of boundaries between interior and exterior space.
The full set of images and documentation will be exhibited at Woolwich Contemporary Print Fair 2023, and artists can be contacted through their details afterwards for information on purchasing individual prints from the larger edition.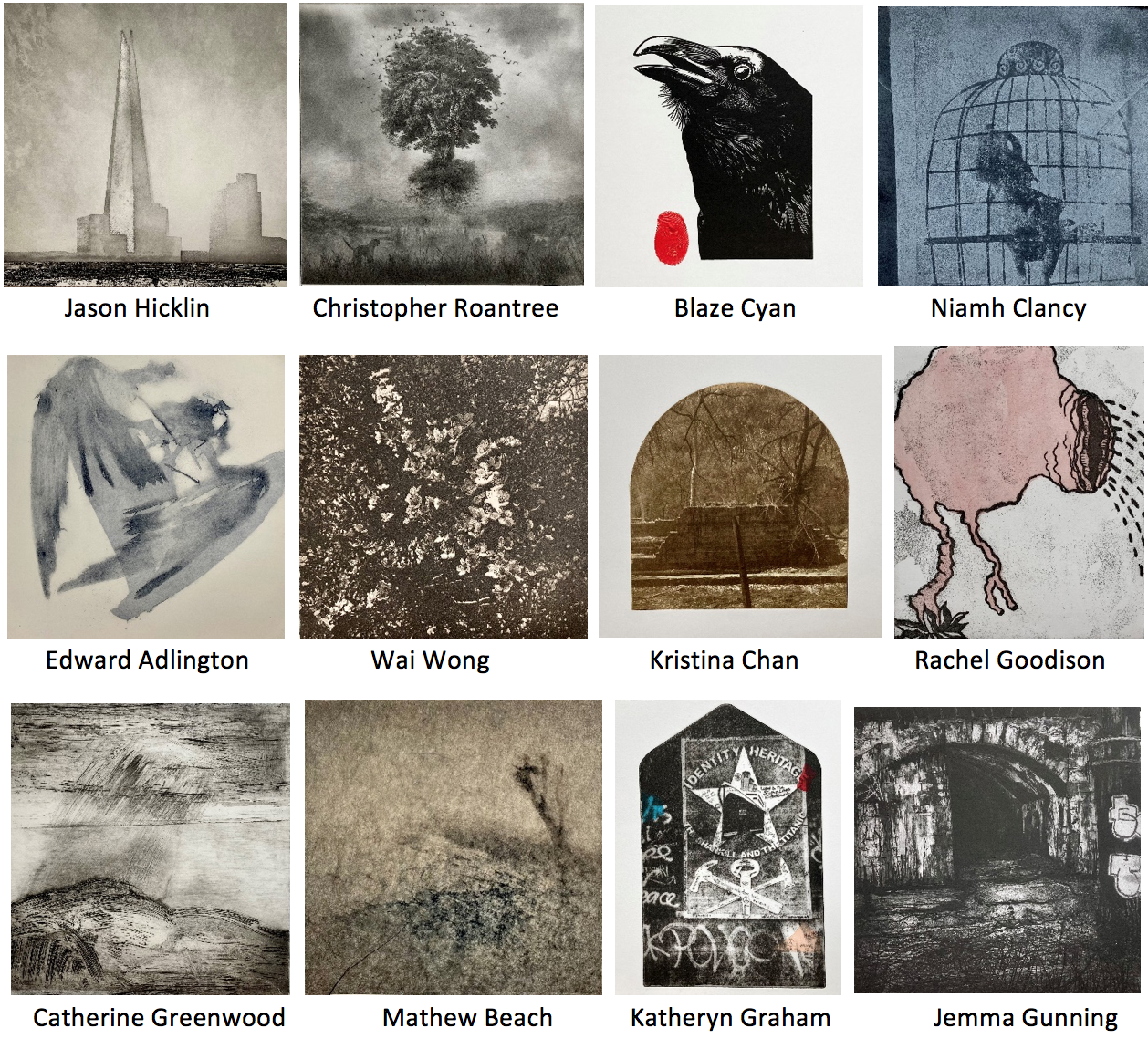 Artist Biographies:
Edward Adlington
Edward Adlington (b. 1983) London-trained, Philadelphia-based printmaking artist and teacher.
Ed moved to Pennsylvania USA in 2020 and is currently working as an artist and Art Teacher from being a Print tutor 2018-2020 at the Art School and a research Fellow 2014-15 also working at Putney School of Art, London. Completed an MFA 2012 from UAL, Camberwell School of Art and BA degree from City & Guilds of London Art School 2007. Ed's keen interest in plants and their uses was expressed in his cultivation of the courtyard garden at the Art School, creating collections of plants that related to art's practise within the Art School walls.
Matthew Beach
Matthew Beach (b. 1993, Kansas, USA) is an artist-researcher working in London. He received his MFA from the Slade School of Fine Art, University College London, and BFA from the College of the Arts, University of Florida. Beach's work has been shown nationally and internationally, including Screw Gallery, Leeds, San Mei Gallery, London, and Galerie Duchamp, Yvetot. He recently completed a year-long residency programme coordinated between East Street Arts and Sustainable Darkroom in Leeds, and is a PhD candidate in the School of Geography at Queen Mary, University of London. Embedded within discourses around materiality, Beach's practice explores the entanglements between place, the photographic, and care in more-than-human worlds.
Kristina Chan
Kristina Chan's practice utilises narrative and site specificity to evoke a felt history. She works between traditional printmaking processes and alternative photography to create large scale public installations focusing on local histories and sense of place. Chan has works in the permanent archives of the Ingram Collection (2020), V&A Museum (2016, 2017) and Royal Collection, Clarence House (2018).  She received the Canada Council for the Arts Digital Originals Innovation Grant, Ingram Prize, is a finalist for the Queen Sonja Print Award (all 2020), and a two-time recipient of the Elizabeth Greenshield's Foundation Project Grant (2017, 2018). 
Niamh Clancy
Niamh Clancy was born in Ireland in 1975. She graduated with a joint honours degree in the History of Art and Fine Art from the National College of Art & Design, Dublin 1997 and with a Masters in Printmaking from the Royal College of Art, London 2002. Clancy currently lives and works in London as an artist and has established an editioning service for reputable artists based in England. Niamh has exhibited regularly in Europe and America. She has received funding awards from the Arts Council of Ireland, Department of Foreign Affairs, Royal College of Art, and Queen's University Belfast. Niamh currently teaches at City & Guilds of London Art School and is represented by Eames Fine Art.
niamhclancy.com
Blaze Cyan
Blaze Cyan was born in Wiltshire and now lives and works in London. Blaze graduated from the City & Guilds of London Art School in 2014 with an MA in Fine Art after a previous career in the fashion industry. She is a 'Fellow' of the Royal Society of Painter-Printmakers. Working within the mediums of drawing, etching, woodcut and wood engraving, her primary subject area is landscape, having a particular fascination with ancient trees, the portrayal of time and the beautiful grotesque. Blaze has shown work with many of the leading art and printmaking societies and in 2015 joined 'The Arborealists' an international group of artists specializing in the representation of trees.
Kathryn Graham
Kathryn Graham (b. 1995, Armagh, Northern Ireland) is a Belfast based visual artist and fine art Lecturer from Northern Ireland. Graham graduated from the Royal College of Art with an MA in Print in 2019. She completed a Printmaking Fellowship at the City & Guilds of London Art School in 2021. She is interested in the relationship between printmaking and sculpture. 
Kathryn has recently shown work with RE Bankside Gallery, Royal Ulster Academy, Southwark Park Galleries, CCA Derry, Cream Athens and Cole Projects. Receiving awards from the RUA Outstanding Students (2017), Space Artist Award in (2021), Arts Council residency award (2020). Recipient of Arts council funding and A-N artists with work held in collections of Victoria and Albert Museum, The Royal College of Art and The University of Ulster.
kathryngraham.org
Catherine Greenwood
Catherine Greenwood (nee Atkinson (b. 1968, Beckenham, England) is a West Sussex based artist and specialises in etching and monotype printmaking. Completing a Fellowship at City & Guilds of London Art School having graduated with an MA from University of Maine USA. after taking part in innovative research into contemporary printmaking materials. She was a student at Camberwell school of Art, KIAD Kent in 1986 and worked as an environmental artist and educator and is currently a teaching etching at Putney School of Art and independent Print Studios in Sussex and Suffolk. Catherine is a member of the Wilderness Art Collective, her work reflects wetlands, coastal landscape and at ancient heritage sites, she is interested in conservation of habitat for migrant birds & wildlife and leads Art Walks on the South Downs. She exhibits widely, notably at the RA Summer Exhibition 2015/22 and at the Houses of Parliament (2015). She won an Arts Council Year of the Artist Award in 2000 and has recently shown work internationally in New York and Vienna. 
Rachel Goodison
Rachel Goodison is an artist living and working in London. Her practice employs different media, including painting, printing and sculpture. It explores various themes, such as the importance of play in pursuing creativity; and the vulnerability of the human body and mind. She changed career to become an artist in 2015, having trained as a barrister, and worked for a campaign group called London First. She was awarded her MA at the City & Guilds of London Art School in 2019 with Distinction, and is currently a Print Fellow at the Art School and Artist in Residence at Brompton Chapel.
Jemma Gunning
Jemma Gunning (b. 1988, Wiltshire, England) is a Bristol based printmaker who specialises in intaglio and lithography processes. After graduating in 2018 from UWE with a Masters in Multidisciplinary Printmaking, she was awarded a Queen Elizabeth Scholarship to fund her two year fellowship at the City & Guilds of London Art School. Working on personal projects and commissions, her practice explores the documentation of our fading heritage. In 2019 she was elected as an associate member of the Royal Society of Painter-Printmakers. She exhibits frequently in the UK and internationally, including the RA summer show, London Original Print fair and the RWA annual open. Alongside her practice she works as a technical instructor in lithography at UWE and is co-founder of Bristol Print Collective that she co-founded in 2016.
Jason Hicklin
Jason was born in Wolverhampton in 1966 and studied at St. Martins College of Art, where he was a student of renowned printmaker Norman Ackroyd. After completing a postgraduate course at the Central School of Art in 1991, Jason combined working as Ackroyd's studio assistant and editioner with producing his own work and teaching printmaking at City & Guilds of London Art School. Jason is currently Head of Printmaking at City & Guilds of London Art School. He was elected a member of the Royal Society of Painting and Printmakers in 1993 and has had numerous solo and joint exhibitions in the UK and abroad.
Christopher Roantree
Christopher Roantree has been teaching in the Print Room for over 15 years where he was introduced by Norman Ackroyd.  Working internationally, from residences in Paris, to Belizian jungles. Chris has won numerous awards in fine art and illustration! Currently working collaboratively alongside artist Akarsh Kummattummall. 
Focusing on ReWilding (the practice of reintroducing extinct species back into habitats). These ethereal, dreamy landscapes and semi, broken down relics that often populate them, attempt to form a narrative not solely from a change of habitat, but a human/psychological ReWilding. The aim is to evoke a sense of beauty but with a warning. RoantreexKummattummal practice uniquely collides digital/3D technologies, traditional etching, monotypes and drawing, where the work is firmly rooted and printed from the plate in the intaglio tradition.
Wai Wong
Bachelor of Arts (Hons), Major in Film and Media Art, Minor in Art History, Temple University, 2003 MA Printmaking, Middlesex University, 2018 Different from most of my peers, I will say that I want to be a printmaker instead of an artist. More precisely, I want to be a craftsman or an artisan focusing on making prints. Ozu Yasujiro is my favourite movie director, and probably my favourite artist. In an interview, he once said, "I only know how to make tofu. I can make fried tofu, boiled tofu, stuffed tofu. Cutlets and other fancy stuff, that's for other directors." Because he spent his entire career to make nothing else but "tofu", he made the best "tofu". Ozu probably did not consider himself as an artist, but a craftsman who repeatedly practiced the same craft until he reached perfection. This is what I want to be – a tofu maker; a craftsman in printmaking. Except through practicing the same craft repetitively and constantly, I do not know any other way to achieve perfection.
https://band1009.wixsite.com/waiwongprints