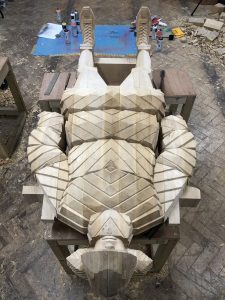 New work by Taku Obata, City & Guilds of London Art School Artist in Residence 2019, is being exhibited at Japan House London from 28 February to 6 April 2020. The exhibition features Taku's most recent work , a life-size wood carving of a 'B-GIRL', made during his residency at the Art School. To accompany the exhibition, Taku will also be giving an artist talk on 11 March, a drawing demonstration on 14 March and a carving demonstration on 4 April.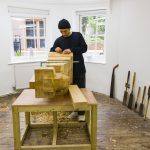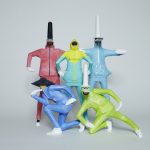 Taku is a Japanese contemporary artist who works mainly with large-scale, polychrome woodcarving and video. His work is inspired by his background as a breakdancer. The Art School visited Taku's show at Tokyo's influential Watari-um gallery, during a knowledge exchange visit with Tokyo University of the Arts Sculpture Restoration PhD Lab in November 2018 involving a group of tutors and historic-craft experts from the Art School. This trip was financially supported by the Toshiba International Foundation and the Great Britain Sasakawa Foundation.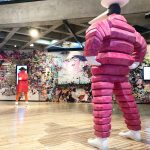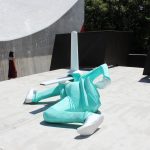 Taku Obata, a graduate of Tokyo University of the Arts, won the grand prize at the Tokyo Wonder Site Grand Prix for his "B-BOY sculpture". He has had a string of successful solo exhibitions in Japan and the United States, as well as exhibiting in many group shows. Last year, miniatures of his large-scale pieces were included in The Size of Thoughts at White Conduit Projects, an exhibition that brought together works no larger than 30cm in any direction by 50 sculptors and contemporary jewellers.
The Art School's residency programme provides generous studio space and access to specialist facilities to early and mid-career artists, who in return share their practice insights with students studying on the undergraduate and postgraduate Fine Art and Carving programmes. The artists selected for the 2020 residency programme will be announced soon.