Senior Stone Carver, and eminent British architectural sculptor, Nina Bilbey, is touring New York and Philadelphia, in the US, raising awareness of the range of specialist courses available at the Art School and the recently launched Study Abroad programme. Nina is visiting higher education institutions and related organisations, giving talks and meeting students and faculty staff.
As part of  her transatlantic tour, she is speaking at The Compleat Sculptor, an arts and craft skills supplies emporium in New York City, where students and tutors can meet Nina and learn about the Art School, our specialist BA and MA degrees, and the chance to study with us in London, UK, for one or two semesters.
If you're in the area, come along and find out more about the City & Guilds of London Art School – a real art school. 
November 12 Monday from 6pm-8pm
The Compleat Sculptor, 90 Vandam Street NYC 10013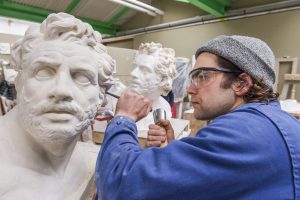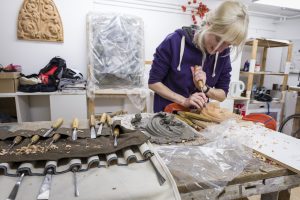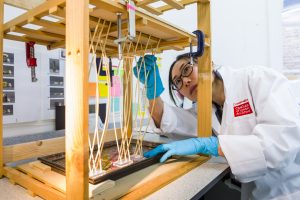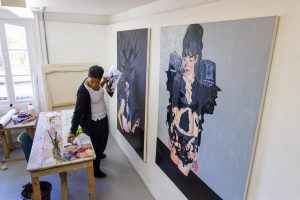 City & Guilds of London Art School is a small, specialist art school with an outstanding reputation for excellence in the traditional skills of historic stone and wood carving, conservation, and contemporary fine art. Located since 1879 in one of London's finest Georgian terraces, the School nurtures and supports its community of undergraduate and postgraduate students. The courses have strong links with the British Museum, the Palace of Westminster, the V & A, St Paul's Cathedral, and the Royal Collections Trust amongst many others.  You can find out more about the semester study abroad programme here.
Nina Bilbey is senior stone carving tutor on the Historic Carving BA and Masters courses. An eminent architectural sculptor, she comes from a family of Master Craftsmen, and has been carving stone for well over thirty years. Her numerous commissions include statues of the Queen and the Duke of Edinburgh for the west front of Canterbury Cathedral. In 2017, she was awarded the Prince Philip medal for her outstanding leadership as both a stone carver and teacher.