28 November 2019
BASET and City & Guilds of London Art School: Endeavour Award
We are delighted to announce the BASET and City & Guilds of London Art School: Endeavour Award – Funding to Study Conservation in London.
To be awarded to an Australian national to study on the Art School's three-year BA (Hons) Conservation: Stone, Wood & Decorative Surfaces or BA (Hons) Conservation: Books & Paper course.
The Britain-Australia Society Education Trust (BASET) and City & Guilds of London Art School have come together to offer financial support to a talented and deserving person with a passion for conservation. The successful applicant will demonstrate a willingness to commit to an intensive course that is carefully structured to enable development of the knowledge and skills needed to undertake a professional career in the conservation and heritage industry. Together we aim to select a student to study and train in London in order to increase those skills and to share knowledge and ideas -ultimately taking those skills home to continue their work while building valuable links between our two countries.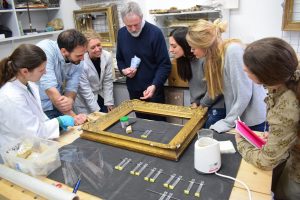 Current Endeavour Award Recipient:
"Joint funding from BASET and City & Guilds of London Art School has provided an opportunity for me to retrain for a career in conservation. As a result, I will return home to Australia equipped with the specialist knowledge, skills and experience to forge a successful career."
BASET:
"We are two great nations with strong connections and a mutual desire to promote, maintain, preserve and conserve historical objects, artefacts and creative trades. BASET provides financial sponsorship where it "makes the difference" to support these talented young people, both for the benefit of themselves, both countries and society as a whole."
Value: £8,000 per year towards full time International student fees.
Duration: Three years
Application: Australian nationals offered a place on one of the Art School's two BA (Hons) Conservation courses are invited to apply for this award.
Details: The award is for three years of study, and will be paid directly towards tuition fees. The applicant recognises that some additional funding from personal sources will be required and that transport, visa and living costs are the responsibility of the applicant. The successful applicant must provide regular updates and will produce annual end of academic year reports. They will be invited to be part of the BASET community during their time in the UK.
Click HERE for more information about our Conservation BA (Hons) programme or to discuss an application to the course contact admissions@cityandguildsartschool.ac.uk