Since the Art School's facilities have been closed to students and staff during lockdown, our BA and MA Fine Art students have set up makeshift studios wherever they can in their homes. Tutorials, seminars, group critiques and one-to-ones with tutors and peers, have all been delivered online and students have used the tools and materials that have been available to them in their practice.
We have been so impressed with the resourcefulness and enthusiasm of our tutors and students alike. Tutors have shown a laudable determination to replicate the Art School experience as closely as they can, instigating ingenious ways of teaching and supporting their students. Our students have demonstrated an incredible commitment to challenge and extend their practice, adapting techniques and materials to the circumstances.
We thought we'd give you an insight into some of the work our Fine Art students have been making.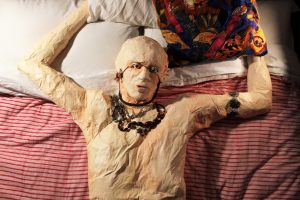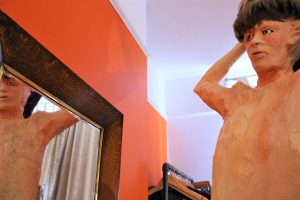 Pieces by Freya Moffat
Freya Moffat, BA Fine Art, used the materials that were readily available to her at home (cardboard delivery boxes and papier-mâché Evening Standard newspapers), to make a series of 'creatures' that she photographed in different contexts. Freya says: "When they're photographed, they become strange reflections of us! Or manifestations of the distorted way that we are living at the moment (perhaps always!) I look a lot at photographers like Cindy Sherman and Laurie Simmons and the ways that they distort and comment on the photographic portrait."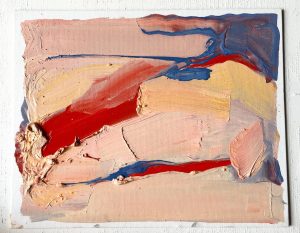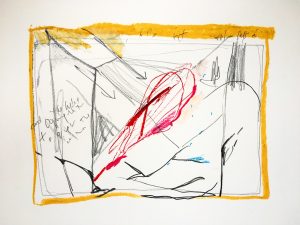 Connie's Lockdown work
Unable to access her studio, Connie Cubbitt, MA Fine Art, set up a studio in her shed and found the restrictions of COVID-19 meant she had to adapt her practice, with great results.  "My current practice is concerned with intimacies and the impact of their loss. The work is centered around specific memories as well as notions of obfuscation and concealment. Lockdown and its material limitations have been beneficial to my practice overall, forcing me to make use of the limited space and interrogate the theoretical implications of my work rather than continuing to generate larger, structural oil paintings, as I was in mid March. I am now living in London with nowhere to paint and so have moved into an almost entirely paintless practice, working with oil pastels and pencil on paper."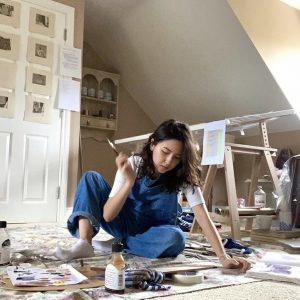 BA Fine Art graduating student Polina Pak
Polina Pak, final year BA (Hons) Fine Art,  has been working on a series of paintings titled 'She lent me her pyjama bottoms' that revolve around de-stigmatising abortion, the experience and the healing process that follows through depicting objects, domestic spaces and parts of the body of women who have been through this event in the past.
All our final year BA Fine Art students have been working extremely hard to complete a body of work to exhibit in the Degree Show. This year, we'll be celebrating their tremendous achievements with an online graduate showcase, launching in the Autumn, and we'll hold a physical Show at the Art School when circumstances allow. Meanwhile, graduating students are managing an Instagram account @cglas_graduates2020  where they are showcasing their final year outcomes through artists' profiles, interviews and IGTV tutorials.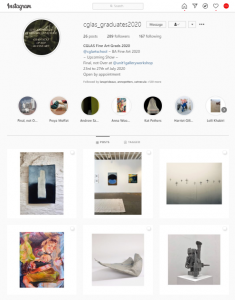 We are delighted that our 2020 graduates were selected to exhibit some of their interim work as part of  'Final, not Over' at Unit 1 Gallery Workshop.  The Gallery ran four sessions, showcasing the work of graduating students from different art schools, including the Royal College of Art and Slade School of Art, as well as City & Guilds of London Art School.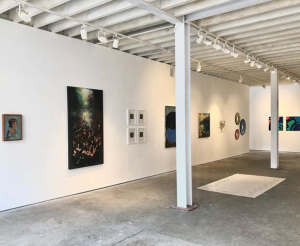 Images courtesy of the Artists and Unit 1 Gallery Workshop
In lieu of a 'real-life' end of year show, students completing the first year of their BA (Hons) Fine Art organised a virtual show on the Instagram account @kenningtonkrewgoesonline. Each student posted a showcase of their work along with an artist's statement.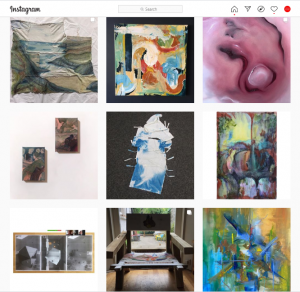 Although our creative community were not physically together in the Art School's studios and facilities, we stayed connected through the Art School's social media platforms. Alumni, Fellows and tutors have been making films shot in their lockdown studios and sharing insights into their current work. Art School Print Fellow, Kristina Chan and Artist Woodworking Fellow, Daniel Owusu feature in these short films.
In the Fine Art Department, and throughout the Art School, we are extremely excited about starting the new academic year in our bright and spacious Art School studios and can't wait to welcome our new students into our supportive community.
You can find out more about how we approach Fine Art here at City & Guilds of London Art School through our course pages. We have a few places available on our BA and MA Fine Art starting this September, so if you want to ask any questions or just have a chat about the course, book an online open day. And if you want to apply for a place on a course, you can get the application details here.