The 15 selected artists for the Collyer Bristow Graduate Art Award 2018, 'Exceptional',  have been published, and we are extremely proud to announce that 12 of the 15 artists are Art School alumni!
Art School alumni Jonathan Armour, Julia Court, Oli Epp, Lorraine Fossi, Gwyneth Fugard,  Katie Lennard, Karen Loader, Robyn Litchfield, Lucy McGeown, Abigail Phanggungfook, Tom Platt and Amelia Kate Sampson have all been chosen.
The artists were selected from three leading art schools; Goldsmiths, Middlesex and City & Guilds of London Art School, graduating from their BA, MA & Post Graduate Diploma programmes between 2015 and 2017.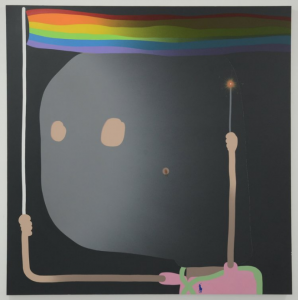 Pride by Oli Epp. Oil, acrylic and spray paint on canvas, 120cm x 120cm
The Private View is 20 June where the winner of the £2000 award and the staff prize will be announced. The exhibition continues until 3 October 2018.
The 'Exceptional' award and exhibition opportunity is aimed at supporting recent graduate artists in the challenging period post-graduation. Rosalind Davis, the Collyer Bristow Gallery's independent curator and graduate of the RCA, comments: "It can be difficult for new graduates to find a platform for their work, but this Award creates an environment where support is made available to emerging artists in the precarious initial years after graduation. It brings their work to new audiences, raising their profiles and helping them to create new professional networks.".
More City & Guilds of London Art School alumni successes were seen in last year's award with Emmanuelle Loiselle receiving the 2017 award. Emmanuelle says, "I was so honoured! Many thanks to Collyer Bristow for supporting emerging artists, it is very rare to receive such a generous opportunity and this is such a fantastic platform to show my work!"
Congratulations to all the selected artists and we look forward to finding out who has won the award in June.