We are very excited to announce that Professor Roger Kneebone, the Art School's first Honorary Fellow, will be talking to students across the Art School about his new book Expert: Understanding the Path to Mastery, in an online lecture in January 2021.
Professor Kneebone is a clinician and educationalist who leads a multidisciplinary research group at Imperial College London, where he is Professor of Surgical Education and Engagement Science. He believes passionately in the importance of cross-disciplinary dialogue in fostering new and innovative ways of thinking and approaches to disciplines, in the arts, science and beyond.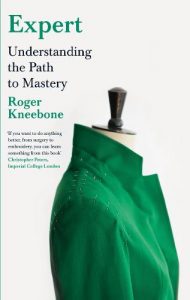 In his book, Expert, Professor Kneebone explores the common path people take to Master their skills in any discipline. He suggests that we start out as an Apprentice, gradually developing our own 'voice' to then become a Journeyman, and finally complete the journey and achieve Master status. Whether the journey takes place within a career, a hobby or within our own growth as a person, Professor Kneebone explains that the path is always the same.
Roger has an international profile as an academic and innovator and from 2013 to 2016 was the Wellcome Trust Engagement Fellow and was elected Professor of Anatomy at the Royal Academy of Arts in 2019. He publishes widely and speaks frequently at national and international conferences. He is especially interested in collaborative research at the intersections between traditional disciplinary boundaries and brings his considerable knowledge and insight to thinking on art and the nature of craft.
We are very much looking forward to hearing Professor Kneebone speak about his fascinating book and know that it will be of great interest to students on all our courses, all of whom are on their own journey towards becoming Masters.