BA Conservation: Stone, Wood & Decorative Surfaces student, Carla Learoyd, is starting her final year on the course. Working at the Royal Oak Foundation Conservation Studio, Carla has spent seven weeks over the summer at the National Trust's Knole conserving four frames and learning an array of new skills to take back to her final-year studies.
In her own words, Carla reflects on her summer at Knole: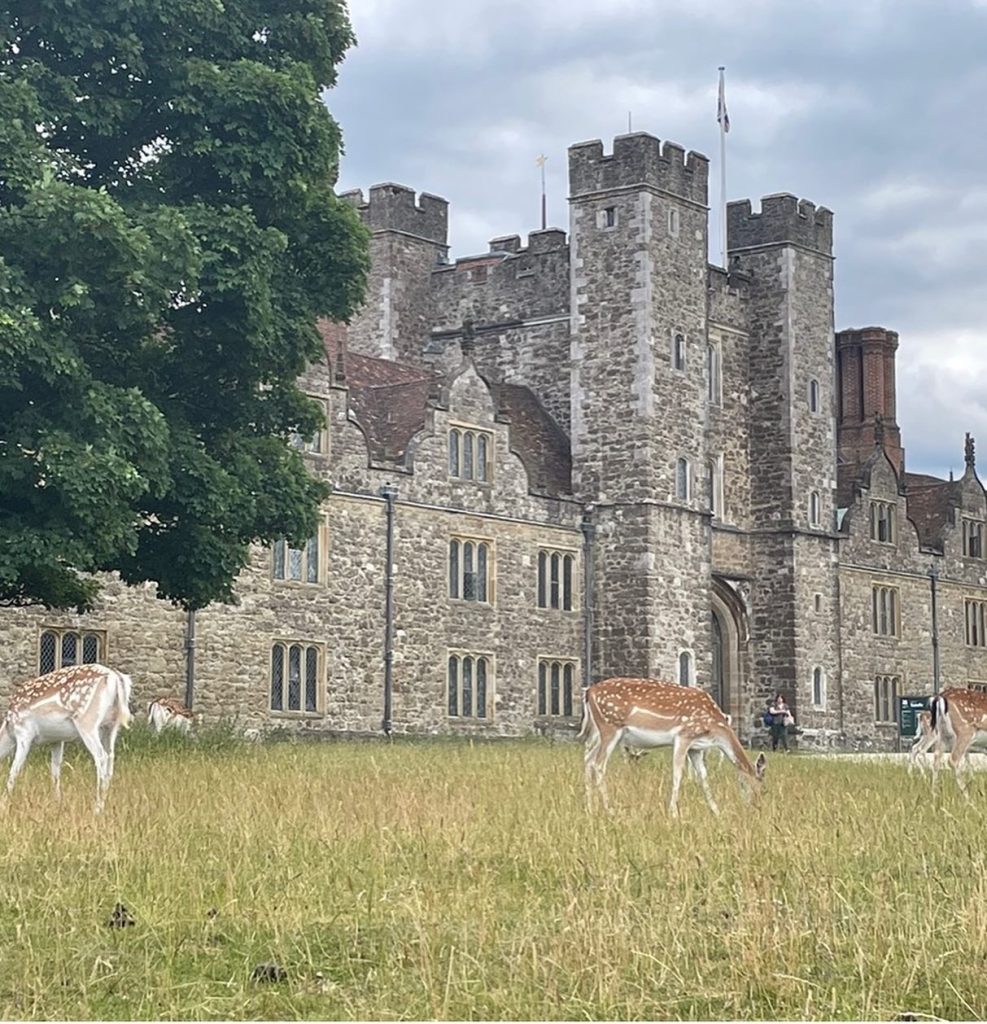 Due to Covid, not many institutions were offering work placements to students in 2021 so I was thrilled to be offered the chance to work at the National Trust property Knole House this summer for a period of seven weeks.
I would be working under the supervision of my City & Guilds of London Art School frame tutor Gerry Alabone who is the Senior Furniture and Frames Conservator there.
Acquired by Thomas Sackville, one of Queen Elizabeth I cousins in 1603, Knole House is set in the beautiful grounds of Knole Park, inhabited by herds of wild sika and fallow deer. I encountered deer of all sizes on my long walk up to the house every morning and each time I would frantically reach for my phone like a tourist in the hope of taking the perfect photo, which proved to be a very tricky task most of the time!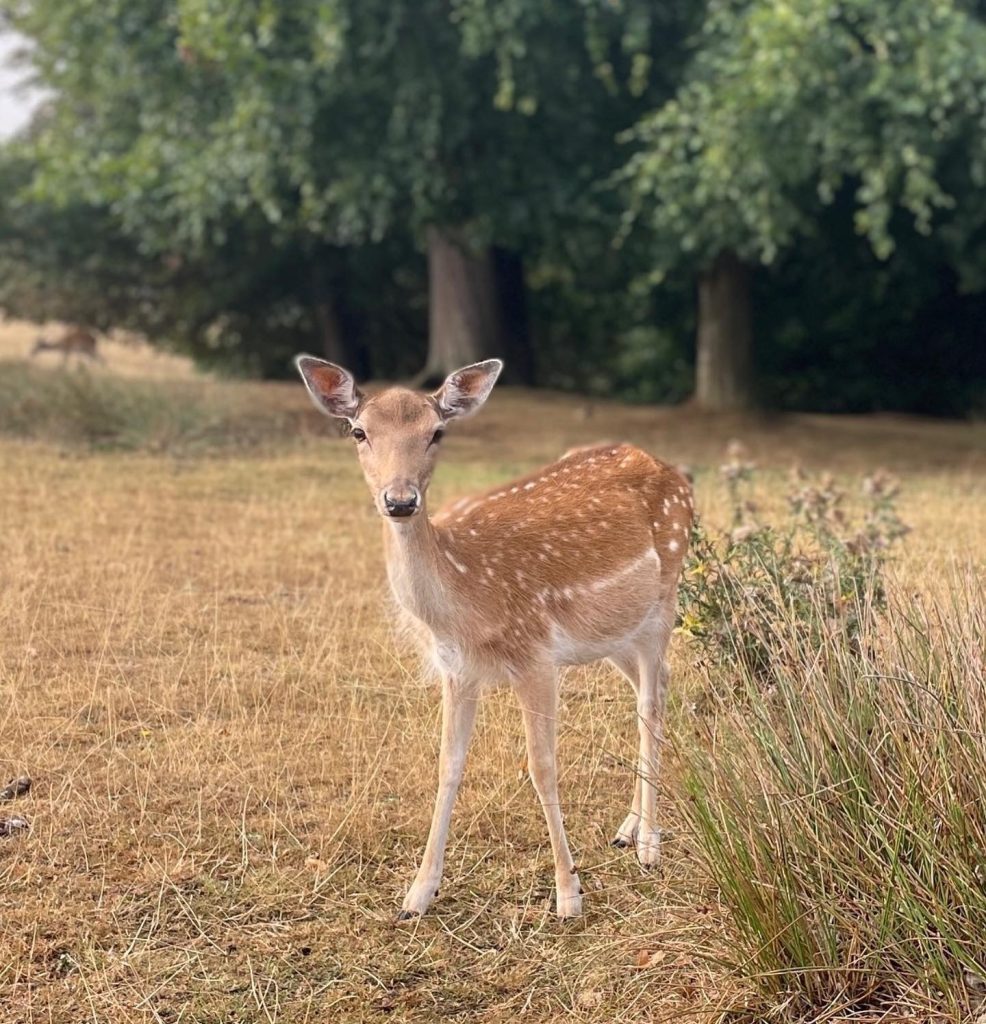 My best photo!
My placement was based in the Royal Oak Foundation Conservation Studio, which is a relatively new addition to Knole House, opening in 2017 following renovations to a 600-year-old barn made possible by National Lottery Heritage funding in 2013.
The conservation studio is such an inspiring place, with paintings conservators, ceramics conservators, object conservators and frames and furniture conservators all working together under the same roof. I was pleasantly surprised to see that several Art School alumni were working there at the same time as me which made me feel more at ease. So I must thank past students Miyuki, Nolly and Ieva for their friendship and advice during my time at Knole.
On my first day I was given a schedule by Gerry of tasks that I would be working on throughout the seven weeks including frame conservation, report writing, studio organisation and providing general assistance in the studio where needed. During my placement I managed to work on four different frames, all of which had different requirements.
The first two frames were 17th Century gilt auricular style frames that were recovered from the attic of Lacock Abbey in Chippenham.
Both frames had been adapted and cut up to make a larger third frame, so I was dealing with two small top and bottom pieces and two separate side pieces, all in a very poor condition with high levels of surface soiling. Most of the gilded surfaces were flaking, with some loose pieces vulnerable to future loss. The larger pieces also had structural issues to the mitred corners and splits to some areas of the sight edge (the inner edge closest to the painting) which was making them structurally unstable and difficult to handle.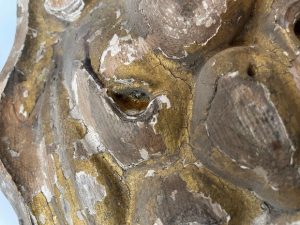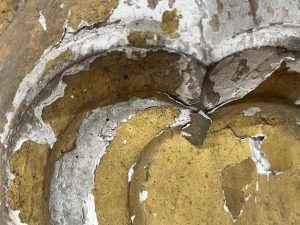 Left & right: Images showing some of the soiling and flaking on the gilded surfaces
These frames required intensive treatment as the two sides were over 2.4m high and the full treatment that I carried out is too long to list here, so I have highlighted a few areas that I worked on. I carried out various tests to work out what the best cleaning methods, consolidants and adhesives would be and subsequently cleaned all surfaces, consolidated all loose and flaking gilding, and adhered any loose pieces that could be placed in their original location. I then addressed the issues that were affecting the structural stability of the largest pieces of frame. Following treatment, all pieces could now be confidently handled and stored.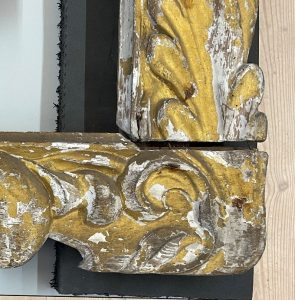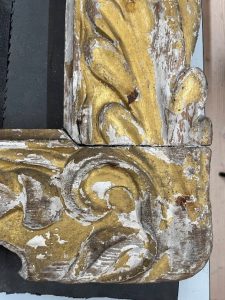 Images showing the bottom left corner before and after treatment to allow both surfaces to sit flush together
My second frame was a beautiful gilt frame with rococo style features from Hughenden Manor in Buckinghamshire. The brief for this frame was to provide a gentle clean to the surface to fully reveal the gilding scheme, to replace missing features and to create a cohesive overall look to the frame. There were also issues with the hanging fittings and the back edge had large areas of loss to the painted surface.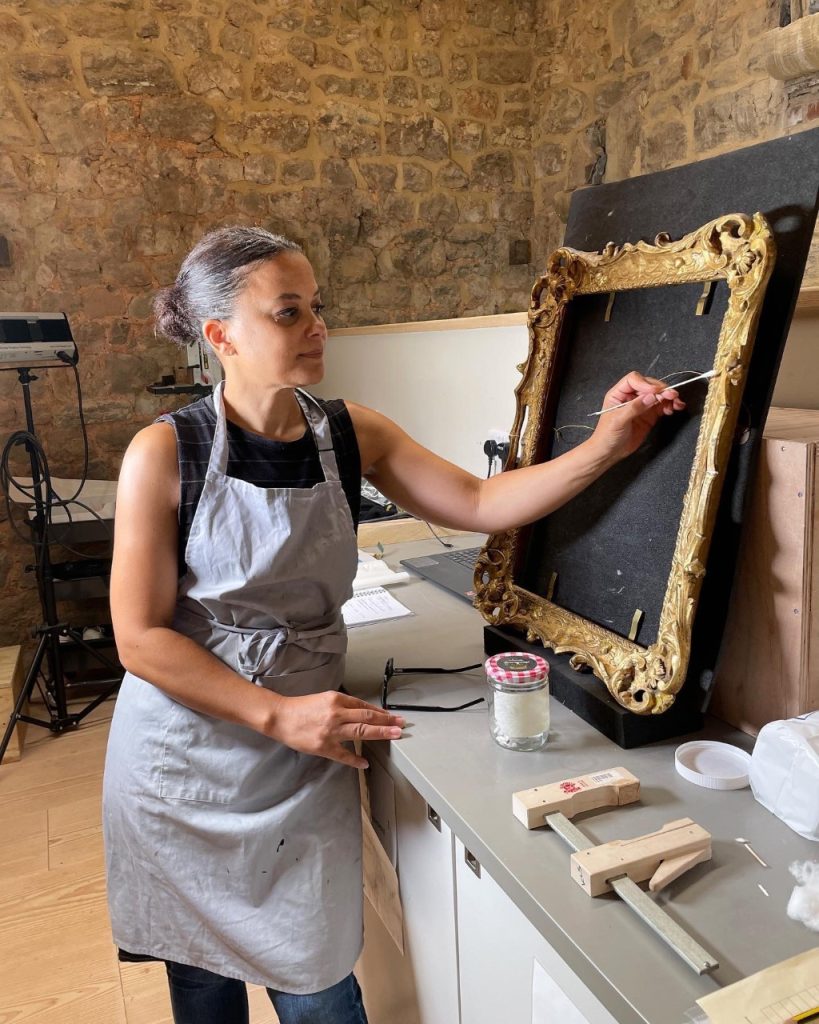 Most of the frame had been water gilded but some later additions had been oil gilded and gaps in the gold leaf revealed the surface beneath.
After cleaning the frame, I used dental putty to create a cast of an intact element to replace a missing leaf tip to the top left corner. This was the first time I had carried out this process, so it was great to have this practice. The rest of my treatment for this frame included re-gilding, distressing, and toning of the surface. I also used watercolours to tone in the back edge and removed current hanging fittings to make way for a new system to be fitted. I hadn't carried out any toning of gilding before, so it was great to get some experience doing this. I had some great advice and help from Maria the decorative surfaces conservator and Miyuki who had lots of experience in this area.

Images showing the moulding, application and gilding of a missing leaf tip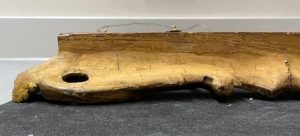 Images showing an area of the back edge before and after toning in losses with watercolour
The final frame I worked on was a painted frame from Westwood Manor in Wiltshire that required cleaning and had some structural issues that needed to be addressed. In comparison to the previous frames, the treatment I carried out wasn't as intensive, but it did allow me to replace a major loss to one of the corners and in the process practice my wood carving skills which were a bit rusty!

Images showing the bottom left corner following the moulding and shaping of a new pine insert. The corner was then stained and polished to integrate successfully with the adjacent moulding
Unfortunately, my time ran out before I could finish the frame, but I did manage to stabilise the loose corners and carry out some toning to the surface using watercolours before I left.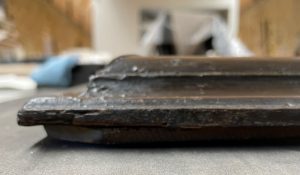 Images showing one area of the outer edge before and after toning in areas of loss using Golden acrylic paints
Before I finished my time at Knole I was lucky enough to have a tour of the house from my supervisor Gerry, which only highlighted what an inspirational place Knole must be to work at.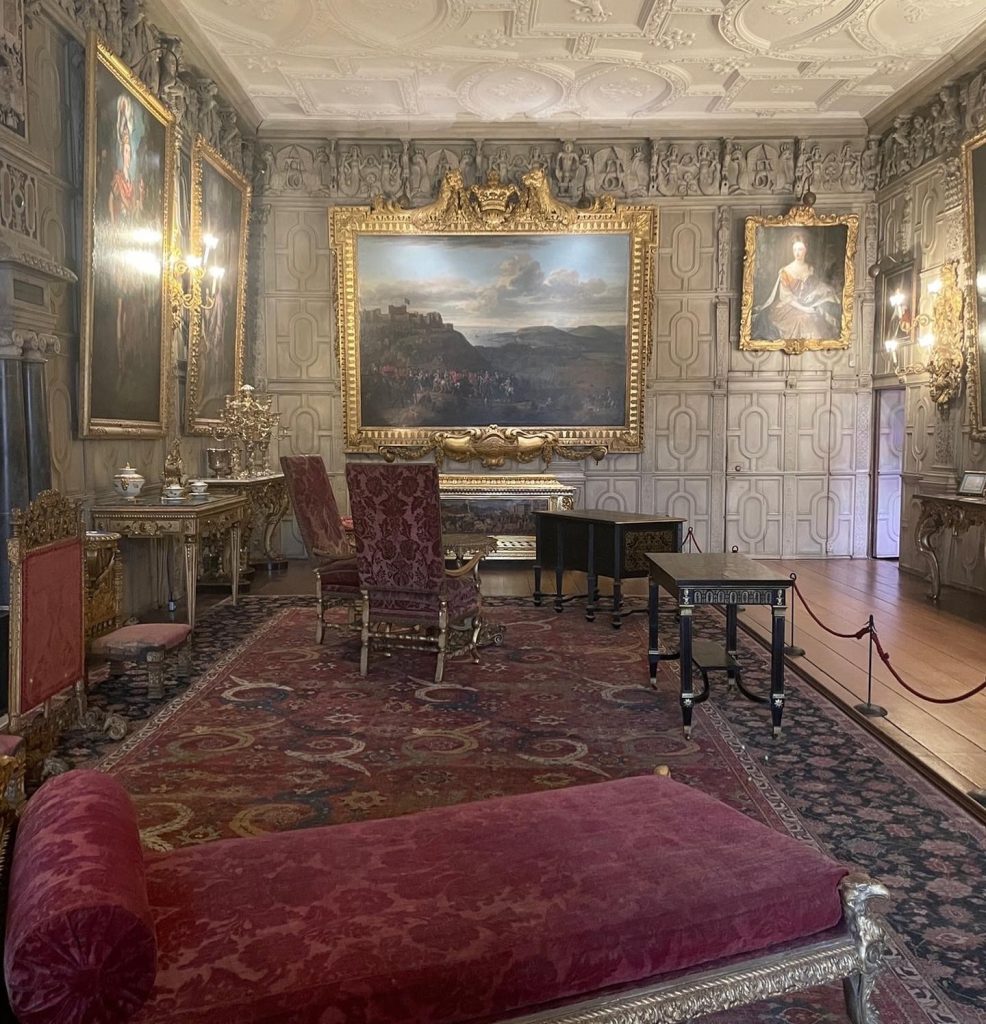 Aside from the great experience I gained in the world of frames conservation, I really felt that I was part of the workforce because I was made to feel so welcome. It really feels like a little family there and everyone was happy to give me advice and tips if I asked.
I must give a big thank you to Gerry who arranged the work placement for me. It was a pleasure to see how enthusiastic he is about all things Knole, and I will be able to transfer all the skills I picked up into my third year at the Art School.
But I must say that I think Gerry was most happy about mastering my exacting strong tea requirements! By the end of my placement, he had produced the perfect cup of tea with the colour that is now known as "Nan's tan tights"! Thanks Gerry!
Senior Frames and Furniture Conservator at Knole Gerry Alabone and me
So, if any future students have the chance to work at Knole, grab the opportunity but don't get too hung up on taking the perfect deer photo as it will become an obsession!