10th September 2013
GAM MA Fine Art Prize Winners Announced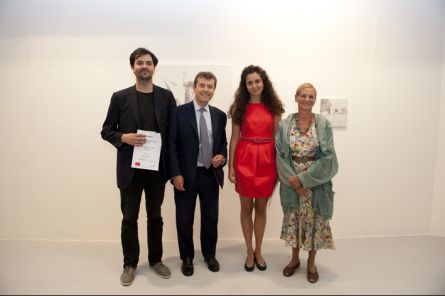 Jelena Bulajic and Mark Morgan were declared equal winners of the 2013 GAM MA Fine Art Prize. The winners of this year's prize were selected by judges, art critic Sarah Kent and artist Professor Jon Thompson. The judges deemed their work outstanding, and their styles too distinct to select one over the other. They were both awarded the prize for their exceptional work in the show that marks the completion of their 12 months MA Fine Art course at City & Guilds Art School, one of London's leading graduate Fine Art Courses.
Jelena's practice is concerned with the presentation of the aging human face using photographs as a source material. Jelena embraces the information provided by the photographic apparatus as a possible framework for drawing, with exacting stipulations for any trace made on the supporting surface. What she attempts to create is the topography of a face, enveloping the canvas as a layered second skin, contingent on bridging the distance between the person depicted and their inner identity as a legible analogy for the relationship between the viewer and the portrait.
Mark Morgan's work involves constructed environments which encourage the viewer to question the physical space which is presented to them as well as the meaning and value of the objects within it. Boundaries and borders are important themes, and allow him to consider a variety of dichotomies and related exchange mechanisms such as smuggling routes, modern day consumerism and cultural appropriation. Through a series of holes, passageways and excavated spaces, he reconfigures the context of the contemporary art gallery as a series of shifting modes of display raising questions about how representation and perception aspect meaning.
The Prize is one element of GAM's support of the City & Guilds Fine Art Department. In addition GAM is providing bursary support and assistance for the Fine Art Department's visiting lecturers programme. GAM, an independent, active asset manager and member of the GAM Holding Group, is extremely supportive of the visual arts following the legacy of its founder, Gilbert de Botton, a visionary financier and well-known patron and leading collector of modern and contemporary art.