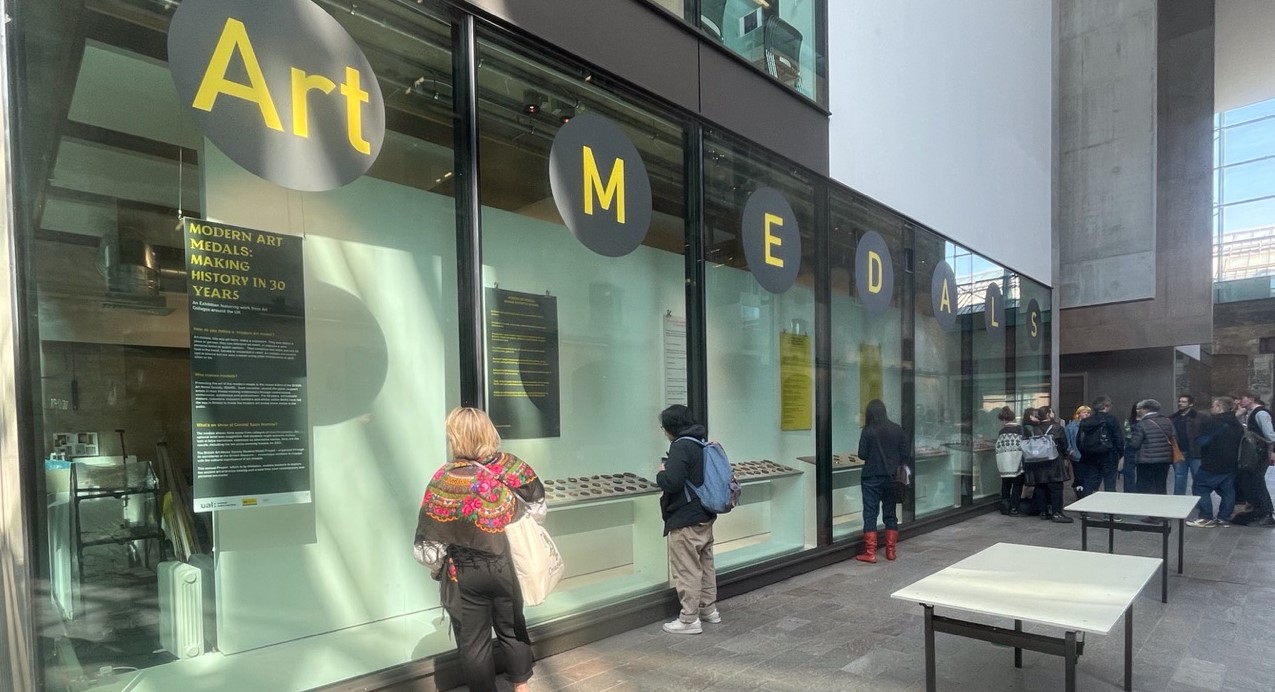 Two Art School students have had their work accepted for the 30th anniversary exhibition of the British Art Medal Society Student Medal Project.
"[The Student Medal Project] was conceived by the British Art Medal Society as a means of re-introducing the art of the modern medal into art colleges within Great Britain – through bronze casting – and it has grown to include a considerable number of UK institutions and one invited foreign academy each year, this year from Pforzheim University, making it an international project. In 2023, 21 UK Colleges took part, with students creating a total of 165 cast medals: a new generation of medal makers."          Marcy Leavitt Bourne, Director, Student Medal Project
First year student Kate Holmes (BA (Hons) Carving: Architectural Stone) and second year student Henry Brown (BA (Hons) Carving: Woodcarving and Gilding) had their medals exhibited in the show.
Henry Brown, Medal to the Earth
'This medal is a study into our relationship with the earth. The coolness of bronze echoes the harsh coolness of industry that tears up the natural world in search of precious materials and ores. The colour red indicates the heat of the world. As the medal sits in your hand it begins to warm, much like the world, as global temperatures are on the rise. How long before the natural world is overtaken by out industrial needs and drives.'
Kate Holmes, Cognizance
'I'm not sure I've ever felt free as an individual, always a faceless part of a squad, having entered the arm at a young age, a cog in a machine. This year I enrolled at City & Guilds of London Art School and for the first time feel like the scales have been tipped: encouraged to claim my agency, to find true autonomy, to think critically and creatively. This medal represents expanding beyond the "machine". I want the unbinding of the zip on my medal to give way to the unknown underneath. It represents a literal and figurative cleaving, a severing along the grain to welcome in a previously unknown multivalence of options. Ultimately, the piece symbolises opening up to new ideas, reclaiming my own sovereignty.'
Find out more in the exhibition catalogue, where you can find the Art School featured on Page 32.
The exhibition is open at Central Saint Martins in Granary Square until Tuesday 9th May.