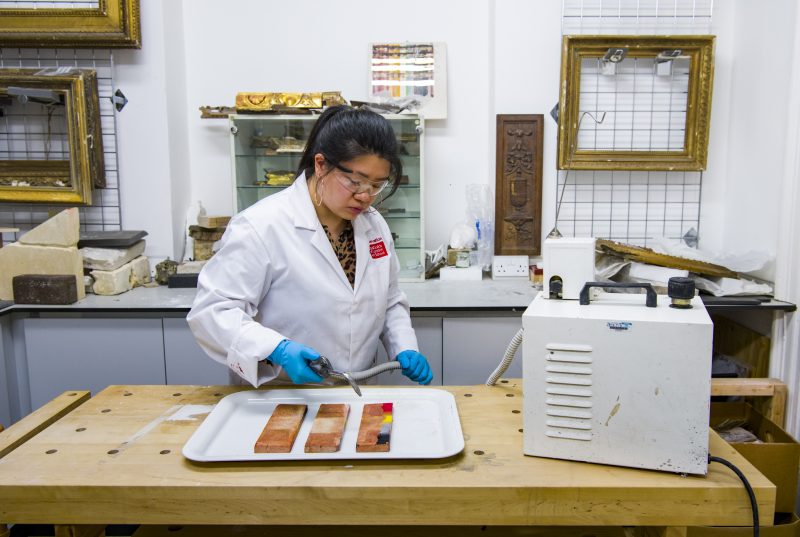 We offer BA (Hons) Conservation: Stone, Wood & Decorative Surfaces and BA (Hons) Conservation: Books & Paper (both three-year, full-time courses) and MA Conservation (one year, full time or two years, part time). If you want to study at postgraduate level but need to enhance specific areas of practice or knowledge before embarking on our specialist MA Conservation course,  we can offer you a bespoke plan with our one or two-year Graduate Diploma Arts: Conservation programme.
Our specialist Conservation labs and studios are situated in the Art School's elegant Georgian building. Our BA (Hons) Conservation: Books & Paper course commenced this year and has been developed in consultation with a number of leading conservation specialists at the Tate, National Archives, Fitzwilliam Museum and College of Arms. A suite of bespoke facilities, specifically designed for teaching this conservation specialism, were completed over the summer, and create an enhanced Conservation area within the Art School.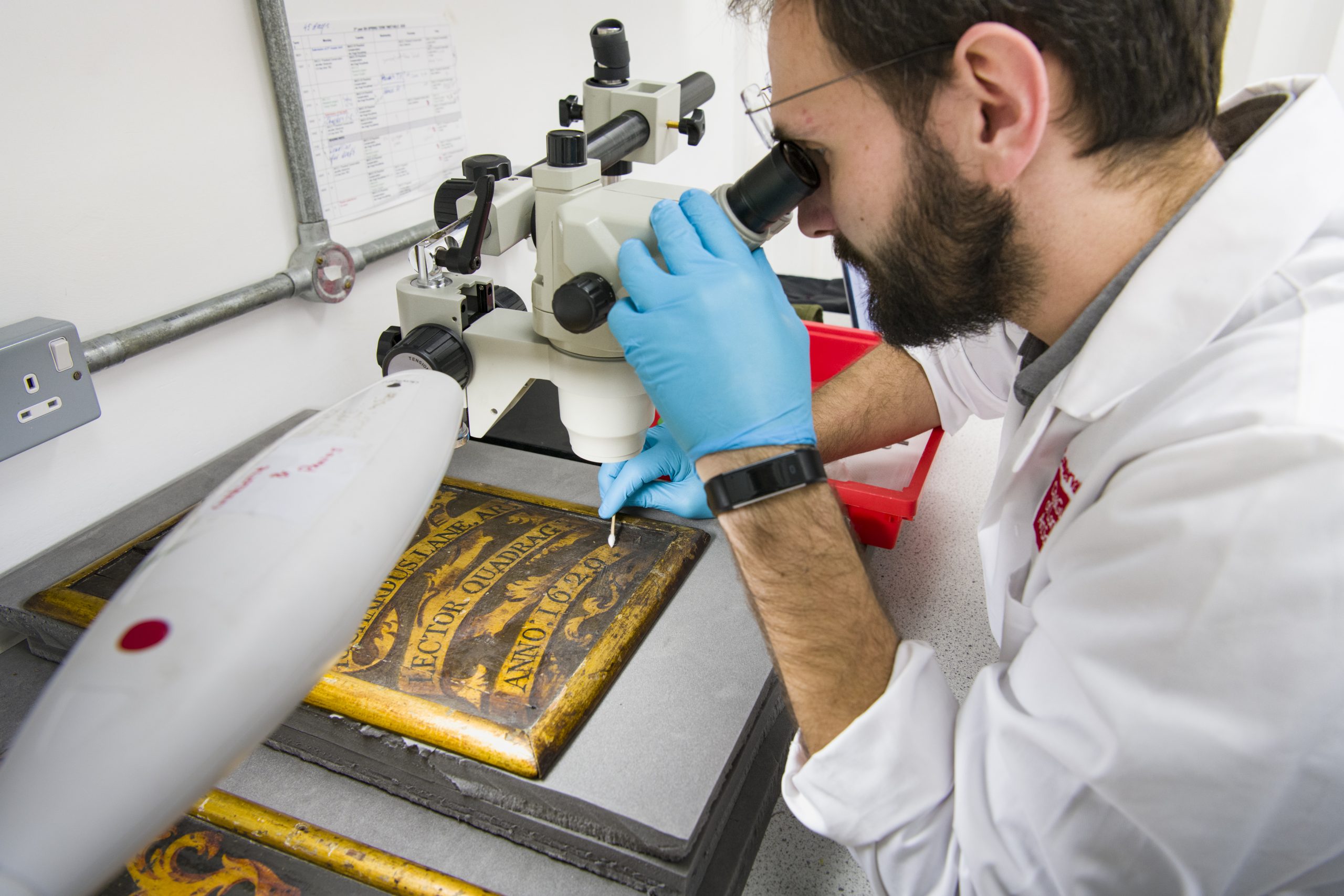 The Art School has been providing high-quality conservation courses for over 50 years, developing an outstanding reputation within the heritage sector.
Conservation is the meeting-point of science and art – a fascinating blend of state-of-the-art forensics, aesthetics and traditional craft skills. As such, our conservation courses offer hands-on engagement with the craft skills employed in historic manufacturing processes combined with leading-edge scientific analysis and treatment procedures, contemporary conservation practice, humanities and the ethics, laws and regulations of conservation.
On our courses, you'll benefit from small class sizes, expert tutors (all leading industry professionals) and specialist lab facilities including state-of-the-art laser technology.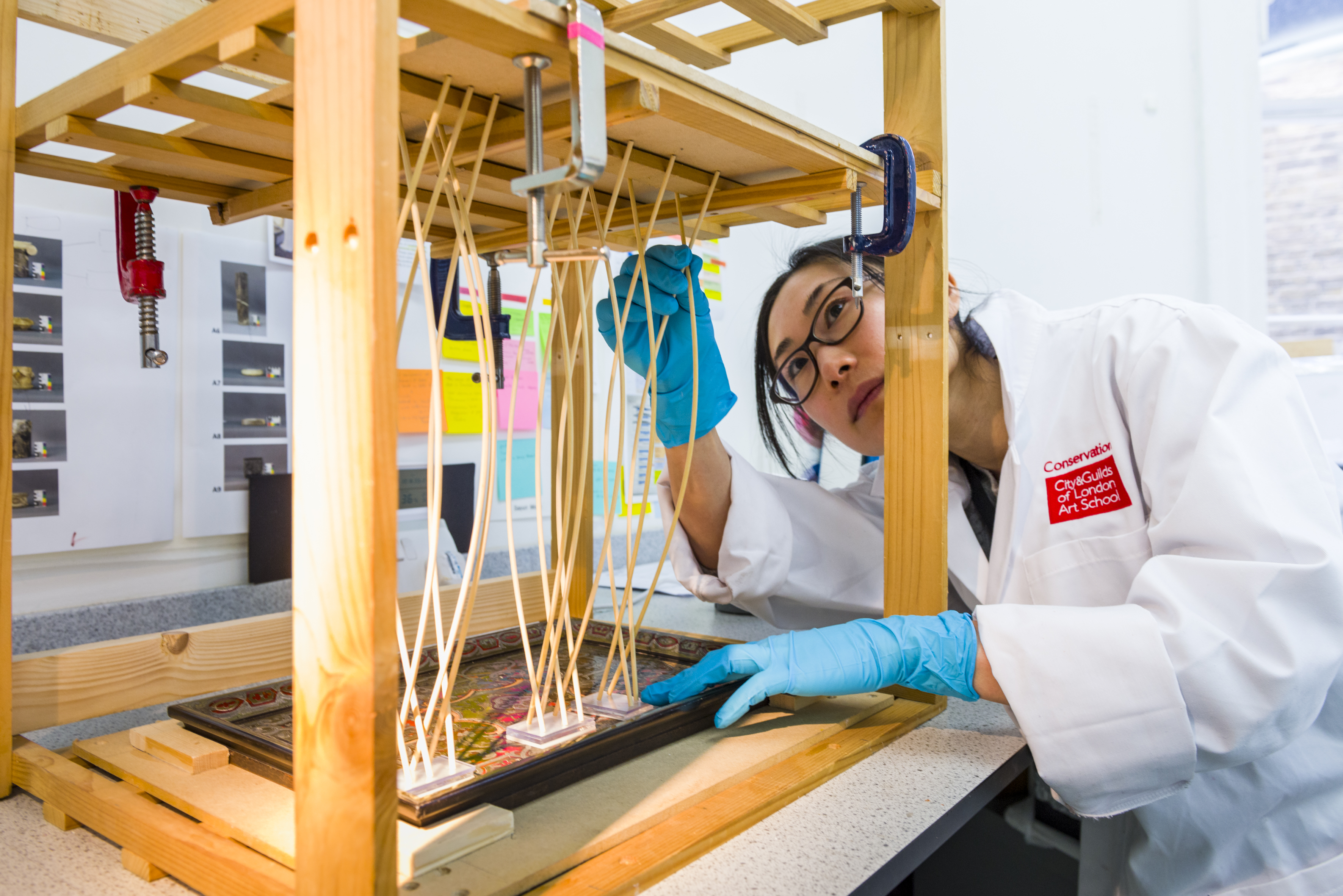 Our extensive links with leading museums and private collectors will provide you with high-profile live projects, placements and a professional network. In the last five years, 100% of graduates have been employed in conservation within six months of graduation, including an annual funded internship in Venice. Many of our alumni have gone on to work within national museum and gallery conservation departments including senior conservation posts at Birmingham Museum and Art Collections, Historic Royal Palaces, the Museum of London, the National Trust, Tate, Victoria & Albert Museum, British Museum, Wallace Collection and Westminster Abbey. Graduates are also employed throughout the private sector with firms such as Cliveden Conservation Workshops, Plowden and Smith, Nimbus Conservation, Taylor Pearce Conservation.
Alongside the conservation labs and studios, our conservation students use other specialist facilities at the Art School. Follow this link to take a look around our specialist workshops and shared spaces.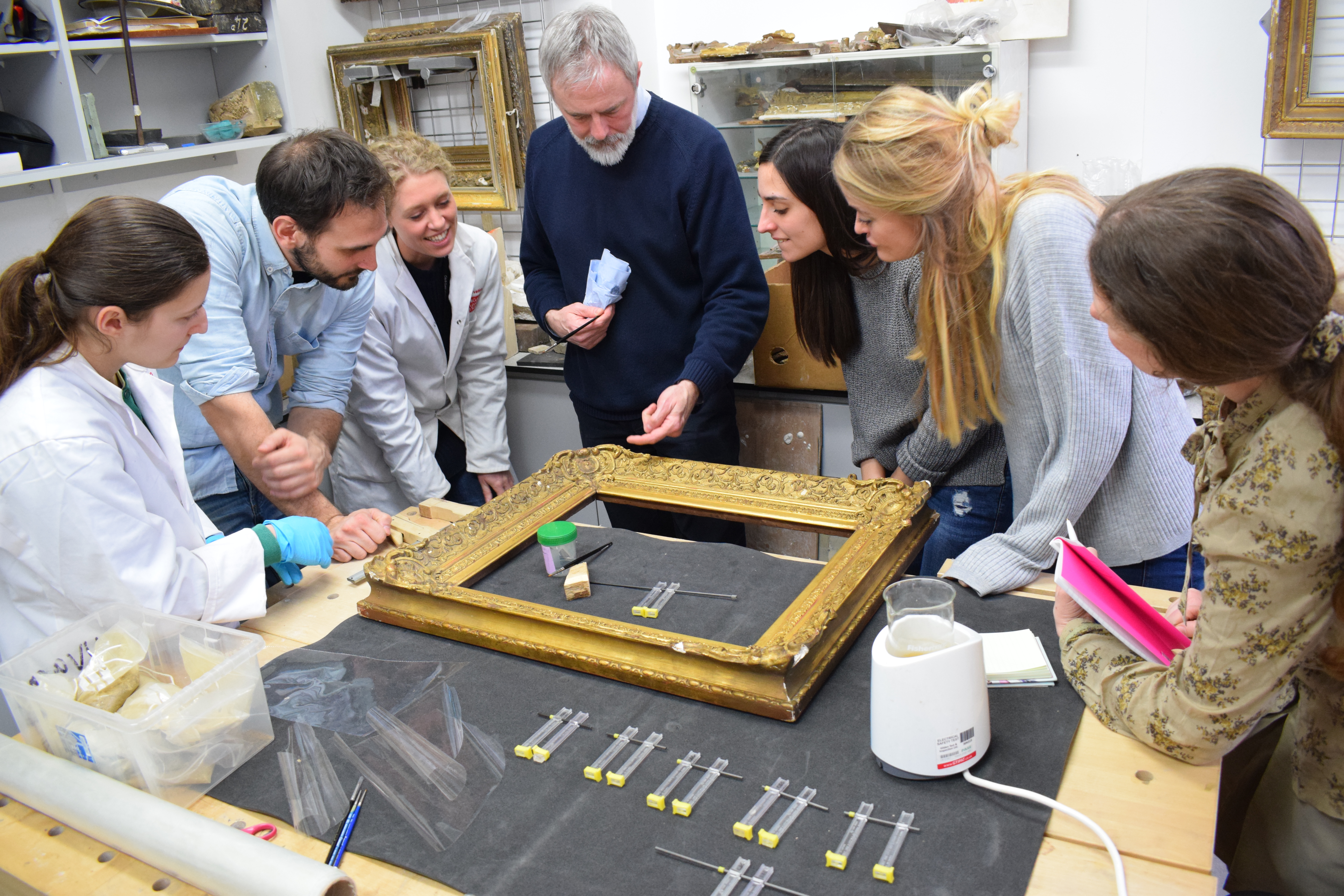 An Art Histories programme is integral to our conservation courses. The programme takes a detailed and materials-based approach to Art History (Antiquity to Modern), The History of British Architecture and The History of Style. Regular guided visits to architectural sites, historic houses and museums will enhance your learning and provide you with an in-depth understanding of the historical and technical factors that affect conservation practice, conservation ethics and policy.
In this Zoom conversation recorded during lockdown, art historian Viv Lawes, talks about her taught sessions on our conservation courses, which particularly focus on the importance of the use of specific vocabularies around art design objects.
BA (HONS) CONSERVATION
During the first two years of the course, you'll develop a deepening-level of  knowledge and skills in a wide range of specialist conservation topics including ethics, history and philosophy, legislation and preventive conservation approaches. Alongside these subjects, you'll learn the science of conservation, including materials science and, through hands-on workshops, you'll explore the historic craft skills used in the manufacturing process of the objects and artefacts you will treat. Engaging in modern conservation techniques, including laser cleaning and technical analysis using IR spectroscopy, UV microscopy and mass-spectrometry, you'll work on supervised conservation projects with specialist experts, on artefacts loaned from our extensive, heritage network.
This will prepare you to develop your conservation practice further in your final year, when you'll complete several remedial conservation projects, with supervision from your specialist tutors, involving historical research, material analysis, treatment proposal and application.
Find out more about the BA (Hons) Conservation: Stone, Wood & Decorative Surfaces course content here.
Find out more about the BA (Hons) Conservation: Books & Paper course content here.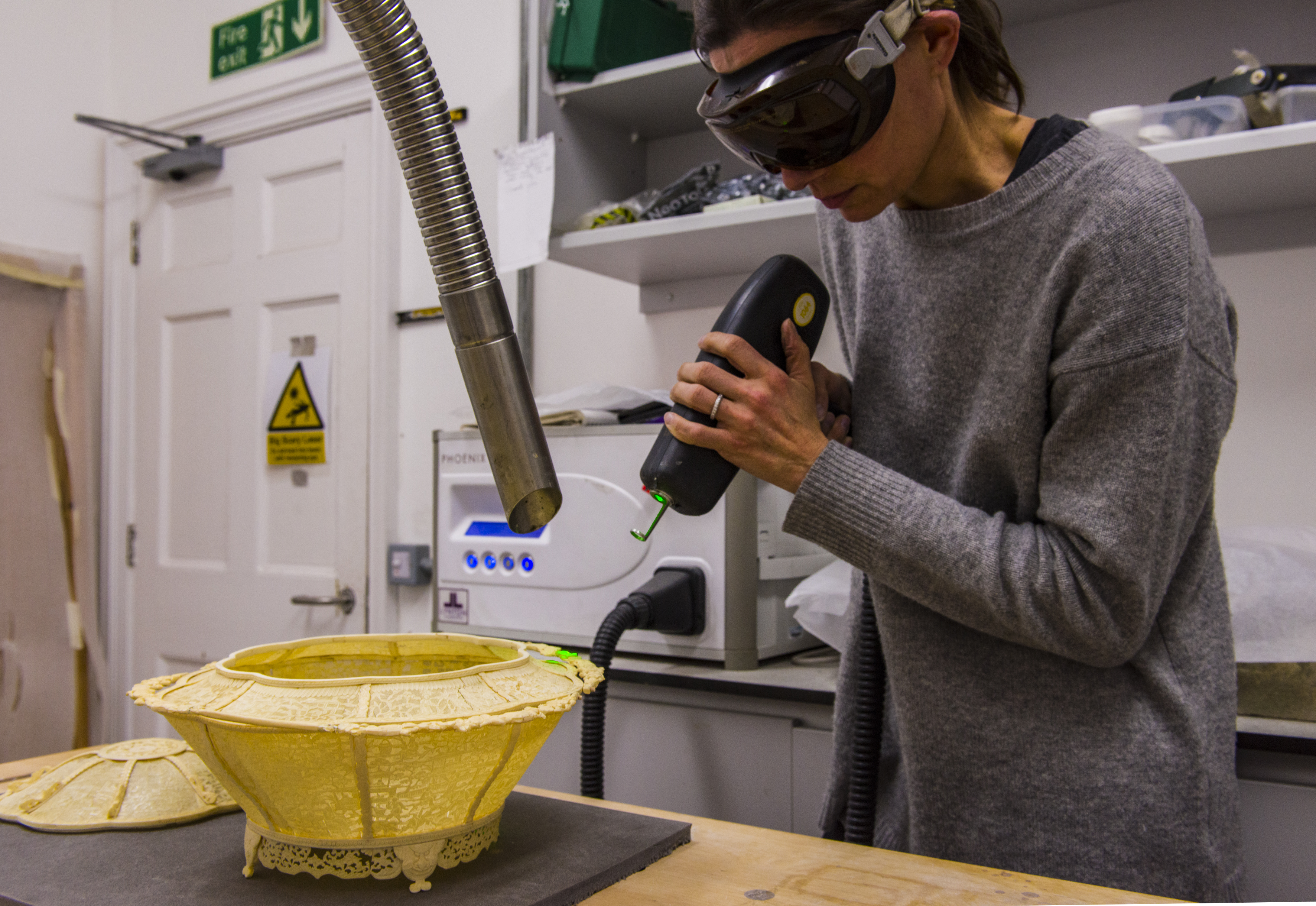 MA CONSERVATION
Our MA Conservation course focuses on complex advanced level Conservation projects and sets out to equip graduates to go on to become leaders in the field. It is designed for those who have either an undergraduate degree in Conservation or who have extensive professional experience within a conservation setting. The MA involves high level conservation projects, advanced conservation science, research, ethics and professional practice. The course culminates in the completion of an ambitious practical conservation project accompanied by an extended research and treatment report.
This course will prepare you to work on ambitious, or large-scale conservation projects as a specialist or project leader and to work as an expert in International contexts.
Find out more about the MA Conservation course content here.
Senior Furniture Conservator at the Wallace Collection, Jurgen Huber, is a graduate from our postgraduate Conservation course. In this short video, he explains how studying Conservation at the Art School has benefitted his career.
All Conservation courses are validated by Ravensbourne University London.
ONLINE OPEN DAYS
To find out more about the course and ask any questions you have, we recommend booking onto an online open day.
Register for BA (Hons) Conservation: Stone, Wood & Decorative Surfaces online open day 
Register for BA (Hons) Conservation: Books & Paper online open day 
Register for MA Conservation online open day
You are also invited to join one of our weekly student virtual chats, where you can ask current students about the course and student life at the Art School. Register for a student virtual chat here.
Download a pdf of our prospectus here.
Click on the images below to enlarge them and explore the Conservation Department.