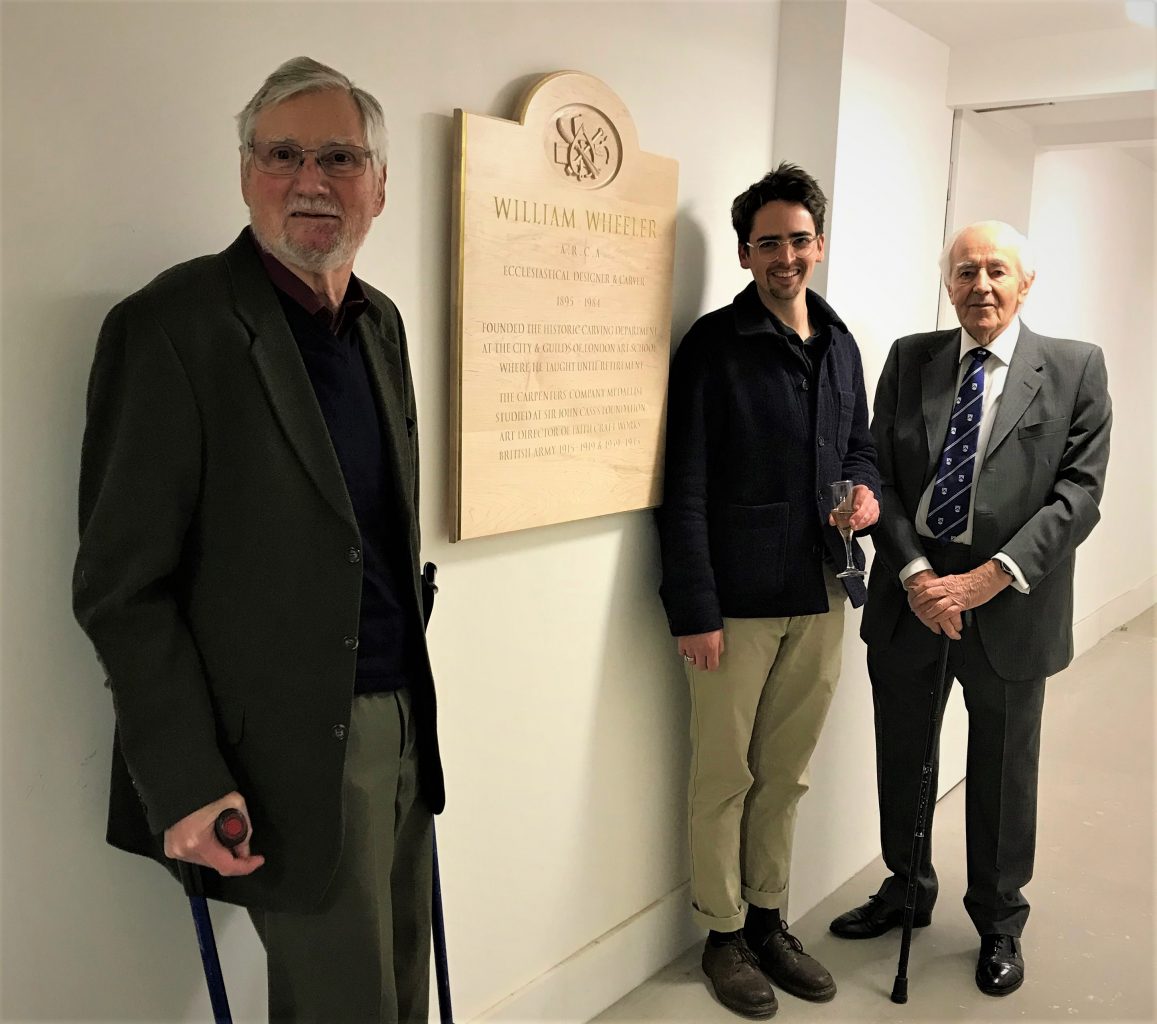 A memorial plaque celebrating the life and work of William Wheeler – founder of the Art School's Restoration Department, the precursor to the current Historic Carving and Conservation Departments – was unveiled at the Art School recently.
The plaque was commissioned by William's son, John Wheeler (a past Master of the Carpenters' Company) and was designed and carved in Maple with oil gilding, by woodcarving and gilding alumnus, Jim Patrick.
The memorial plaque was unveiled at the Art School during an intimate gathering of three generations of the Wheeler family, members of the Carpenters' Company and Art School Carving tutors and staff, past and present.
During the evening, John Wheeler gave a speech about his father's life and Art School Principal, Tamiko O'Brien, spoke about William's lasting legacy at the Art School. As well as admiring the new plaque, guests had the opportunity to view a selection of photographs reflecting William's time at the Art School and a collection of his drawings.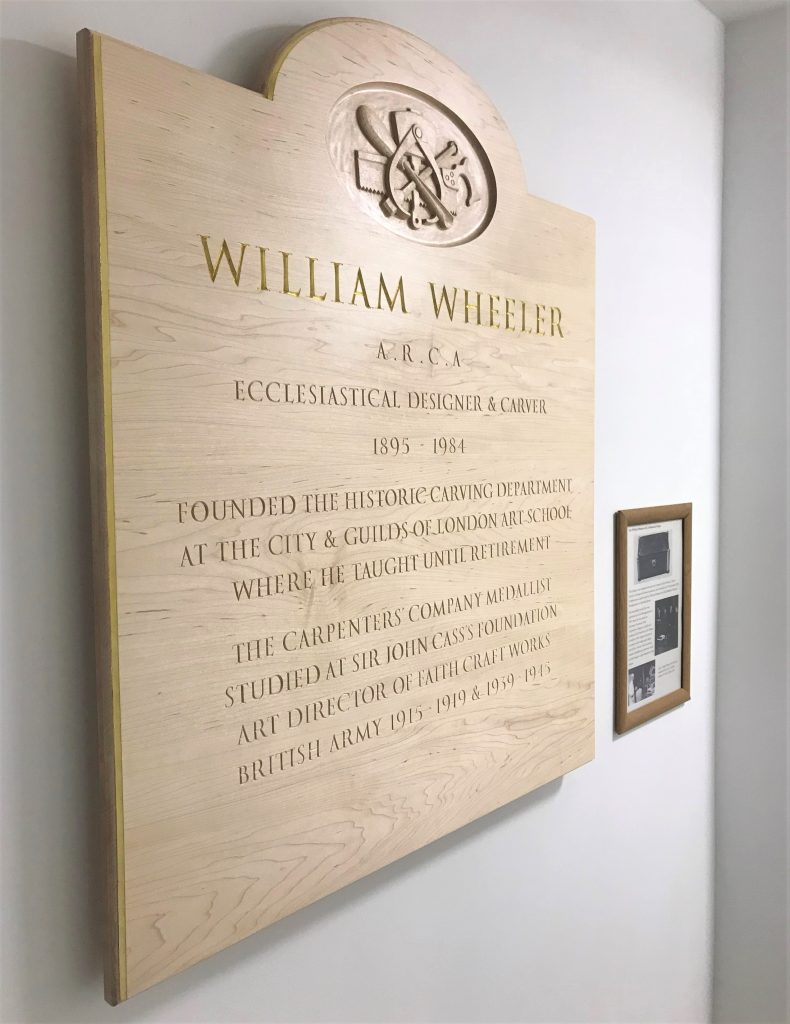 William Wheeler (1895-1984), an ecclesiastical designer and carver, studied at the South Kensington School of Art Wood-Carving and the Central School of Arts and Crafts. After service in World War I, he continued his studies and taught at St George's School in Harpenden. In 1932, he was appointed Art Director of Faith Craft in nearby St Albans until he left for war service in 1939. After World War II he became a Ministry of Labour inspector and assumed responsibility for the training of ex-servicemen as craftsmen to repair the extensive damage to architecture, monuments and treasures during the war. It's during this time that William started the Restoration and Carving courses at City & Guilds of London Art School, where he held the position of instructor in carving, at least informally, for the rest of his career. He also continued work as a carver and served on the Council for the Care of Churches.
William's legacy is still felt at the Art School today. City & Guilds of London Art School continues to play a crucial role in fostering and maintaining the endangered historic craft skills needed to preserve the nation's architectural and cultural history. The Restoration and Carving Department, founded by William after World War II,  continues to thrive as the Art School's renowned Historic Carving and Conservation Departments.
In 2019, our wood and stone carving diplomas were revalidated as BA and MA degrees, and provide the only carving qualifications at this level in the UK. In 2020, the Conservation Department extended its course provision to include the specialist area of books and paper conservation, thus ensuring the continuation of books and paper conservation training in London.
'Woodcarving: the beginner's guide' written by William Wheeler and Charles H. Hayward, continues to be an essential read for anyone learning this historic craft skill and it remains central to the teaching of woodcarving at the Art School. Indeed, there remains at the Art School a direct lineage from William Wheeler, through former tutor Dick Onians, to today's carving tutors, who are passing on his knowledge and skills to the next generation of carvers.
Applications are currently open to study at the Art School in 2022/23, with online open days available for all courses. To find out more about the Art School's wood and stone carving courses, click here. To find out more about the Art School's Conservation courses, click here.
IMAGES
Dick Onians, former woodcarving tutor; Jim Patrick, Diploma Ornamental Woodcarving & Gilding 2019; John Wheeler, son of William Wheeler, with the new plaque in memory of William Wheeler.
The William Wheeler memorial plaque, commissioned by John Wheeler and designed and carved by Jim Patrick.