A bas relief workshop for BA (Hons) Conservation students
Here at City & Guilds of London Art School we have a history of stoically carrying on in the face of adversity –a British Pathé news clip we found on YouTube which reported on how 'the bohemian spirit of Paris lives on' in the Art School during the war, both charmed and moved us when we first came across it – and now here we all are facing a different kind of challenge of a similar global scale.
Because studio practice is central to our approach, we have been determined to preserve it as much as possible despite the challenges posed by coronavirus. We looked at how we could offer students as much access as possible while offering a Covid-secure working environment, striving to make the necessary adjustments over the summer so that we didn't have to delay the start of term. We opened for the 2020/21 academic year as planned, in September 2020.

Carving lettering in the Stone Carving studio
STRICT COVID-19 MEASURES
"I feel so lucky to be at a school which simultaneously places student wellbeing and respect for Covid rules at the top of their priority list." – Roberta Bloomer, Foundation Diploma Art & Design
We are strictly adhering to guidance issued by the Government and Public Health England to protect the Art School community against Covid-19 and going a little bit further, with extensive measures in place to enable social distancing and safety procedures to be carried out effectively. To this end, we have carefully planned the allocation of studio spaces and extended the opening hours for our workshop facilities and studios. To maximise on studio and lab space and time for students, we are running group activities such as lectures and seminars online, whereas appropriately-spaced one-to-ones and small group tutorials and practical workshops, so integral to our approach, continue to take place at the Art School with PPE.
Gaurav Gupta, who is just starting his second year of BA (Hons) Fine Art, is impressed with the Art School's response to the pandemic and our focus on the needs of students, saying: "The school is run in a way that not just considers, but actually centres around the student experience. In current times of Covid, where most institutions have reduced building access, City & Guilds of London Art School has found a safe and effective way of even increasing the number of studio-access hours. I find this to be a unique space that is conducive to growing my artistic practice organically and authentically, and in a way that inspires me to steadily interrogate, investigate and express."

Working in one of the MA Fine Art studios
Course timetabling has been adapted so that start and end times, and breaks and lunch times are staggered to avoid congestion in communal areas. And students have been organised into sub-groups or 'social bubbles', to reduce social interaction and to lessen any disruption caused should a student, and those in close contact with them, need to self-isolate.
We have installed hand sanitiser stations throughout the site and are working with Public Health England and World Health Organisations advice regarding face coverings and PPE and are monitoring compliance throughout the day. As well as wearing face coverings, students are further protected by plastic screens dividing work stations where necessary. We have increased the cleaning rota and have clearly defined routes into, around and out of the Art School.
ADAPTING TO A 'NEW NORMAL'
"Despite many art schools going entirely online or only being able to provide their students with extremely limited studio time (let alone one-to-one tutor time) City & Guilds of London Art School has created the closest possible thing to normality – under the current circumstances." – Chloe England, BA (Hons) Fine Art
Many of our students are finding that they are quickly adapting to their new Covid-secure routine at the Art School. Idina Moncreiffe, a first year BA Fine Art student says she is "very impressed by how well everything is set up so that we can work in a way that feels totally unaffected by the virus. She went on to say, "Keeping distance, regularly sanitising and wearing a mask doesn't affect my ability to work well and happily."
Whilst working within these safety guidelines, we have been able to continue to deliver high quality and intensive specialist courses to all our students, maintaining the vibrant, creative atmosphere that is always present at the Art School.
We have been overwhelmed by the generous response we've received from our students who have felt privileged to be able to start or resume their studies at an art school which prioritises the quality of student experience, whilst adhering strictly to the coronavirus health and safety measures.

In the MA Fine Art studios
Filippa Seilern Aspang, who started on our MA Fine Art course in September told us: "Despite the ongoing global upheaval in education institutions as a result of the pandemic, the Art School has remained dedicated to upholding the needs of its students, ensuring we are still creatively  supported and accommodating our growth as much as possible. Hearing about so many other art schools going online, I am so grateful I chose to come here. Not only are the tutors closely connected to the students in normal times, but even during the pandemic, they ensure that we are creatively guided, closely listened to and helped throughout this period, maintaining as much normality as they can."
Also studying on our MA Fine Art, Lucia Ferguson said: "I'm extremely grateful to the way the Art School has handled the pandemic, doing their utmost to continue to deliver our course and actually giving us back the studio time we would have missed had we stuck to the original course schedule. It is a real testament to the integrity of the school, their ethos of a studio-based practice, and I appreciate all the extra effort that this required. As far as I can tell, we are the only school that has done this. I've also been really impressed with how supportive and encouraging the tutors have been throughout, even in lockdown and via Zoom."
Embarking on her BA (Hons) Historic Carving: Woodcarving & Gilding this year, Joanne Grogan has been impressed with the safety measures installed at the Art School: "At a time of such uncertainty and unrest, the Art School  has dealt with everything with incredible integrity and diligence ensuring the wellbeing of all who attend and work on campus. Given most courses at the Art School are very practical and hands on, stringent safety measures have been put in place which has enabled the school to remain open and created a safe environment for all. The quality of the teaching is outstanding. It is clear that it is a place that is well loved and run by a very dedicated and passionate team of professionals."

Sculpture loaned from Chatsworth House to be treated on MA Conservation
MENTAL HEALTH AND WELLBEING
"Since the start of the school year and with Covid-19 still being a big part of our daily lives, the school and tutors have been exceptionally attentive and supportive." – Savannah du Quercy, BA (Hons) Fine Art
We know that the uncertainty and disruption caused by the pandemic may take its toll on the mental health and wellbeing of members of the Art School community, and it's important to us that we provide extra support to students at this difficult time. All students have access to support from our Access to Learning team, with information and advice about mental health issues also available from our Virtual Learning Environment. The TalkCampus mobile phone App will provide students with 24/7 support for their mental health and wellbeing, while our tutorial system that provides each student with a studio tutor and a pastoral tutor, offers an extra layer of support and interaction.

A workshop on japanning, a traditional decorative craft skill, on BA (Hons) Conservation
APPLY FOR ENTRY IN 2021/22
"These first two months have revealed so many new facets of my chosen material (pigments), opened new ways of thinking about them, new comprehensions, ideas for new narratives and… so many questions. I am loving it!" – Marie Amoore Pinon, MA Art & Material Histories
In accordance with current Covid-19 health and safety measures, it isn't currently possible for us to host physical open days in the Art School's facilities.
Anyone interested in applying to study with us from September 2021 is invited to register onto an online open day where you can meet the Head of Department or a Senior Tutor from your chosen course, find out more about what you'll study, get a feel for what it's like to be a student here and ask any questions you may have. We are also hosting Student Virtual Chats with current students so you can hear first hand what it's like to study with us.
Course applications open in November 2020, and application guidance and our downloadable application form are available here.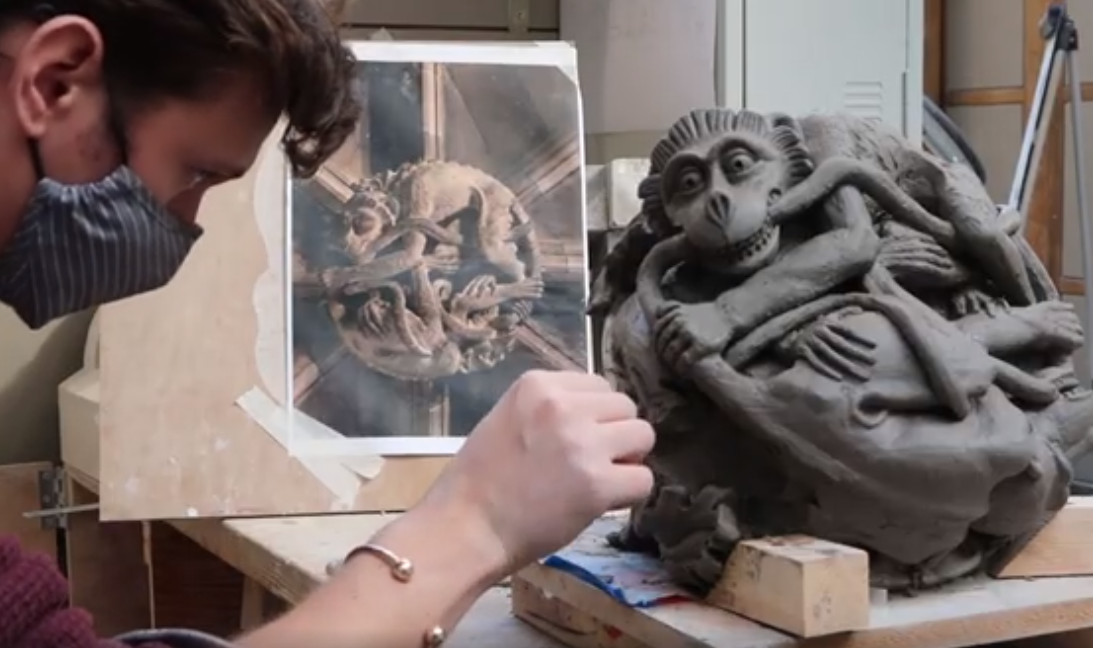 "It's been a long time since I've felt so enthused and excited about being creative it's such a joy I couldn't be more grateful." – Alex Elinson, PgDip Carving