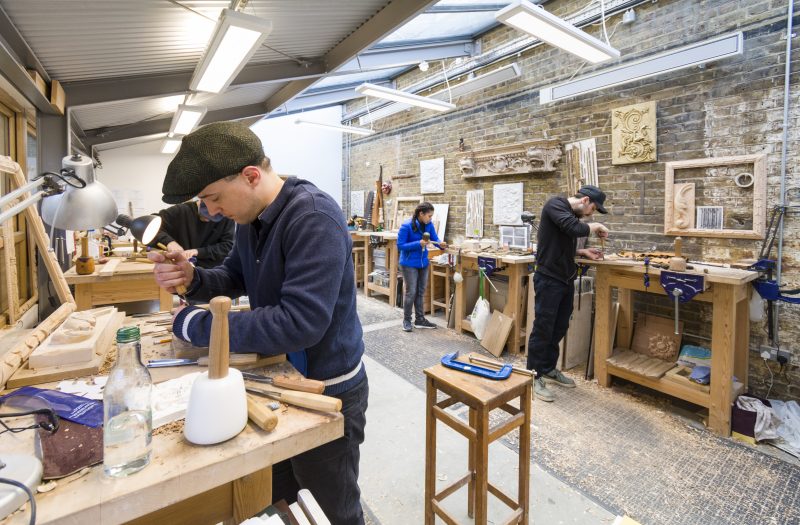 On our renowned Historic Carving courses, you can specialise in either woodcarving & gilding or architectural stone carving. Our carving students practice in recently refurbished wood and stone carving workshops and studios, which open out onto our courtyard garden.
Our BA (Hons) Historic Carving (in woodcarving & gilding or architectural stone) is a three-year full-time course. Our PgDip carving is 30 weeks full time or 60 weeks part time and MA Carving is 45 weeks full time or 75 part time. If you want to study at postgraduate level but need to enhance specific areas of practice or knowledge before embarking on our advanced MA Carving course, we can offer you a bespoke plan with our one or two-year Graduate Diploma Arts: Carving programme.
This film gives you a great insight into our Historic Carving courses, with a tour of our facilities and interviews with our wood and stone carving students.
The Art School has an unbroken tradition of teaching sculpture, stone and woodcarving since it was founded in 1879. We play a crucial role in keeping alive the skills essential for preserving the world's most important monuments and buildings, and offer the UK's only BA (Hons) course in the subject.
Our comprehensive and advanced carving courses will prepare you for a fulfilling career in architectural heritage as a professional carver or as a professional sculptor. Whether your ambition is to create new work in historic contexts or to restore sculpture and ornament, the aesthetic and historical knowledge you'll gain on your course will be as important as your manual carving skills. You'll benefit from our extensive industry links and heritage networks, with exceptional live projects and commissions supporting your professional practice. You will be offered unparalleled opportunities to develop your skills and knowledge as well as your professional practice experience and professional networks.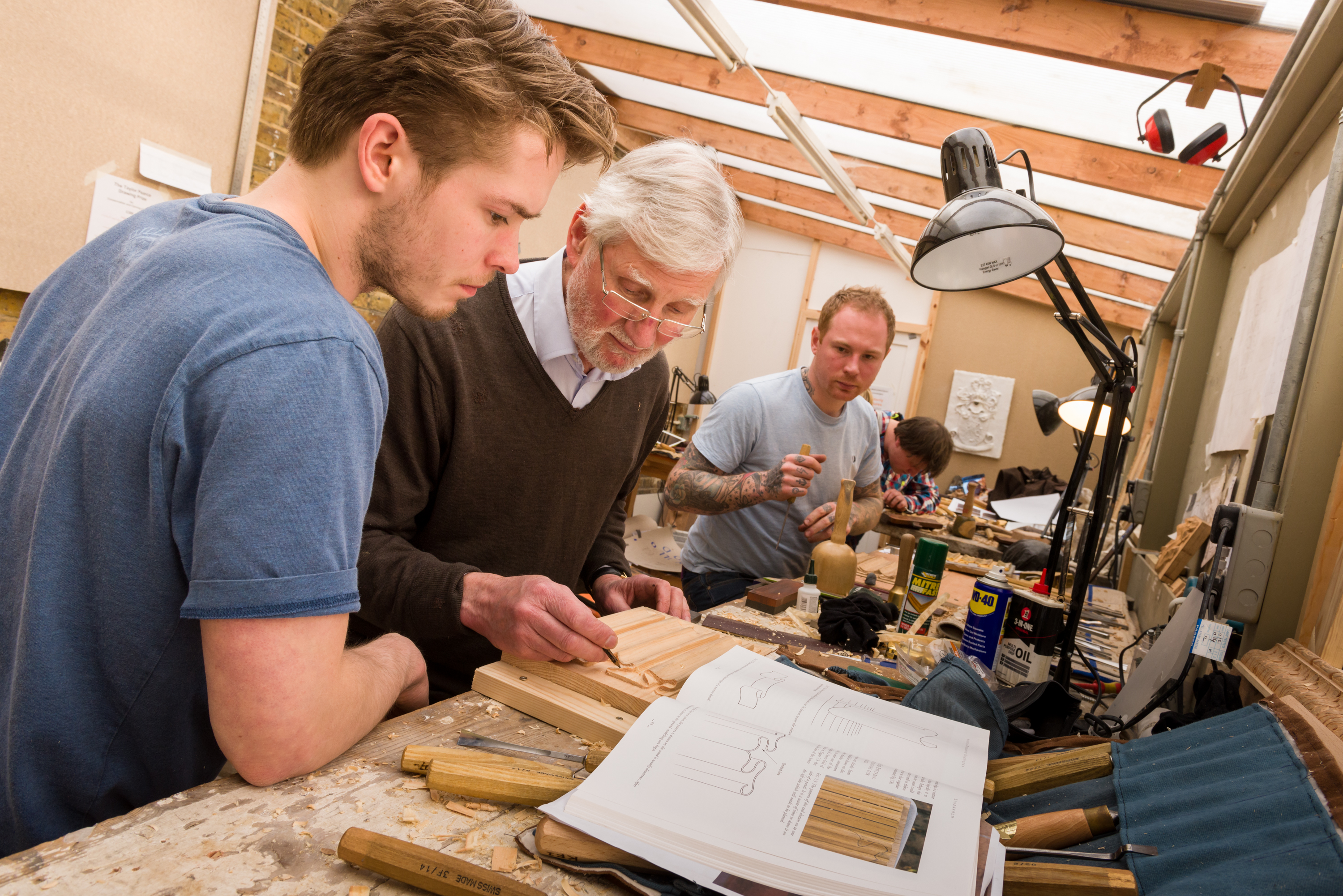 All our Carving Tutors are inspiring, established professionals and our generous tutor to student ratio means a tutor will always be on hand to offer guidance and support, and one-to-one supervision. All courses culminate in a final show which is an important platform to showcase your practice and often leads to commissions and future exhibitions.
Alongside the wood and stone carving workshops and studios, our carving students use other specialist facilities at the Art School. Follow this link to take a look around our specialist workshops and shared spaces.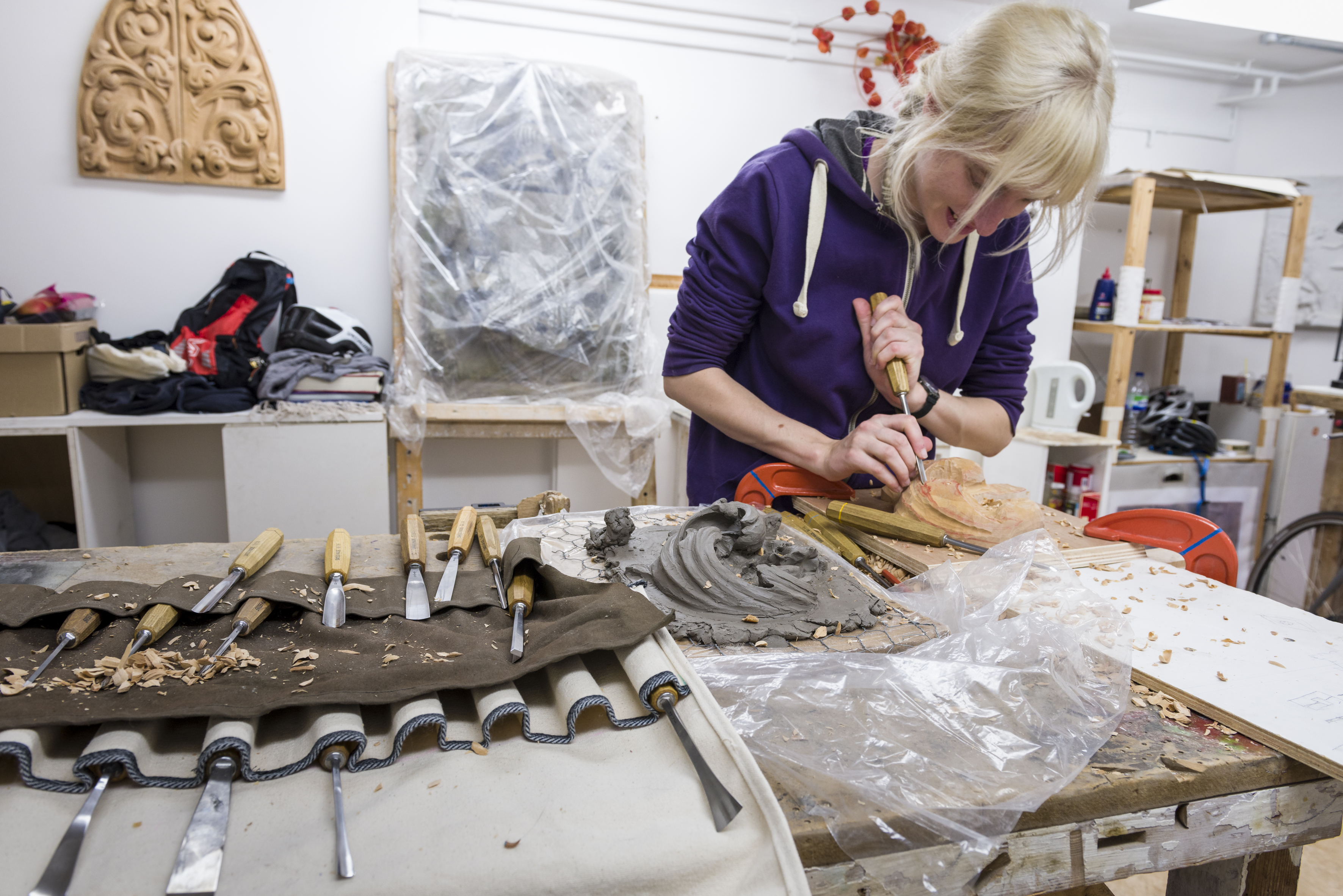 BA (Hons) Historic Carving
The undergraduate courses begin with simple masonry and carving exercises, enabling you to develop skills in a progressive manner. Over the first two years you will progress to more complex ornamental forms including drapery and the human figure. You'll develop observational drawing skills, modelling and casting techniques and focus on lettering. Alongside skill development, you'll study the historical context of wood or stone carving and architectural ornament, giving you an essential insight in to the meaning and significance of historical forms of ornament.
In the final year, you will plan, research and execute major projects within your own chosen specialist area. This is your opportunity to demonstrate your technical expertise, design skills and aesthetic awareness, supported by evidence of your historical and contextual research.
Read more about the BA (Hons) Historic Carving course content.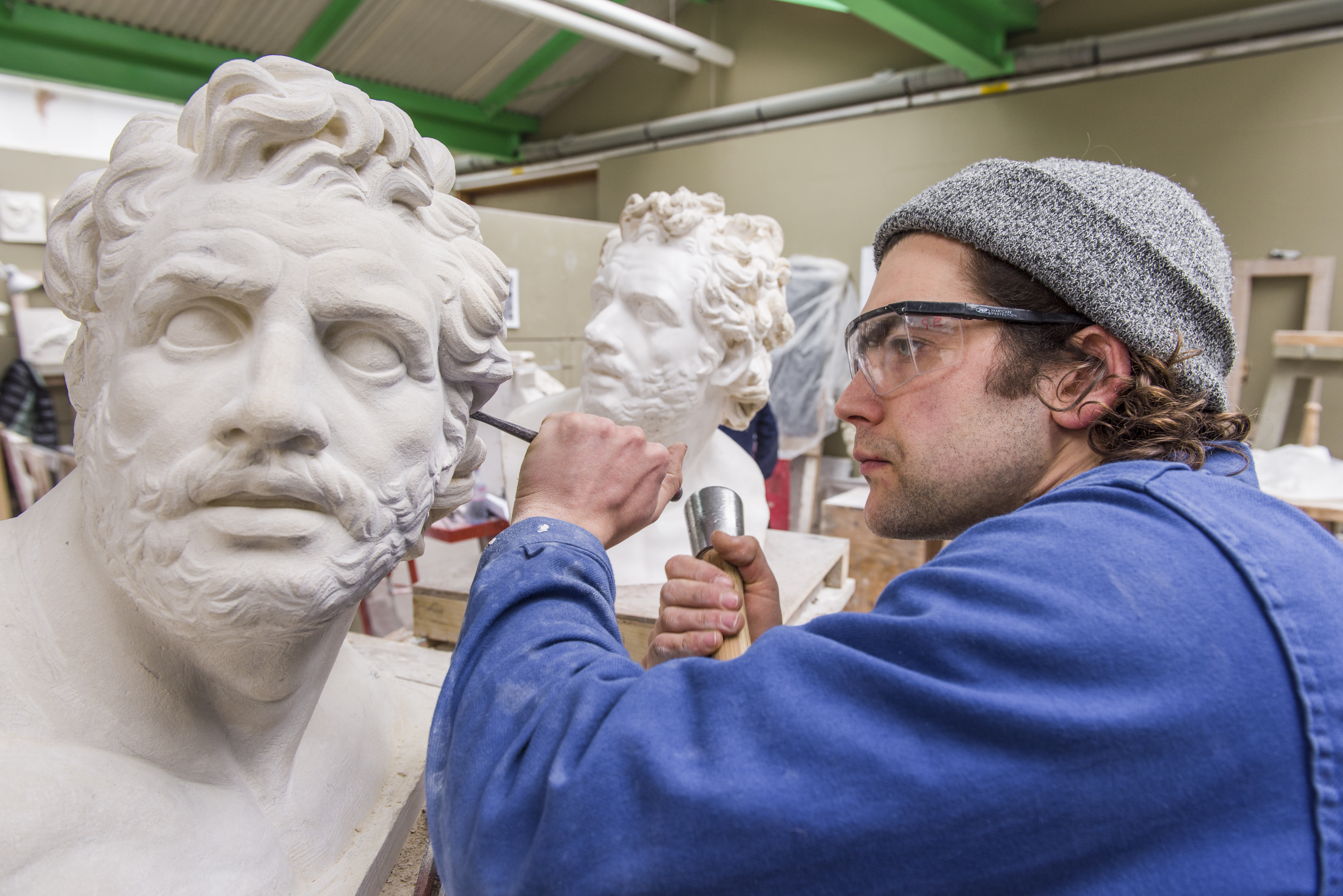 PgDip/MA Carving
This postgraduate course has an emphasis on practical hand skills, research skills and problem solving, providing an excellent basis for freelance employment within the creative and heritage sectors. If you are looking to become a high-level, professional sculptor, stone or woodcarver, or extend the scope of your current practice, this rewarding course is invaluable. Its depth of focus enables you to produce final projects that demonstrate your analytical ability as well as your mastery of carving and related skills.
Based on your planned and agreed proposal or statement of intent, the program is designed to reflect your individual experience and your aspirations. It is an intensive course involving you in an ambitious self-initiated carving research project. The course is intended to be primarily self-directed and to complement your individual research interests and practical experience.
Read more about the PgDip/MA Carving course content.
If you'd like to speak to the Course Leader to find out more details or ask specific questions, we can offer you an individual online open day. To arrange an online open day at a convenient date and time, please contact us as at admin@cityandguildsartschool.ac.uk
All Historic Carving courses are validated by Ravensbourne University London.
Places are still available for entry in September 2020 on our Historic Carving courses. Find more about how to apply and application deadlines here.
Download a pdf of our prospectus here.
Click on the images below to enlarge them and explore the Historic Carving Department.