In a recent interdisciplinary collaboration, BA (Hons) Fine Art alumna, Katie Lennard, commissioned alumni from two of the Art School's specialist courses, to work with her on a roof-top installation in the City of London.
Katie was asked to create a sculpture for an office roof garden and chose to work with Stone Carving alumnus Edgar Ward and BA Conservation alumna, and current MA Conservation student, Miyuki Kajiwara, on the project. The stone sculpture is titled The Texel Stone.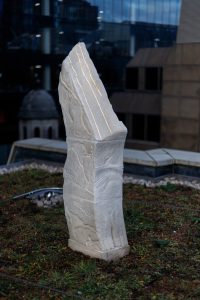 The Texel Stone is carved in Portland Stone, incorporating elements of gilding in gold leaf, and is installed on a bed of Sedum and surrounded by wild flowers, lavender and olive trees. Cobbles edge the garden perimetre. Describing the project, Katie said: "Using 3D scanning, I developed my idea to interpret and enlarge (by around seven times) a shard of slate that I found at the Blue Lagoon in Abereiddy, Pembrokeshire, Wales in 2015."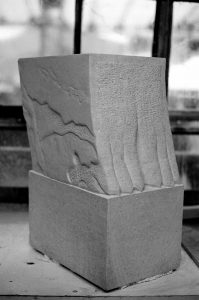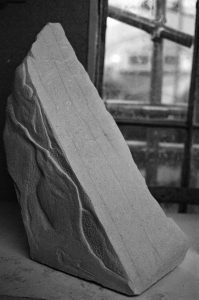 The Texel Stone project illustrates the inspiring creativity engendered by the Art School's unique blend of specialist disciplines. Katie's experience at the Art School has given her a deeper engagement with art's materials and their potential. It has also connected her with the skilled makers who helped her realise the installation she designed. "For this commission, I wanted to use valuable, traditional materials and specialist skills to create an object that would evoke mystery and attract wildlife. Naturally, Portland stone was chosen because of its enormous potential and layered connection with London architecture. Had I not studied BA Fine Art Sculpture at the Art School, I would not have known where to start, or who might help me to achieve my vision."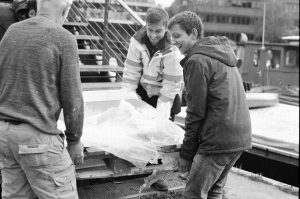 Katie chose to work with Edgar Ward who she describes as "seamlessly professional" and Miyuki Kajiwara, whose gold leaf gilding "transcends the work entirely". She also attributes support from Art School Fine Art Tutor Frances Richardson as a positive influence on the work.
Katie tells us: "The piece is now situated about 100 metres from the Gherkin on a private, wild roof garden at the top of an office building and is named after the company who commissioned the work."