The Covid-19 pandemic has impacted every aspect of the Art School's activities since March 2020. Trustees, Senior Management Team, and staff have been pro-active in responding to the ongoing situation with our highest priority being the need to maintain the high standards we are known for and that our students expect and deserve – not least to ensure our students have been able to thrive and fulfil their ambitions,  to secure their progression through their courses and on to employment or future study, and to uphold recruitment in order to avoid long term financial consequences. Despite the significant challenges, there have been many important achievements to celebrate:
MARCH 2020- LOCKDOWN

Summer Term 2020 L-R: First year BA (Hons) Historic Carving: Woodcarving student, Tom Buchanan, carving an acanthus bracket; BA Fine Art graduating student Polina Pak working from home; Charlotte Okparaeke (BA (Hons) Conservation) onsite treating the Joseph Wade Memorial for one of her final year projects.
We successfully put measures in place to move teaching online and progress students during the first lockdown. All undergraduate students were able to successfully complete their year in the Summer Term and graduate from their courses, while MA students who would normally have worked through the summer break returned for an additional term in the studios during Autumn 2020.
Thanks to the brilliant innovations of our teaching teams and our shared determination, throughout this time we achieved more than to simply cope with an unprecedented situation. We have seen how the teaching and support we put in place enabled students to thrive and exceed their own expectations during such a time of crisis.
SEPTEMBER 2020 – BACK IN THE STUDIOS AND WORKSHOPS
Autumn Term 2020 L-R: New Books & Paper Conservation student in a bookbinding workshop; returning MA Fine Art Student in new studios created over Summer 2020; Third year BA Historic Carving: Stone student working on a lettering project.
In early September 2020 we welcomed new and returning students back to the Art School in stages for the Autumn Term and new academic year 2020/21. We were able to offer our students, the intensive studio-based learning experience that we are known for, and which is crucial for a depth of study in our specialist subjects. Meeting ongoing social distancing and safety rules which required adaptations to our facilities, extended opening hours and additional teaching, along with continued online delivery of certain curriculum elements such as Art Histories, enabled us to maximise on time in our studios, workshops and labs for all of our students. We were also pleased to be able to launch our new Books & Paper Conservation course with a full intake and with a new suite of bespoke studios created over the Summer months.
We launched a new Graduate Showcase website to celebrate and promote our students' achievements during this time, that has proved to also be very helpful with our current recruitment activities. For our BA and MA Fine Art graduates of 2020 we have secured a for hire external exhibition venue, Barge House, on London's Southbank for a joint exhibition this Summer. Our Carving graduates of 2020 were invited to show alongside their peers the 2021 Degree Show in August.
We worked hard to successfully maintain the levels of bursaries for students through external donors that continued to support well over a third of the student body to study with us.
JANUARY 2021 – LOCKDOWN

Spring Term 2021 L-R: MA Art & Material Histories Students building a materials library collaboratively online; The Fine Art Department welcomed Alumna Flora Yukhnovich back to speak as part of a series of professional practice sessions; Gilding projects are being taught online with kits delivered to Conservation students.
Following a very successful Autumn term back at the Art School, we were unfortunately, and at very short notice, unable to reopen for the Spring term in January 2021 due to new government lockdown regulations. In order to best support our students at the time, and to keep them safe, teaching moved back online for the term. On 8th March 2021 we were pleased to be able to open the studios for students to access.
Collaborative transcription projects on Gozzoli & Brueghel, delivered online by tutor Kim Amis to second-year Historic Carving students over 12 days.
THE RETURN – EXTENDED SUMMER TERM – APRIL 2021
The 12th April 2021 saw the beginning of the extended Summer Term with the full schedule of tutorials, teaching and workshops resuming on campus, with necessary Covid-19 testing and safety measures in place. With our commitment to hands-on teaching and practice-based focus we determined to extend each course to allow for the essential studio and workshop-based teaching and development, for example the BA academic year was extended from June through to mid-August.
CLASS OF 2020 BA & MA FINE ART GRADUATES AT BARGEHOUSE, OXO TOWER, SOUTHBANK – JULY 2021

We were proud to celebrate the outstanding work of our 40+ 2020 Fine Art BA and MA graduates who were unable to present their work in a physical show in Summer 2020 due to the pandemic. The Art School hired the Bargehouse on London's Southbank, a well-regarded arts venue with its extraordinary powerful post-industrial spaces. The largescale group exhibition featured a diverse range of artworks, providing an important opportunity to showcase the year groups work as a launch pad for their professional practice and to celebrate their achievements.
SUMMER SCHOOL SHORT COURSES – JULY 2021
We were thrilled to also be able to run our Summer School in July 2021, having no choice but to cancel in 2020. We welcomed participants to step inside, and explore craft, art and conservation skills with our expert tutors.
Thanks to the generous support of the Andrew Lloyd Webber Foundation, a number of grant-funded places on our historic craft-focused courses were given to young people aged 18-25. The scheme is aimed at engaging young people with historic crafts, specifically facilitating the participation of those who would otherwise be unable to fund their place and where aspirations to study at a higher level may need direct encouragement and facilitation.
FREELANDS PAINTING PRIZE 2021
2021 BA Fine Art graduate, Augusta Lardy, was one of the ten winners of the 2021 Freelands Painting Prize.  The Prize celebrates outstanding painting practice at undergraduate level with an annual exhibition and publication. Winners are selected by judges from proposed students from Art Schools across the UK.
GRINLING GIBBONS 300 AWARD – AUGUST 2021

Nine of our Historic Carving students and recent graduates were shortlisted for the Grinling Gibbons 300 Award, a national competition for emerging carvers established to mark the 300th anniversary of the death of the 'Michelangelo of woodcarving' Grinling Gibbons. The winners were revealed in early August at Bonham's and our students and alumni won five of the six prizes including the first prize.
DEGREE SHOW – AUGUST 2021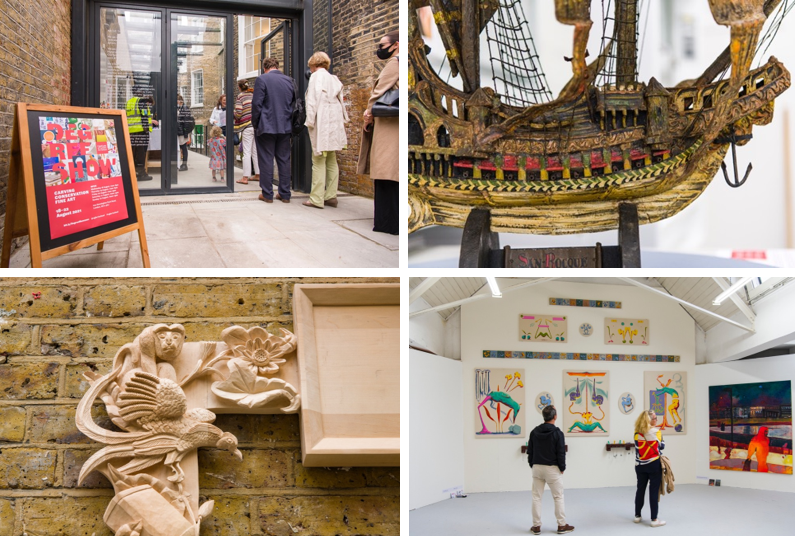 The extended summer term enabled our undergraduate students across our Fine Art, Carving and Conservation courses to achieve their ambitions and our Degree Show in August was a testament to their hard work but also to our unusual decision. Where the majority of higher education providers did not extend the academic year, we were determined to remain true to our mission and ethos as a centre of excellence. The exhibition was profound and joyful and the external examiners spoke in the highest terms of how well we had supported our students during this time, how impressed they were with the student outcomes and with the Art School's integrity and commitment.
NEW DIRECTOR OF RESOURCES & OPERATIONS APPOINTED – NICK RAMPLEY
We are absolutely delighted to have Nick join our team, he has a most impressive track record, previously having been Vice Principal at Morley College and clearly has the experience and skills to excel in all the aspects of this complex new role. As well as his professional abilities and accomplishments his deep commitment to widening access for education in creative practice fits well with the Art School's ethos and ambitions.
MATERIAL MATTERS: CLAY SYMPOSIUM AND EXHIBITION – OCTOBER 2021

We were so pleased to have welcomed more than 100 UK and international delegates to the Material Matters: Clay online symposium, and received some wonderful feedback about our speakers. Recordings of the presentations are now available to view on the Art School's YouTube channel.
City & Guilds of London Art School's research programme, Material Matters, sets out to explore a specific material through a range of approaches: from exhibitions to lectures; pecha kucha to symposia; and from commissioned essays to interviews. Clay was the focus of the Material Matters programme for 2020/21. Previous materials explored were wood (2017) and pigment (2018/19).
MA SHOW 2021 – OCTOBER 2021

Featuring artworks from over 30 exhibitors, the MA Show 2021 at City & Guilds of London Art School was a celebration of the outstanding work of our postgraduate Fine Art, Art & Material Histories and Carving students.
The exhibition was postponed from early September to late October to accommodate an extension to the term.
NEW ACADEMIC YEAR 2021/22 – LATE OCTOBER 2021
The Art School welcomed new and returning students for the Autumn Term and new academic year 2021/22. We continue with social distancing, mask wearing, regular testing and safety rules to maintain a safe environment for staff and students to work and study.
We are currently developing our new five-year strategic plan which looks carefully at the Art School's potential to develop and grow, with long-term sustainability and social impact in mind.
The Trustees' and Executive's utmost priority is to secure the funding needed to move ahead and to stem any further weakening of the Art School's financial position created by the pandemic, ensuring that we avoid creating a negative financial legacy holding back and undermining our progress in the years ahead.