Zoe Wilson, who graduated from our Diploma in Architectural Stone Carving course in 2016, has been chosen as a British craft ambassador by knitwear designer John Smedley, to help them celebrate their 235th anniversary, making them the oldest knitwear manufacturer in the world. As one of ten British crafts people selected to be part of John Smedley's 235 celebration, Zoe features in a host of promotional activities and events showcasing each craft specialist's work.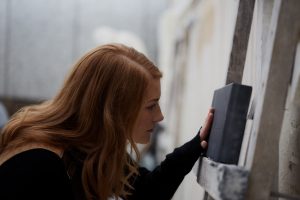 For Zoe, the events started in May, when she took part in a Q&A session with ceramic artist Alice Walton, held at John Smedley's Jermyn Street store. This month, images of Zoe and her work reside on the John Smedley website homepage and a detailed interview with Zoe about her practice feature on the John Smedley blog, including a beautifully-shot video of Zoe in her workshop, which will be shown in the window of Harvey Nichols during the first week of October.
An exhibition focusing on Zoe's journey to become a highly-skilled stone carver will be displayed in John Smedley shop windows across London and Japan, with her work available to purchase from the stores, and she will also be part of an exhibition at St James's Market Pavilion, which runs until May 2020.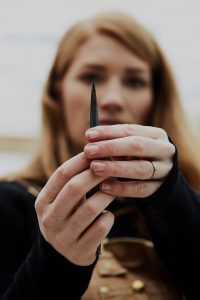 As well as these high profile events, Zoe's image adorns the front cover of the upcoming issue of Essential magazine, with an article about her practice in which she acknowledges the crucial role the Art School's Historic Carving Department has played in the development of her craft skills and career.
Each of the ten crafts specialists chosen by John Smedley are Queen Elizabeth Scholarship Trust (QEST) Scholars. QEST is a charitable organisation that supports education and excellence in craft in the UK, offering funding at entry level on the QEST Apprenticeship Scheme and facilitates skilled crafts people who wish to reach a higher level of excellence in their work, through QEST Scholarships.
Zoe was successful in her application to become a QEST Scholar whilst studying at the Art School, and comments that the funding she received helped her complete her three year Architectural Stone Carving Diploma, which she says "was a real turning point in my career."
As a QEST Scholar, Zoe will also take part in a QEST lecture at the V&A Museum on 24 September 2019, led by QEST Ambassador Dr Jonathan Foyle.
Commenting on the Art School's long-standing Diploma Architectural Stone Carving,  Zoe says, "The emphasis was on a good solid foundation of understanding, then developing practical skills to match it, which really helped develop confidence in my own ability. Learning from highly-skilled working carvers was fantastic, their breadth of knowledge was outstanding, I remember feeling such a craving to study and learn from them. The Art School, and in particularly the Carving Department for me, was rather like a big family."
Read more about Zoe here.
The Stone Carving course completed by Zoe in 2016,  has been validated to become BA (Hons) Historic Carving: Architectural Stone, which commences in autumn 2019.  A few places are still available for 2019/20 and anyone interested in finding out more, or applying, can email us at admissions@cityandguildsartschool.ac.uk
We congratulate Zoe on her successes and look forward to seeing her career develop in the future.
IMAGES
Imagery by Asia Werbel for the John Smedley 235 project