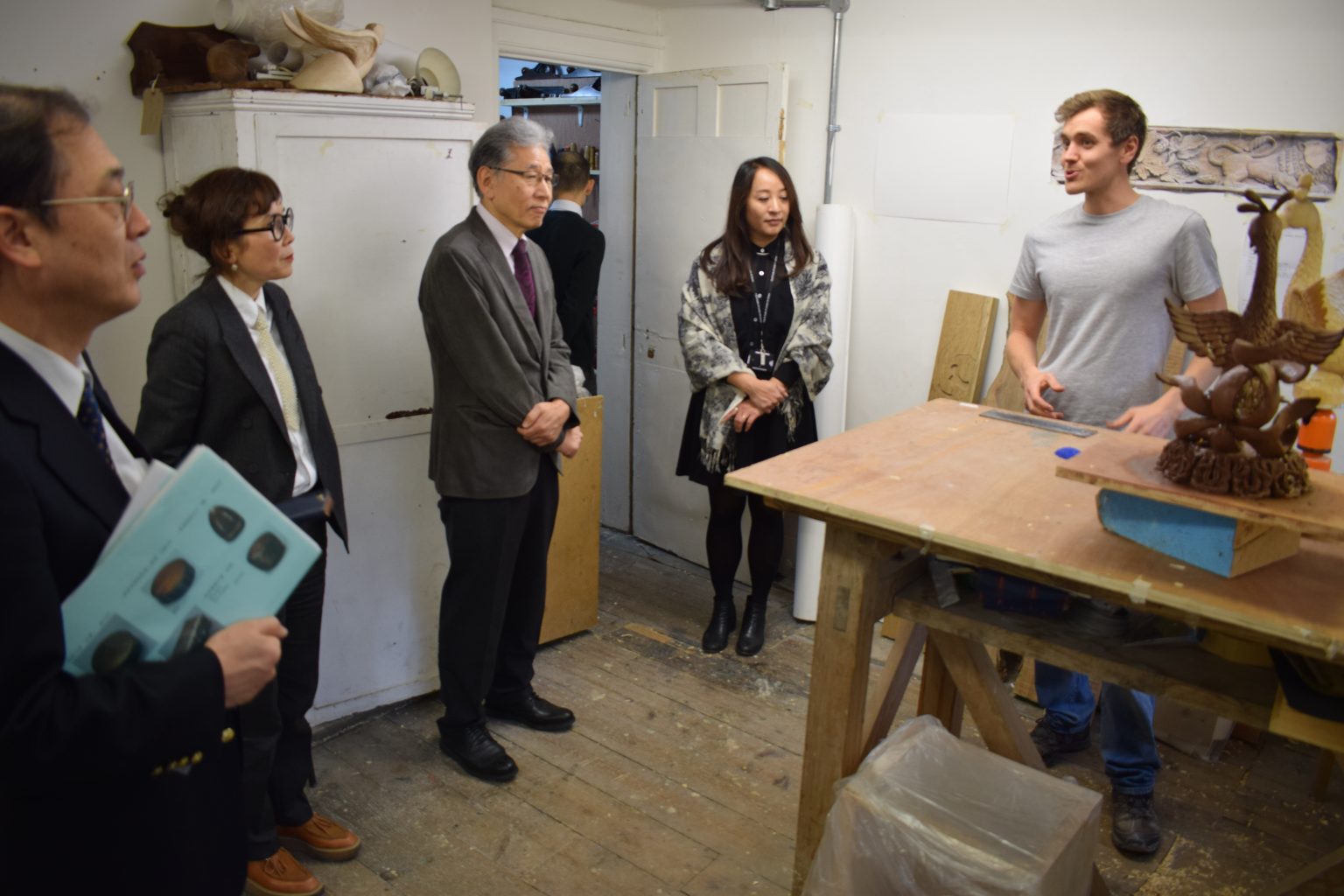 Tamiko O'Brien second from left during a visit from Urushi expert and Living National Treasure Kazumi Murose (third from left) to the Art School' s carving and conservation studios in 2018
In July 2022, the Ravensbourne University London Professorial Appointment Sub-Committee conferred the title of Professor Emerita on Tamiko O'Brien, Principal at the Art School between 2014 and 2022. In their feedback, that considered Tamiko's career in Higher Education to date, the panel referred to her 'sustained strategic leadership over many years, particularly in the arena of curriculum development, innovation in learning and teaching, facilities build and development, and resource management ' as well as her 'research and professional practice portfolio of activities, with residency schemes in UK, EU, Japan, supported by external funding, and evidenced by exhibitions and commissions and public events and symposia which she led, co-curated and contributed to'. The title was awarded by Ravensbourne University London through a process that involved external experts including Professor Paul Gough (Vice Chancellor at Arts University Bournemouth) and Professor Anita Taylor (Dean at Duncan and Jordanstone College of Art & Design).
Tamiko worked in Higher Arts Education at a number of institutions, including the University of the Arts London. Initially working as a Fine Art tutor and then course leader, she went on to work as head of school, associate dean and professor before joining the Art School as Principal.  Her involvement in pedagogic research projects, including pro-bono work as the founding chair of the Fine Art European Forum and with the European League of Institutes of the Arts and EQArts, has facilitated developments in curricula and teaching practices as well as generated numerous student projects and international exchanges.
Throughout her time in Higher Arts education, Tamiko has maintained her art practice, that since 1998 has involved working as one half of artist duo Dunhill and O'Brien. Rooted in the traditions of sculpture, their work is concerned with the procedures and problems of collaboration. Their aspiration, to make new work together unencumbered by individual taste, has led to projects involving elaborate processes, motorised apparatus and performative 'research' activities, as well as working directly with participants. They have received project funding and research awards including from the Arts Council England, Arts and Humanities Research Council, Daiwa Anglo Japanese Foundation and Great Britain Sasakawa Foundation, and have participated in exhibitions, residencies and projects in the UK, Ireland, Holland, Germany, Italy and Japan.
Key developments at City & Guilds of London Art School during Tamiko's tenure as Principal 2014-2022
Under Tamiko O'Brien's leadership, the Art School team worked to significantly raise the level of ambition, introducing outward facing activity to better establish the Art School's profile as a renowned centre of excellence. Alongside important work on governance and quality, measured through a highly successful Quality Assurance Agency Review and registration with the Office for Students, some of the key developments include:
Artist in Residence scheme launch (2015)
This programme provides early and mid-career artists with a base and access to the Art School's specialist facilities. Meanwhile, their engagement in the life of the Art School provides inspiration and valuable professional experience and contributes to the Material Matters research programme. To date, 14 artists have taken part, including several international artists, most recently Taku Obata.
New MA Conservation (2017)
After many successful years running a Postgraduate Diploma in Conservation, City & Guilds of London Art School was proud to launch a new MA Conservation to run alongside the existing BA (Hons) Conservation course. Closely related to the BA, the MA involves high-level conservation projects, advanced conservation science, research, ethics and professional practice, and culminates in the completion of an ambitious practical conservation project, accompanied by an extended research and treatment report. The course builds on the department's strong links with major institutions including the V&A, English Heritage and the National Trust.
Collaboration – Tokyo University of the Arts' Sculpture Research Lab (2017 – 2019)
From May 2017 through to November 2019, the Art School engaged in a collaboration with Tokyo University of the Arts specialist Buddhist Carving Lab building on Tamiko's longstanding connections with TUA from her time as an artist in residence. The collaboration included a visit from experts from TUA to the Art School with demonstrations for students as well as for London Craft Week and events at the V&A and British Museum. A reciprocal visit in 2019 to Tokyo involved a team of specialists from the Art School's Historic Carving and Conservation Departments including Gerry Alabone and Rian Kanduth, and a conservator and wood and urushi expert from the British Museum.
The project was funded by the Daiwa Anglo Japanese Foundation, the Great Britain Sasakawa Foundation and Toshiba International Foundation, and provided rare opportunities for experts from the UK and Japan to exchange skills and develop links and provided students with in depth teaching from international experts .
Summer School Short Courses Launch (2018)
A diverse and inspiring portfolio of 3 & 5 day summer courses was launched in July 2018 . Taught by a range of professionally active tutors from the Art School's degree and MA courses, the Summer School students benefit from their expertise, small class sizes and focus on historic and specialist skills and knowledge.
The programme has grown over the years and welcomed many individuals interested in exploring the Art School's subjects. Between 2019-2021, funded bursaries for 18-25 year olds were offered thanks to a grant from the Andrew Lloyd Webber Foundation.
Stone and Woodcarving Studios Renovation (2018-2019)
This project upgraded and expanded the Historic Carving department with facilities to match the excellence and reputation of its courses, which are unique in the UK and play a significant role in keeping alive specialist craft skills central to the preservation of the nation's heritage as well as ensuring their role in contemporary architecture and craft.
Carving courses validated as BA (Hons) and MA  (2019)
The Art School's longstanding excellence in the teaching of craft skills was recognised in in 2019 with the validation of the Art School's Carving courses as BA (Hons) and MA courses, with pathways in Woodcarving & Gilding or Architectural Stone and MA Carving (which can also be taken as a PGDip Carving). Validated by Ravensbourne University London and entirely devised and delivered at the Art School these courses are only available at this level at the City & Guilds of London Art School .
Launch of new undergraduate course in Books & Paper Conservation (2020)
After successfully reaching an ambitious fundraising target that enabled the Art School to double the footprint of the conservation department and create and equip a new suite of conservation studios and facilities in its Georgian terrace building in central London, the course launched with a full intake of first year students in September 2020. BA (Hons) Conservation: Books & Paper is the only course of its kind to be offered in London, and in the UK. The new award sits alongside and complements the Art School's existing and highly-regarded BA (Hons) Conservation: Stone, Wood & Decorative Surfaces. This development also saw the expansion of our MA Conservation to include both research and practical projects in books and paper at an advanced level.
The addition of this new Books & Paper Conservation course has seen the Art School's Conservation Department double in scale over the following three years, and follows the closure in 2018 of MA Conservation at Camberwell College of Arts, part of University of the Arts London (UAL). UAL donated specialist equipment and materials to support the set-up of the new course having identified City & Guilds of London Art School as a centre of excellence in the provision of craft and heritage training and the natural home of teaching in this specialism. Books & Paper conservation training in the UK has a long and important history and is very well respected internationally, attracting students from around the world, including the US where no specialist provision is currently available. Now that the Art School is offering the new undergraduate Books & Paper award along with clear progression to MA Conservation, the country's educational provision for this specialist subject is significantly enhanced, giving students a wider choice and enabling them to progress directly into employment in the conservation world. The addition of this course strategically reinforces the Art School's long-standing commitment to promoting and sustaining the legacies of important (and endangered) art and craft traditions, and of specialist skills essential for the future of our cultural heritage. The Books & Paper course now plays a crucial role in ensuring there are professionals available to work in this important area of conservation, enabling the continuation of the specialist knowledge and skills needed for the preservation of important works on paper.
New MA Fine Art Studios (2020)
The project encompassed the creation of new MA Fine Art studio facilities and a lecture room on the first floor of the adjoining Old Vauxhall Telephone Exchange building to allow for necessary studio relocations to accommodate the new Conservation course, resulting in an additional 500+ sqm of purpose-designed Fine Art studio and workspaces. The new spaces also significantly supported the Art School in reopening safely to students during the pandemic, enabling social distancing.
They now provide generous and attractive facilities supporting full recruitment to Fine Art courses and support excellence in studio based art practice.
Our response to the Covid-19 pandemic (2020-2022)
The Covid-19 pandemic impacted every aspect of the Art School's activities since March 2020. The Art School, under Tamiko's leadership, was pro-active in responding to the ongoing situation with our highest priority being the need to maintain the excellent standards we are known for, and that our students expect and deserve – not least to ensure our students were able to thrive and fulfil their ambitions, to secure their progression through their courses and on to employment or future study, and to uphold recruitment in order to avoid long term financial consequences. Despite the significant challenges, there were many important achievements to celebrate.
More detail of our response, including extended access and term times, can be found here.
Widening Access & Participation
Widening access and participation in our subject areas and creative higher education was an area of focus during Tamiko's tenure though this was somewhat held back by the pandemic. Important groundwork was established that the Art School is successfully building upon including engagement in London Craft Week and the Big Draw with public events and activities, as well as building partnerships with Creative Dimension Trust and the National Saturday Club to offer activities for young people from groups who are under represented in Higher Education.
Collaborations & Partnerships (to date)
The Art School has established a strong and expanding network of national and international art, creative and heritage-related institutions (as well as important links with private individuals). These collaborations translate year on year into significant professional and learning opportunities for current students as well as graduates, including placements, commissions and other forms of collaborative projects. Internationally, the Art School became a member of the Michelangelo Foundation's European network of organisations committed to highest level craftsmanship and design.
You can read more about our partnerships and collaborations HERE.