Having waved goodbye to our inspirational 2018 Artists in Residence Katie Pratt, Jamie Shovlin and John Greenwood, the Art School is delighted to welcome our two new Artists in Residence for 2019 – Gray Wielebinski and Alastair Gordon.
Gray Wielebinski is an artist working between London and Los Angeles in print, video, performance, sound, sculpture, and installation. Through their work, Gray explores Gender and Sexuality and how they intersect with other structures of power and identity. They create an iconography that both maintains and interrupts coded imagery to build an alternative space of both familiarity and discomfort, allowing the viewer to recognize and deconstruct their relationships to familiar images, objects, spaces, and notions of themselves. Collage plays an integral role in their practice, taking on many forms, from video and sculpture to sound and printmaking.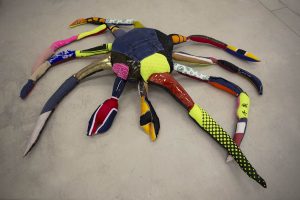 Gray graduated from The Slade School of Fine Art with a Masters in Fine Art Media in 2018 and has been Artist in Residence at the Academy of Visual Arts in Hong Kong. Gray has recently exhibited with Gazelli Art House and B. Dewitt Gallery in London, Primary in Nottingham, TURF Projects in Croydon and also  exhibits internationally. They have upcoming exhibitions at Lychee One in London and Organon in Odense, Denmark in September 2019.
Alastair Gordon gained his BA Fine Art (Hons) Painting from Glasgow School of Art and MA Fine Art from Wimbledon School of Art. Integral to his practice is an exploration of artefact and artifice as he examines existing work and questions the replication of the image, craft of the artist and certainty of the viewer.  His work strongly references a form of trompe l'oeil painting that proliferated in the seventeenth century in Northern Europe: a specific form of illusionism called rack painting. From here he will often paint an array of selected objects to appear as 'pinned' or 'taped' in low relief on a wooden surface. The effect disarms the viewer, who may question the historical veracity of these objects.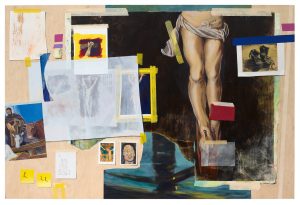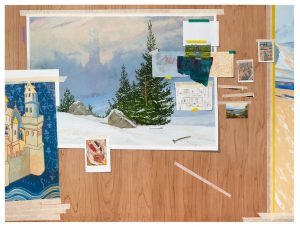 With a string of international group and solo exhibitions since 2002 and a list of international collections, Alastair has been developing his practice for over 15 years.
As part of the Art School's creative community, the Artists in Residence share their practice insights and collaborate with our fine art students, and we're very much looking forward to working with Gray and Alastair throughout the year.