A day of celebration of success and achievement took place on Tuesday 26 June as our final year Fine Art, Historic Carving and Conservation students graduated from the Art School in our annual Degree Show Ceremony and Prize Giving – the highlight of the year.
This celebratory event marks the start of the Degree Show which opened to the public on Tuesday and continues until 5pm on Sunday 1 July. Full dates and times here.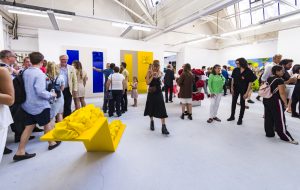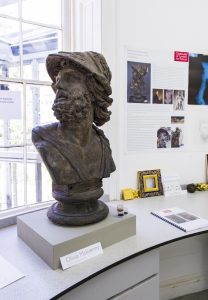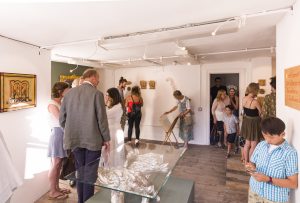 The proceedings started with a welcome address from Art School Principal, Tamiko O'Brien, and followed by a speech from Rosy Greenlees OBE, Executive Director of the Crafts Council, who accepted the title of Art School Honorary Fellow 2018.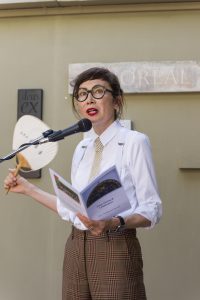 Tamiko O'Brien and Rosy Greenlees
After addresses from graduands Nell Nicholas, BA (Hons) Fine Art, Olivia McILvenny, BA (Hons) Conservation and Borys Burrough, Dip Ornamental Woodcarving & Gilding, each student was congratulated by their Department Head to much applause.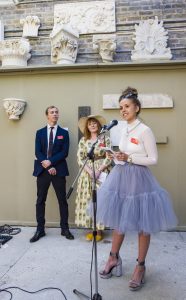 Nell Nicholas delivering her address
Awards and prizes came next. Dick Onians, Senior Woodcarving Tutor who recently retired after 40 years at the Art School, was awarded Art School Fellow in recognition of his incredible work for the School.
Then followed the presentation of student prizes by Vice Principal, Magnus von Wistinghausen. The coveted Acme City & Guilds of London Art School Studio Award was given to BA (Hons) Fine Art graduate Cora Sehgal-Cuthbert. Cora receives a year-long residency at Acme studios and support and mentoring from industry professionals.  Chris McCormack , Art Monthly Associate Editor, presented the prestigious Art Monthly Prize for Critical Writing to BA (Hons) Fine Art graduate Megan Elliott.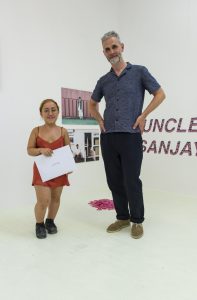 Cora Sehgal-Cuthbert, winner of The Acme City & Guilds of London Art School Studio Award, with Andrew Grassie, Artist & Fine Art Tutor and Sayuri Morio accepting The City & Guilds of London Art School Research Project Prize from Magnus von Wistinghausen
A full list of the prize winners can be seen below. Congratulations to all, and very many thanks to the donors who support our students in this way.
The ceremony closed with remarks by Robin Holland-Martin, Chair of Trustees.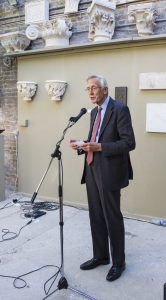 The students will all be tremendously missed, but we look forward to hearing about their great achievements in the very near future. Their outstanding work will be on display until 5pm on Sunday 1 July, and a visit is highly recommended.
2018 PRIZES AND AWARDS
TRAVEL PRIZES
The Idun Ravndal Travel Award: Emilie Fitzgerald
The Skinners' Company Philip Connard Travel Prize: Roberta de Caro
The Skinners' Company Philip Connard Travel Prize: Lucy Kenner
The David Ballardie Memorial Travel Award: Lucy Kenner
The Brinsley Ford Travel Award: Zeinab Harding
PRINTMAKING PRIZES
The Printmaking Prize for Technical Excellence: Thomas Pennick
The Skinners' Company Stephen Gooden Prize for Engraving: Polly Bennett
DRAWING PRIZES
The Surveyors' Club Drawing Prize:  James Patrick
The Taylor Pearce Drawing Prize: Silje Loa Jorgensen
The Taylor Pearce Drawing Prize: Susan Aperghis
The City & Guilds of London Art School – Andrew Vass Prize for Experimental Drawing: Elizabeth Kelsey
ART HISTORIES PRIZES
The Art Monthly Prize for Critical Writing: Megan Elliott
The Art Monthly Prize – Runner-up: Nell Nicholas
The Art Monthly Prize – Runner-up: Cora Sehgal-Cuthbert
The Brian Till Art Histories Thesis Prize: Richard Barnes
CONSERVATION PRIZES
The City & Guilds of London Art School Gilding and Decorative Surfaces Prize for a Conservation student: Nicoleta Donu
The City & Guilds of London Art School Research Project Prize: Tina Kenward
The City & Guilds of London Art School Research Project Prize: Sayuri Morio
The City & Guilds of London Art School Prize Practical Conservation Project Prize: Sayuri Morio
The Venice in Peril Residency: Olivia McILvenny
The Venice in Peril Residency: Catherine Gray
FINE ART PRIZES
The Artists Collecting Society Undergraduate Prize: Rose Schmits
The Acme City & Guilds of London Art School Studio Award: Cora Sehgal-Cuthbert
The Fishmongers' Company Beckwith Travel and Scholarship Prize: Roberta de Caro
The City & Guilds of London Art School Sculpture Prize: Maria Positano
The Merlin Entertainments Group – Madame Tussauds' Project Fund Award for a Continuing student: Yingming Chen
The Merlin Entertainments Group – Madame Tussauds Merit Award for a Graduating Student: Elizabeth Kelsey
The Chadwyck-Healey Prize for Painting: Matteo Santacroce
The Painter-Stainers Scholarship Prize: Edward Howard
The Painter-Stainers Decorative Surfaces Fellowship: Polly Bennett
HISTORIC CARVING PRIZES
The Neil Shannon Memorial Award for Stonecarving: Susan Aperghis
The Neil Shannon Memorial Award for Wood Carving: Beatrice Rambaud
The Masons' Company for Outstanding  Work by a Graduating Student: Thomas Clark Collins
The Masons' Company Prize for Studentship and Commitment  for a Continuing Student: Miriam Johnson
The Master Carvers Carving Prize for Final Year Student: William Barsley
The City & Guilds of London Art School Lettering Prize: George Edwards
The William Wheeler Woodcarving Prize for Outstanding Work: Borys Burrough
The City & Guilds of London Art School Gilding and Decorative Surfaces Prize for a Carving student: Xabier Mendizabal Vitoriano
ART SCHOOL-WIDE PRIZES
The Inter Esse (Main Prize): Nell Nicholas
The Inter Esse: Ayseli Sunguroglu
The Inter Esse: Eirik Broll Stalheim
The Fishmongers' Company Design Prize: Nell Nicholas
The Honourable Society of Knights of the Round Table Award: Anna Ng
The Honourable Society of Knights of the Round Table Award: Thomas Clark Collins
The Honourable Society of Knights of the Round Table Award: Silje Jorgensen
The City & Guilds of London Art School The Board of Trustees Prize: Wilfe Gorlin
The City & Guilds of London Art School Student Initiated Prizes: Assemblage (Megan Elliott Kim Booker)
The City & Guilds of London Art School Student Initiated Prizes: Clean AIR space (Roberta de Caro, Camila Bridgewater, Emilie Fitzgerald)