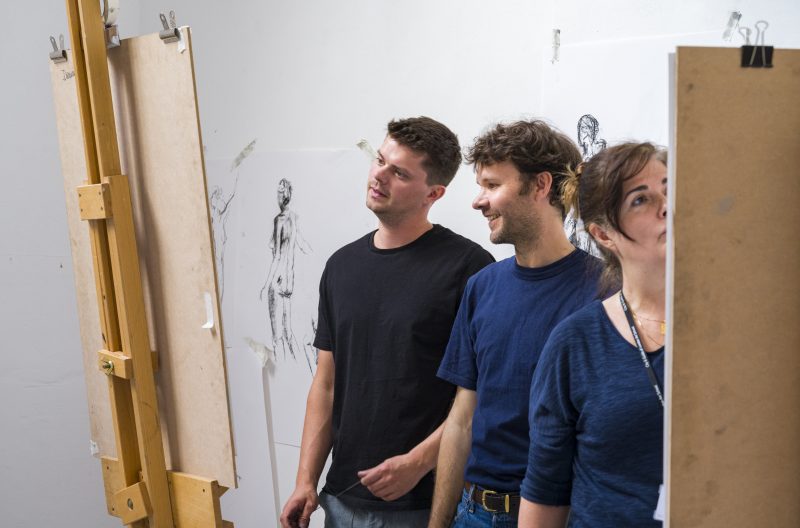 The Art School sees drawing as fundamental to all of its courses. The Drawing Studio is at the heart of our activities, primarily focusing on the role that observational drawing plays in stimulating and facilitating the development of artists and crafts specialists.
For Conservators, drawing is an important tool in enabling students to learn to visually analyse objects, to help 'tune their eyes' so that they can conduct the deep examination of surfaces and materials that the subject requires.
For Carving students, drawing is an integral part of their daily carving practice as well as a way of thinking through complex 3 dimensional questions. An intensive week of drawing at the V&A museum provides carving students with a valuable opportunity to study carved and modelled sculptures and architectural ornament, while anatomy sessions ensure that carvers understand how to look and think beneath the surface.
For Fine Art students, drawing can be many things and play many roles. Alongside the observational drawing sessions that are so useful in giving a grounding to the early stages of the 1st year, there are exploratory evening sessions available to all year groups that enable students to investigate their own creative approach to drawing.
For Foundation students, the intensive drawing projects at the early stages of the course investigate drawing with many different approaches and include drawing-as-research day study trips, drawing for design and drawing as sculpture.
DRAWING PRIZES
Reflecting the importance we place on drawing skills, the Art School offers several annual drawing prizes for students across a range of courses.
The Roger de Grey A5 Drawing Prize is open to students from across the Art School and stipulates that entries must be A5 in size.
The Taylor Pearce Drawing Prize is open to students on our Carving and Conservation BA degree courses with entries reflecting students' course work in a range of approaches.
Available to students on our Carving degree courses, the Surveyors' Club Drawing Prize focuses on drawings that investigate an example of historic ornament or sculpture.
DRAWING STUDIO TUTORS