Senior Stone Carving Tutor, Nina Bilbey, Senior Woodcarving Tutor, Robert Randall, and Glass Workshop Technician, Anne Petters, are amongst the master craftspeople featured in the new, digital Homo Faber Guide, launching today.
The online guide, published by the Michelangelo Foundation, includes profiles of over 650 artisans from around Europe and provides easy access to the best master craftspeople, rising talents, galleries, museums, manufacturers and studios throughout the continent. The list of artisans and makers was compiled with recommendations from craft and design ambassadors in each country. Ambassadors in the UK include the Crafts Council UK and Queen Elizabeth Scholarship Trust.
A profile page for each featured craftsperson includes their contact details, a short bio and an insight into their practice. Robert Randall's profile highlights the 8ft dragon he carved for the Great Pagoda at Kew, where he was one of a team of woodcarvers who followed a prototype designed by Tim Crawley, our recently retired Head of Historic Carving. Robert's work at Shakespeare's Globe and St Paul's Cathedral is also featured. In an interview, Robert explains that he prefers to work with indigenous woods such as lime, oak and pine and explains, "Each wood is chosen either to match an original piece or for its particular qualities, such as durability, ease of carving, sharpness for details or attractive grain or tone."
Robert gained his Diploma in Ornamental Woodcarving & Gilding at the Art School in 1997, setting up a workshop with fellow alumnus Ashley Sands after graduation. He is currently Senior Woodcarving Tutor on the BA (Hons) Historic Carving: Woodcarving & Gilding course.

Robert Randall's Kew dragon © Robert Randall
Now an eminent British architectural sculptor, Nina Bilbey started her journey with wood. Her father was a master carpenter, and at 16 she was offered the opportunity to work with him. But although she was utterly committed to craft as a career, after "having tasted the freedom of fine art and the joy of experimenting with different materials", she could not contemplate "the restriction of only working with wood".  Since she was a child, Nina has been in love with stone: making small objects in stone she had found on the beach, collecting pebbles and throwing tantrums when asked to leave buckets full of stone on the beach after a day's play. Nina's work includes two statues of Her Majesty the Queen and His Royal Highness the Duke of Edinburgh for the West front of Canterbury Cathedral which are the first sculptures to depict them as a pair, and carvings for Hampton Court flower show, St. Pancras Station and Saint George's Chapel Windsor.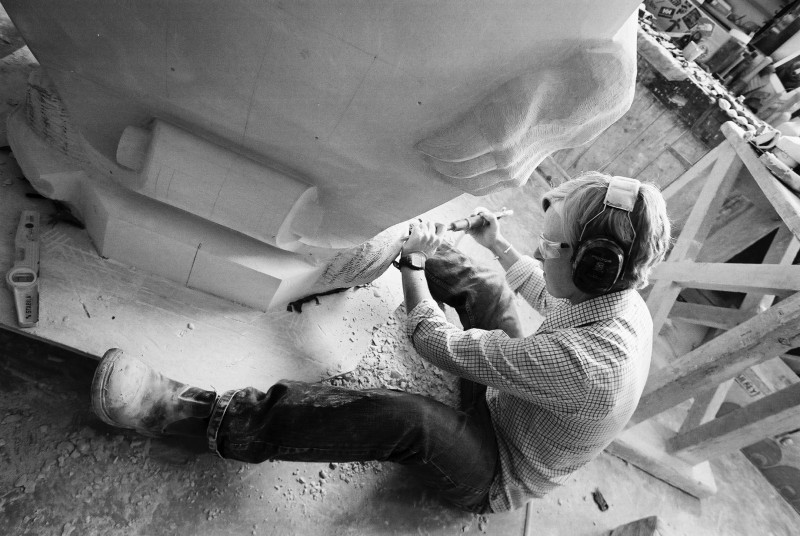 Nina Bilbey, Senior Stone Carving Tutor
Raised in East Germany, Anne Petters describes how the fall of the Berlin Wall had a dramatic influence on her early life, and the sense of impermanence that followed has fuelled her passion for making art objects with glass, a material that expresses the fragility of reality. Anne describes one of the techniques she uses in her practice: "In the US I came across this technique of shaping glass in the kiln. It's a sort of printing technique where I carve into a plaster mould and then these drawings are fused onto the glass. It's a very physical and immediate way of bringing drawing into glass."
Anne supports students on our fine art and historic craft courses, to develop and extend their practice in the Art School's Glass Workshop.  Commenting on being selected for inclusion in the Homo Faber Guide, Anne said: "Since taking part in the first Homo Faber at the Cini Foundation in Venice in September 2018, I have stayed in close contact with the Michelangelo Foundation. I am very honoured to be featured in the Homo Faber Guide. It is a fantastic network, a great opportunity for us makers to be recognised as well as finding and connecting to other artists and institutions." 

Anne Petters Glass Leaf © Anne Petters
Jemma Gunning, a printmaker and artist who was the Art School's Print Fellow 2018/20, is also one of the featured artisans. Often using the traditional intaglio printing processes which is taught in the Art School's historic print room, Jemma's practice focuses on documenting "industrial and urban decline" through the passage of time.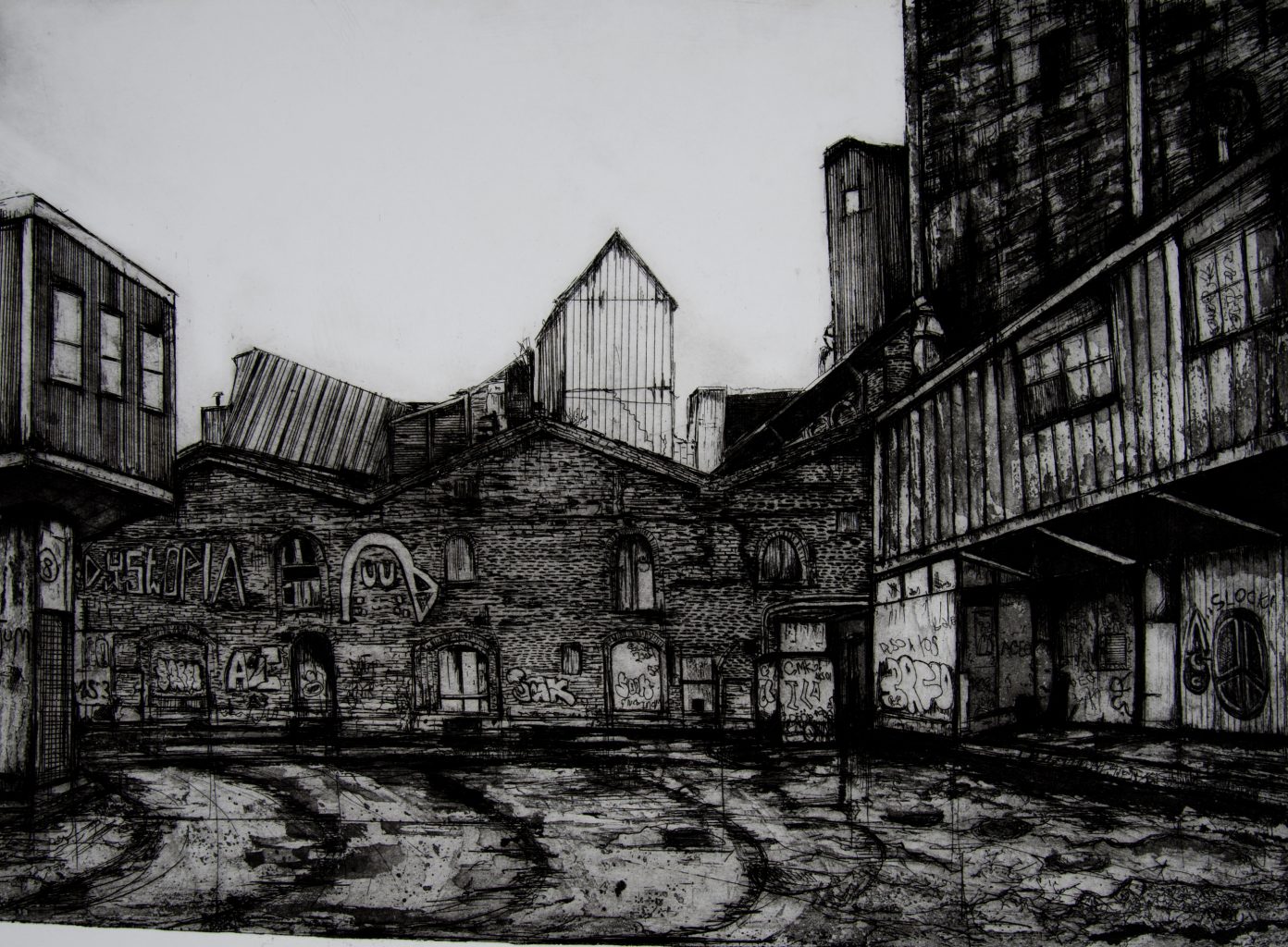 © Jemma Gunning
The Art School has collaborated with the Michelangelo Foundation for a number of years. We are honoured to be part of the Michelangelo Foundation network of like-minded educational institutions throughout Europe that champion historic crafts.  In 2018, Conservation and Carving students and alumni were chosen as Young Ambassadors at the Homo Faber exhibition which showcased fine contemporary, traditional and rare craftsmanship and its link to the world of creativity and design.
The Michelangelo Foundation also selected four of the Art School's historic craft-based Summer School courses to form part of their inaugural Summer School Programme in July 2019. This initiative exposed eight European makers and craft students to different practices that could inform their work, and it was a great success.