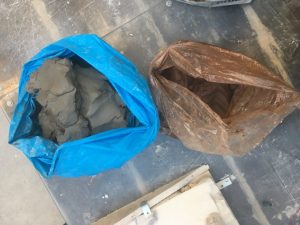 We are delighted to announce that clay will be the next material in focus on our Material Matters research programme. A series of exhibitions, workshops, lectures, research and round-table discussions will take place during 2020 and 2021, to investigate the material properties of clay and its relationship with fine art and art histories, historic craft and the conservation of cultural objects.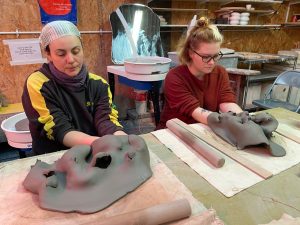 MA Art & Material Histories 'Unknowing Clay' workshop.
Photo credit: Laura White
The Art School's Materials foyer is currently being renewed and will feature brand new work from some of our current students studying MA Fine Art, BA Historic Carving and BA Conservation; and Artist Woodwork and Decorative Surfaces Fellows. It will also feature alumni and staff work, and archive material exposing the Art School's long history with clay.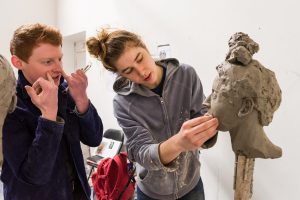 This year's London Craft Week event on 1 and 2 May 2020, will centre around clay. A series of hands-on, head modelling workshops are planned to run throughout Saturday 2 May and will be led by the Art School's Sculpture, Modelling & Casting Tutor Kim Amis. And a fascinating exhibition, open on Friday 1 and Saturday 2 May, will explore the origins, applications and types of clay.
Other activities planned during 2020-21 include an ARLIS/UK & Ireland Research Award funded project which will investigate the Art School's historic creative collaboration with the neighbouring Royal Doulton pottery in the 19th century. Research at the London Metropolitan Archives and Stoke-on-Trent City Archives will explore the symbiosis between arts education and industry in the Victorian era, and gendered activities in both the studio and the workplace.
The Material Matters research programme has previously focused on wood (2017) and pigment (2018-19).
We are interested to hear from you if you are a current City & Guilds of London Art School student or alumni working with clay and would like to be featured on the Material Matters website or in the Material Matters programme. Please email h.lam@cityandguildsartschool.ac.uk
Follow @materialmatters_cglas for updates on Instagram.
Title image courtesy of Laura White.