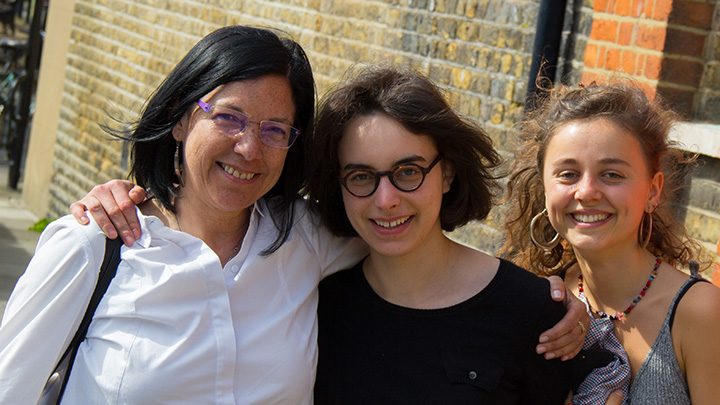 As our former students, you are an integral member of the Art School's community and we are always delighted to hear about your activities, challenges and successes, wherever life may have taken you geographically or otherwise!
KEEP IN TOUCH
Alumni are always welcome to join us at our Foundation Show, Degree Show and MA Show openings. Alongside this, we are increasingly hosting social and professional development opportunities and planning some short courses that may be of interest to you. We are also keen to keep you informed of commissions, prizes and other opportunities that often arise for alumni, from a recent carving project at Southwark Cathedral to opportunities to enter the Collyer Bristow graduate art awards. As many of these are only available through the Art School, it is definitely worth being in the loop!
All alumni need to complete and return this communication consent form to be on our mailing list. Even if you currently receive information from us please still fill in the contact details – changes to data protection laws will not permit us to continue to send you information unless you actually 'opt in' to our mailing list, so everyone must fill in a form from September 2017 onwards.
If you have further questions, suggestions or updates, or would like to get more involved, please get in touch with Hannah Travers, Development & External Relations Manager, at h.travers@cityandguildsartschool.ac.uk.
SOCIAL MEDIA
Our Facebook, Instagram and Twitter accounts are great ways to find out about what is happening at the Art School and about alumni exhibitions and projects. These are our main ways of sharing news with the wider public, as well as where we post opportunities that might be of interest – so please do follow and like us!
If you would like us to share a post on the Art School's social media accounts, please email office@cityandguildsartschool.ac.uk with details and images at least two weeks' before your event. Please note that we have to limit the amount we post, so unfortunately not everything proposed can be included.
ALUMNI PROFILES
As a City & Guilds of London Art School alumnus, you will know that the Art School provides an excellent preparation for future professional practice as an artist, designer, carver or conservator. The 'What Alumni Say' sections on the individual course pages of the website capture some of the thoughts and reflections of different alumni on their time studying with us.
FREQUENTLY ASKED QUESTIONS
Q: I need a copy of my academic transcript. What do I need to do?
Q: How do I contact a specific Art School graduate?
Q: I'm an Art School alumnus but I don't receive any communications; why not and how can I change this?
Q: How do I advertise my show to fellow Art School graduates? Or how do I share an opportunity that might be of interest to alumni?