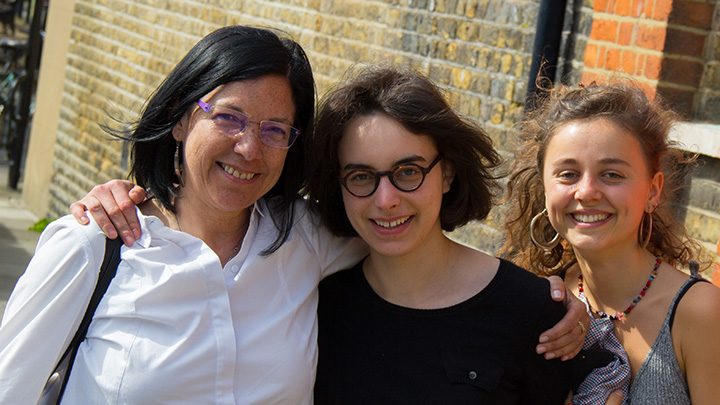 As our former student, you are an integral member of the Art School's community and we are always delighted to hear about your activities, challenges and successes, wherever life may have taken you geographically or otherwise!
KEEP IN TOUCH
Alumni are always welcome to attend the annual Foundation Show, Degree Show and MA Show, where you can catch up with other alumni and see what the latest cohort have achieved. Alongside this, we are increasingly hosting social and professional development opportunities and planning some short courses that may be of interest to you. We are also keen to keep you informed of commissions, prizes, awards and other opportunities that often arise for alumni. As many of these are only available through the Art School, it is definitely worth being in the loop!
If for any reason your are not receiving comunictions from us please update your current contact details by signing up to our mailing list.
Regarding data protection: The legal basis for processing your personal data is that it is necessary for the pursuit of our legitimate interests (We want to communicate with our network of alumni and you have an ongoing interest in the Art School). We always handle your personal data securely and minimise its use. In addition, there is no statutory or contractual requirement for you to provide us with any personal data. If you are looking to be removed from the mailing list please contact office@cityandguildsartschool.ac.uk
SOCIAL MEDIA
Our Instagram, Linkedin, Facebook, Youtube  accounts are great ways to find out about what is happening at the Art School and about alumni exhibitions and projects. These are our main ways of sharing news, as well as where we post opportunities that might be of interest – so please do follow and like us!
If you have news and content that might be suitable for the Art School's social media accounts, please email office@cityandguildsartschool.ac.uk with details and images with at least two weeks notice. Please note that we have to limit the amount we post, so unfortunately not everything proposed can be included.
SUPPORT
If you are looking for ways to support current students or would like to make a gift to the Art School, please head to our SUPPORT US page or contact Hannah Travers, Head of Development & External Relations on development@cityandguildsartschool.ac.uk
ALUMNI PROFILES
As a City & Guilds of London Art School alumnus, you will know that the Art School provides an excellent preparation for future professional practice as an artist, designer, carver or conservator. If you would like to share your thoughts and reflections on your time studying with us, we would be delighted to discuss how you can contribute a testimonial for the website to help guide the next generation.
FREQUENTLY ASKED QUESTIONS
Q: I need a copy of my academic transcript. What do I need to do?
Q: How do I contact a specific Art School graduate?
Q: I'm an Art School alumnus but I don't receive any communications; why not and how can I change this?
Q: How do I advertise my show to fellow Art School graduates? Or how do I share an opportunity that might be of interest to alumni?