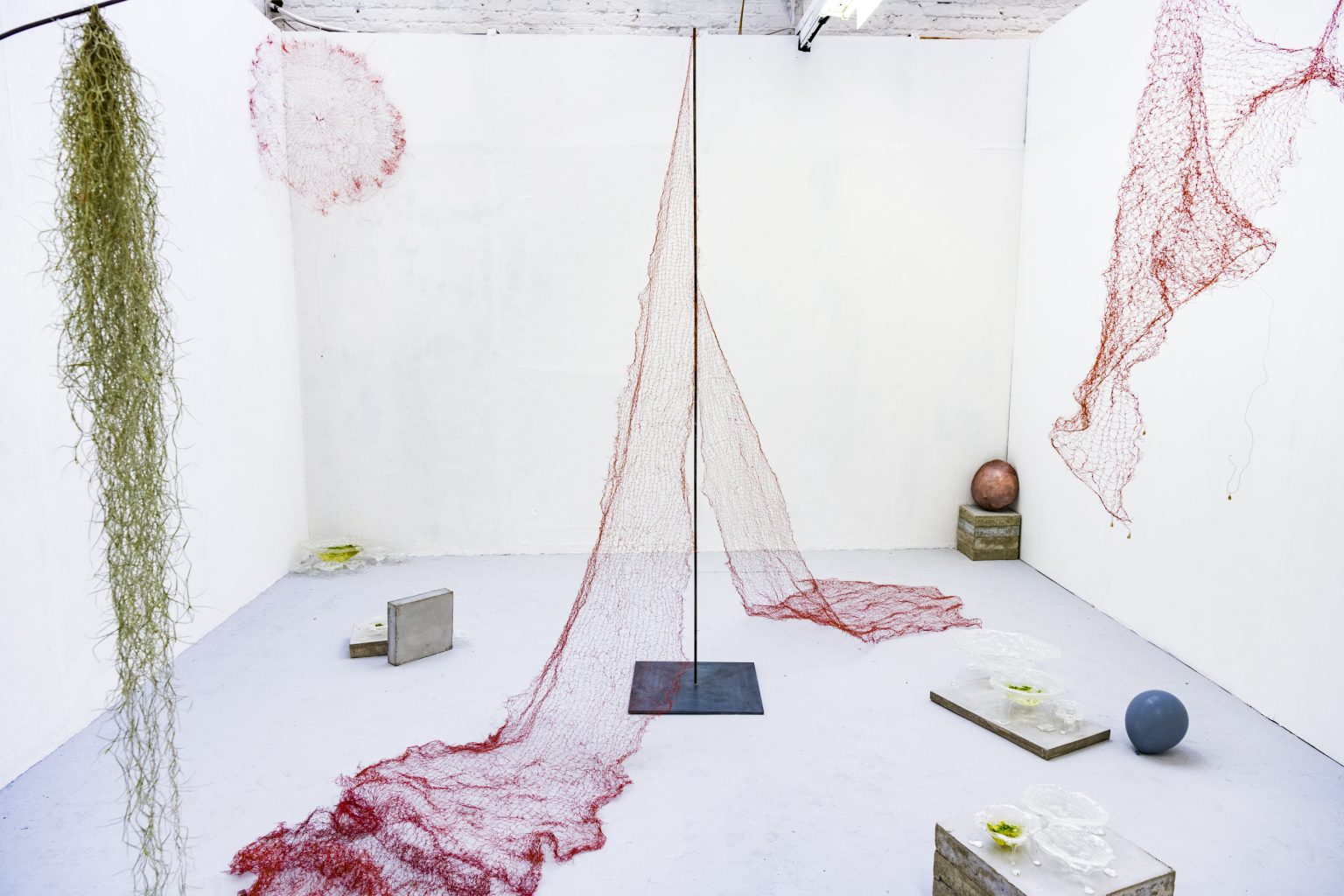 A day of celebration of achievement took place on Tuesday 28 June as our final year Fine Art, Historic Carving and Conservation students graduated from the Art School in our annual Degree Show Ceremony and Prize Giving – one of the highlights of the year.
This celebratory event marks the start of the Degree Show which opens to the public today and continues until 5pm on Sunday 3 July. Open dates and times here.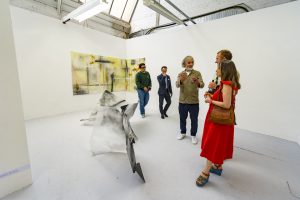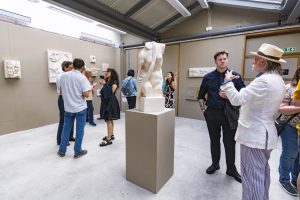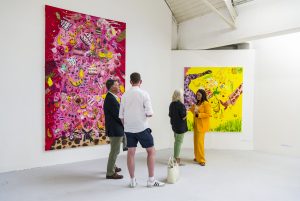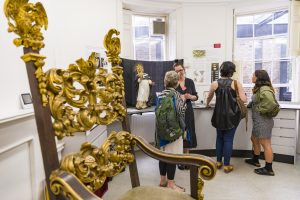 The proceedings started with a welcome address from Jamie Bill, Chair of the Board of Trustees followed by Art School Principal, Tamiko O'Brien, who presented Professor Norman Ackroyd CBE RA ARCA, celebrated printmaker and artist, with an Art School Honorary Fellowship.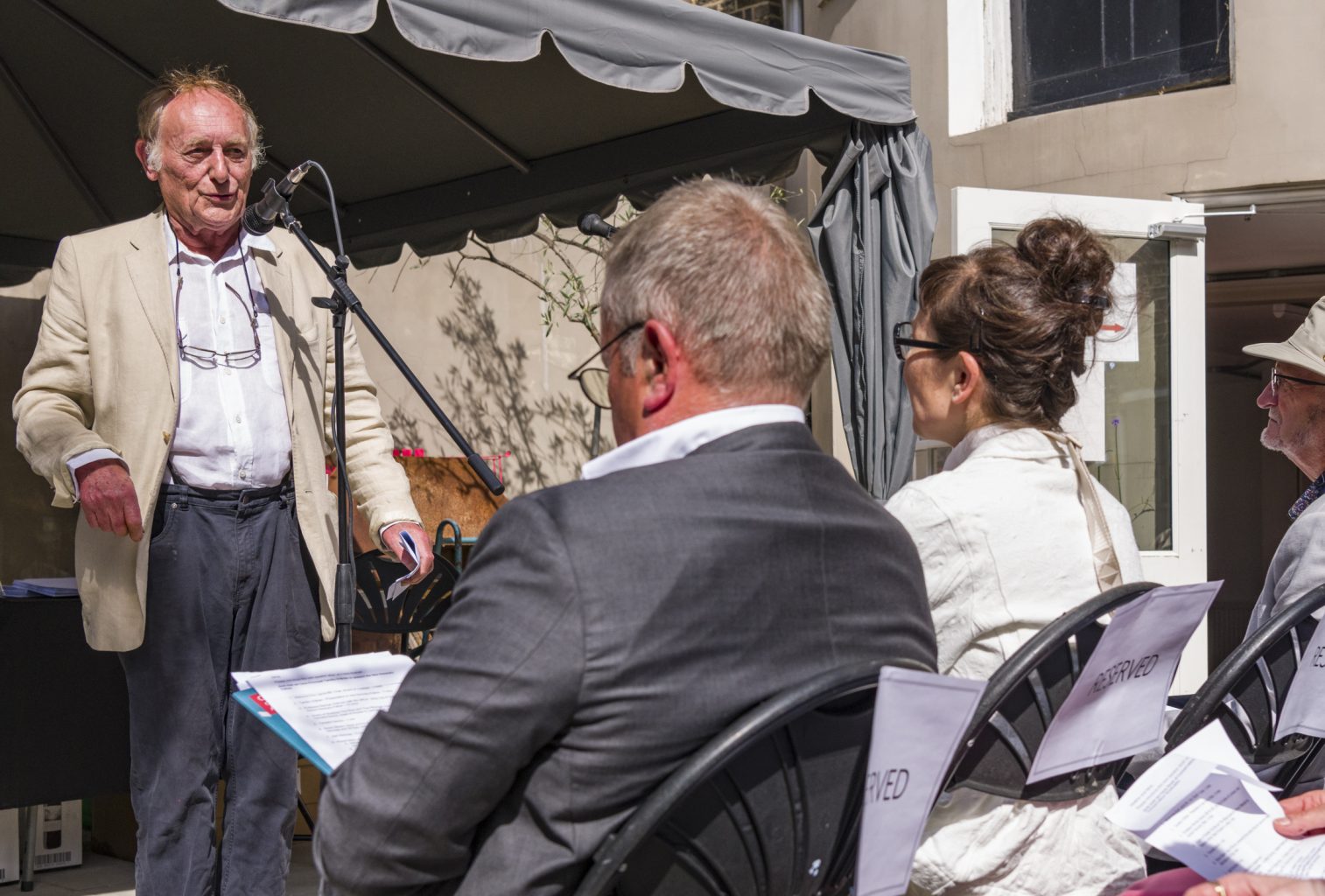 Professor Norman Ackroyd receiving an Art School Honorary Fellowship
Norman is awarded the Art School Honorary Fellowship in recognition of his contribution to the Art School through his re-design of our historic Print Room, his advisory role spanning 27 years and his significant contribution to UK art and culture.
A prestigious Art School Medal was presented to Senior Fine Art Tutor and Head of Access to Learning, Teresita Dennis, by Co-chair of Students, Theo Ritzinger. The Medal was presented in recognition of Teresita's exceptional work in establishing and effectively running the support services at the Art School, which were recognised as a model of good practice and commended by the Quality Assurance Agency.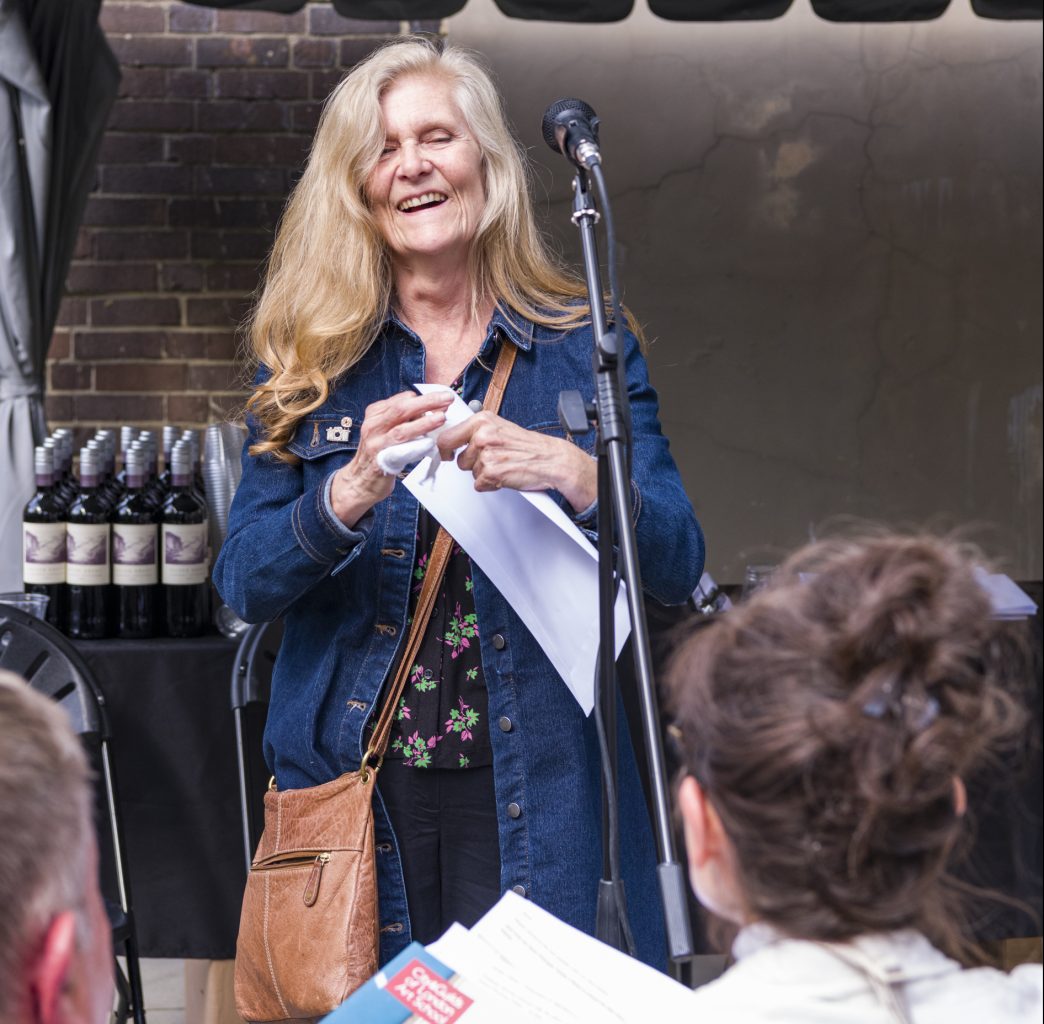 Teresita Dennis receiving an Art School Medal
Alumni Oli Epp and Nell Nicholas, also received Art School Medals, recognising their outstanding contribution to the Student Submission for the Quality Assurance Agency as the Art School's first lead student representatives. This was a considerable task and was particularly impressive because this project ran alongside their own intensive and highly successful studio practices.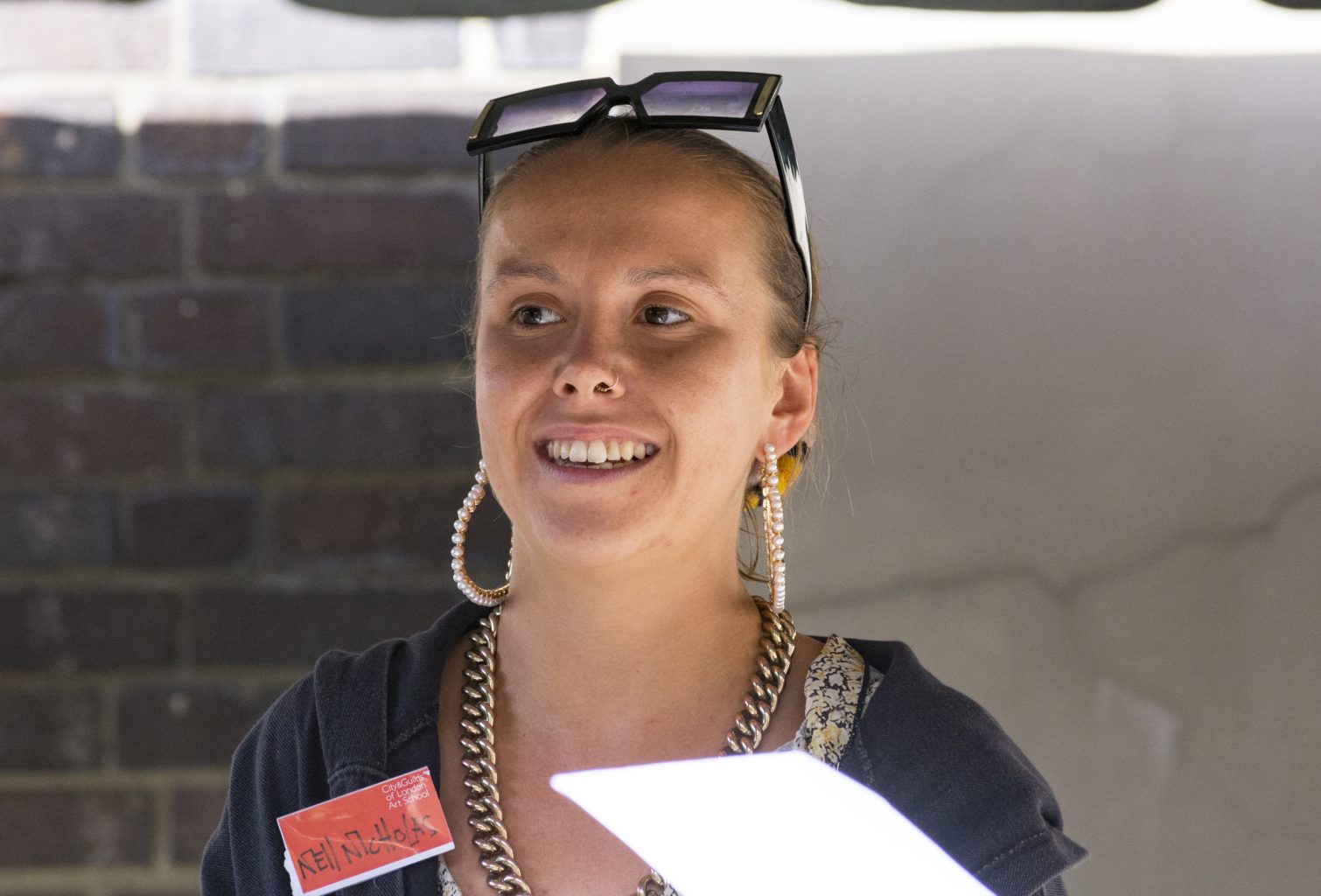 Nell Nicholas receiving an Art School Medal
The graduands were presented with their well-earned qualifications and prizes by each Head of Department. Chris Chivers, Master of the Worshipful Company of Joiners and Ceilers, presented the Joiners and Ceilers' prize to Daniel Ponde, BA (Hons) Historic Carving: Woodcarving & Gilding. Daniel also received the Master Carvers' Carving Prize for a Final Year Student from Tony Webb, President of the Master Carvers Association. Alastair Wood, Master of the Worshipful Company of Masons, presented the Masons' Company Prize for Outstanding Work by a Graduating Student to Steffan Lomax, BA (Hons) Historic Carving: Architectural Stone, and the prize celebrating Studentship and Commitment to Imogen Long, BA (Hons) Historic Carving: Architectural Stone.
Daniel Ponde with Tony Webb, President Master Carvers Association
A full list of prize winners can be seen below. We congratulate all the graduates and prize winners and would like to thank the generosity of our donors who support students through these awards.
The rousing 2022 graduands' addresses were delivered by: Steffan Lomax, BA (Hons) Historic Carving: Architectural Stone; Gaurav Gupta, BA (Hons) Fine Art; and Camilla Stafford-Deitsch, BA (Hons) Conservation: Stone, Wood & Decorative Surfaces. They congratulated their fellow graduands on their great achievements and thanked tutors, technicians and Art School staff for their tremendous support and dedication.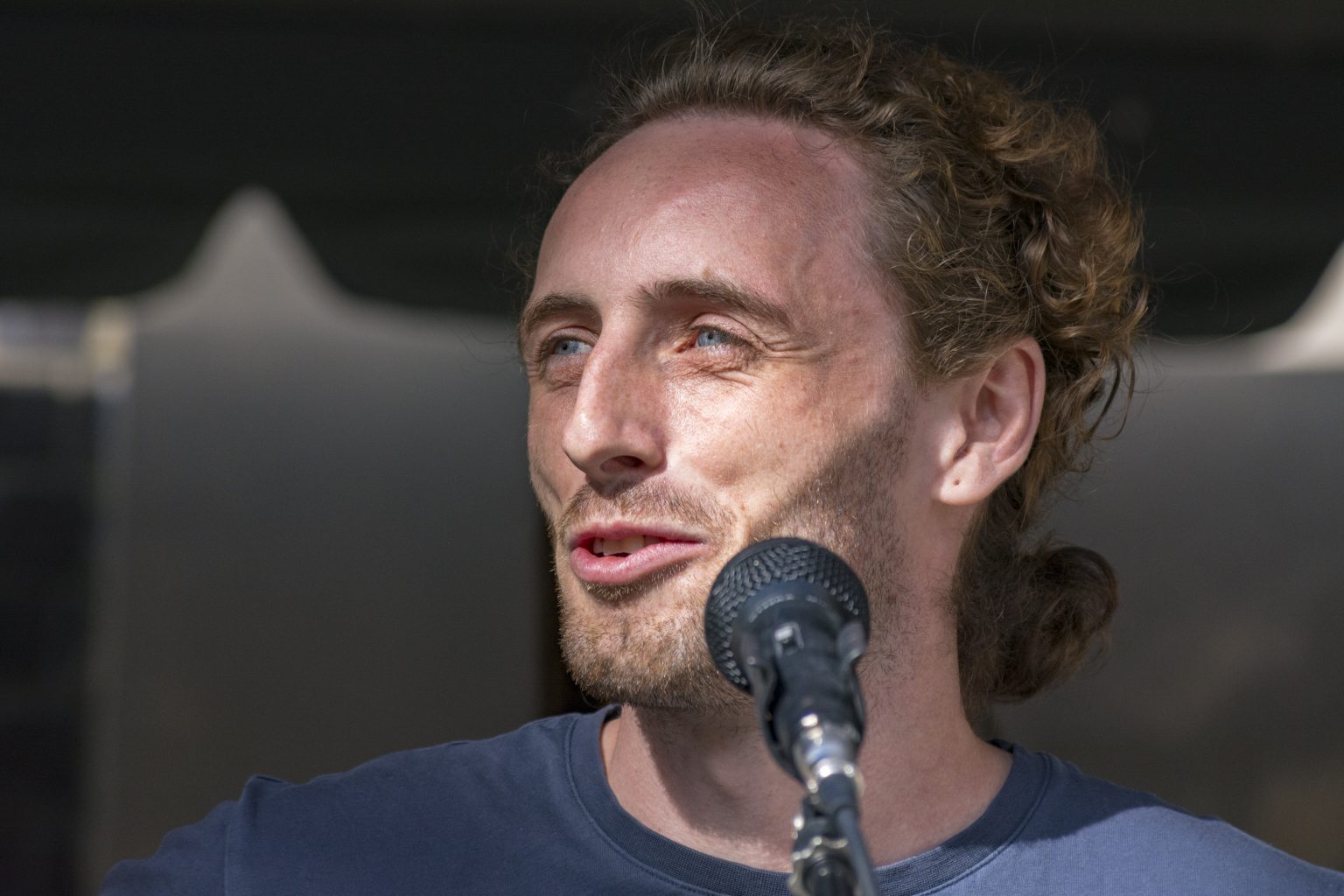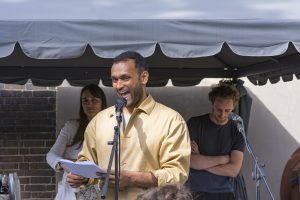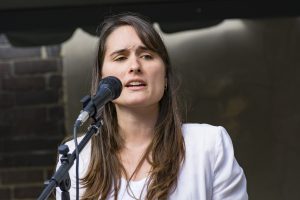 Graduands Steffan Lomax, Gaurav Gupta and Camilla Stafford-Deitsch
The graduating students will all be tremendously missed, but we look forward to hearing about their work and achievements in the very near future. Their outstanding works will be on display until 5pm on Sunday 3 July, and a visit is highly recommended.
2022 GRADUATE PRIZES AND AWARDS
ART SCHOOL-WIDE PRIZES
Honourable Society of Knights of the Round Table Award: Ieva Stradina, Adam Wilson (MA Carving), Steffan Lomax
City & Guilds of London Art School The Board of Trustees Prize: Eloise Etienne (BA (Hons) Fine Art)
PRINTMAKING PRIZES
Norman Ackroyd Etching Prize: Leonie Von Geyr (BA (Hons) Fine Art)
CONSERVATION PRIZES
City & Guilds of London Art School Research Project Prize: Ieva Stradina
City & Guilds of London Art School Prize Practical Conservation Project Prize: Alannah Hay
Michael Legg Prize for Conservation Research: Charlotte Jones
Venice in Peril Residency: Camilla Stafford-Deitsch, Alannah Hay
HISTORIC CARVING PRIZES
De Laszlo Stone Carving Prize for Outstanding Work: Steffan Lomax
De Laszlo Woodcarving Prize for Outstanding Work: Daniel Ponde
Joiner & Ceilers' Prize: Daniel Ponde
Masons' Company Prize for Outstanding Work by a Graduating Student: Steffan Lomax
Masons' Company Prize for Studentship and Commitment: Imogen Long
Master Carvers Carving Prize for Final Year Student: Daniel Ponde
Neil Shannon Memorial Award: Morgan Edwards
Gilding and Decorative Surfaces Prize for a Carving student: Daniel Ponde
City & Guilds of London Art School Lettering Prize: Imogen Long
FINE ART PRIZES
Baton Fine Art Prize: Kofi Perry
City & Guilds of London Art School Sculpture Prize: Poppy Keating
Chadwyck-Healey Prize for Painting: Gaurav Gupta
ART HISTORIES PRIZES
Brian Till Art Histories Thesis Prize: Imogen Long (BA (Hons) Historic Carving: Architectural Stone), Pear Nualak (BA (Hons) Fine Art)