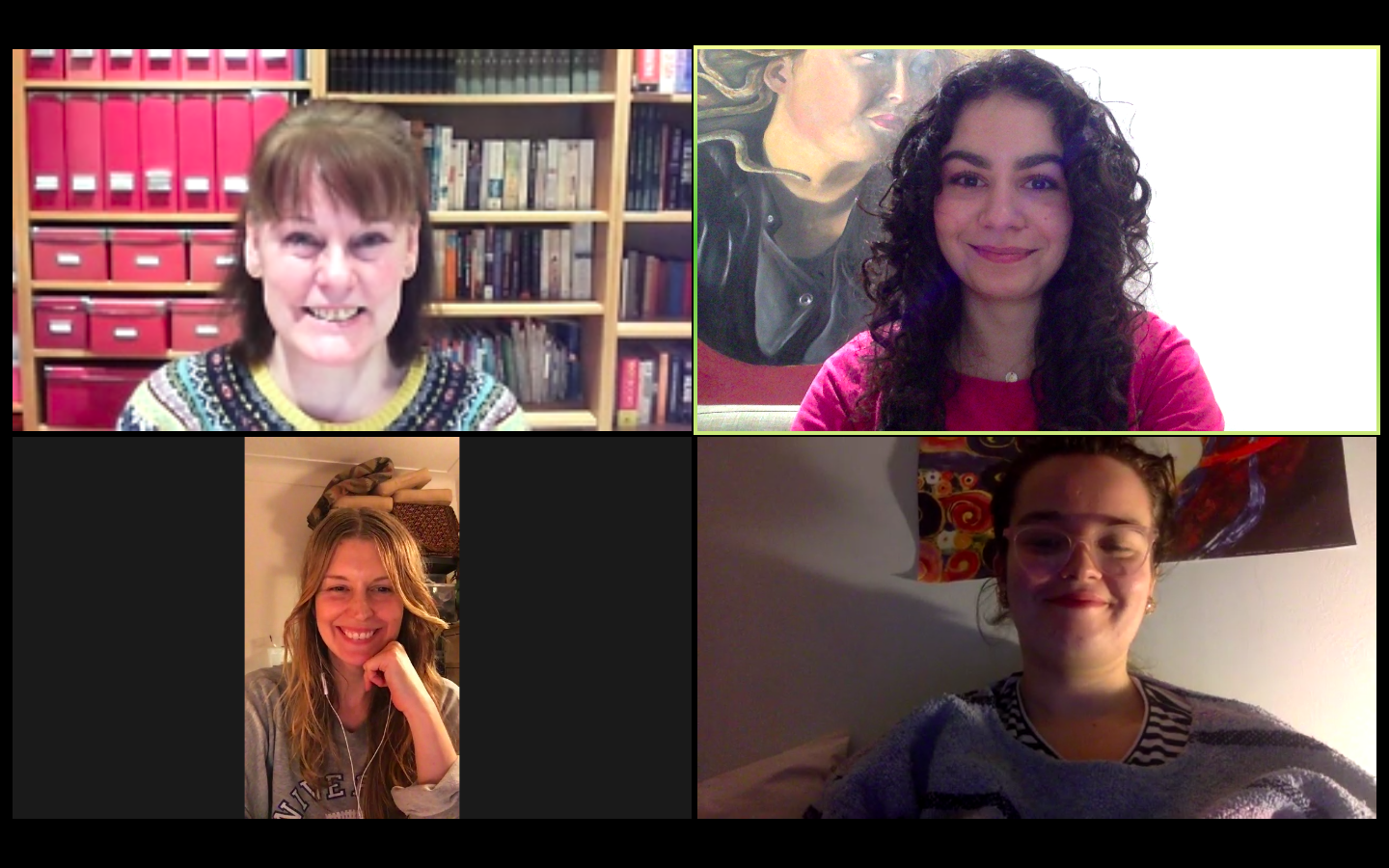 It's during the Autumn and Spring terms that the Art School usually opens its doors to welcome people considering applying to study with us, and allow them to experience first-hand the Art School's immersive approach to teaching art, historic craft and conservation. And although we undertook extensive health and safety measures to ensure our students could continue small-group tutorials, workshops and studio practice in the Art School's facilities during the Autumn term, we haven't been able to hold physical open days due to coronavirus guidelines.
Instead we've been offering prospective students the opportunity to find out more about their chosen course by attending an online open day. During an online open day, participants meet the Head of Department, find out more about the course content and can ask any questions they may have.
From December 2020, we also started offering Student Virtual Chats, which give students considering applying to us the chance to chat with current students and find out what it's really like to study here. Participants can ask our group of students any questions about the application process, our range of courses and the student experience: from the size of the studios or the type of assignments that get set, to what the food in the cafe is like.
Student Virtual Chats take place every Tuesday during term time, 5.30pm-7pm. So far, each session has been well attended and participants have enjoyed lively conversations about what to expect on the courses, gaining authentic insights into studying at the Art School. You can book onto a Student Virtual Chat HERE.
The students who host the virtual chats are studying on a range of our courses and most are in their final year of study so have plenty of experiences and advice to share.
MEET OUR STUDENTS
Tina Roe, 3rd year, BA (Hons) Fine Art
Following a Politics degree, a stint working in the Civil Service and a career as a Management Consultant, Tina decided to take a change of direction and embark on a Fine Art degree at the Art School. She was initially interested in painting landscapes and flowers but soon found her practice turning towards making large metal and wood 3D sculptures, which is the current focus of her work. Tina loves all aspects of her course, from spending time in the workshop facilities to attending art history lectures. When she isn't in her studio, Tina makes sure she spends lots of time with her family, going on long walks and getting lost in a good book!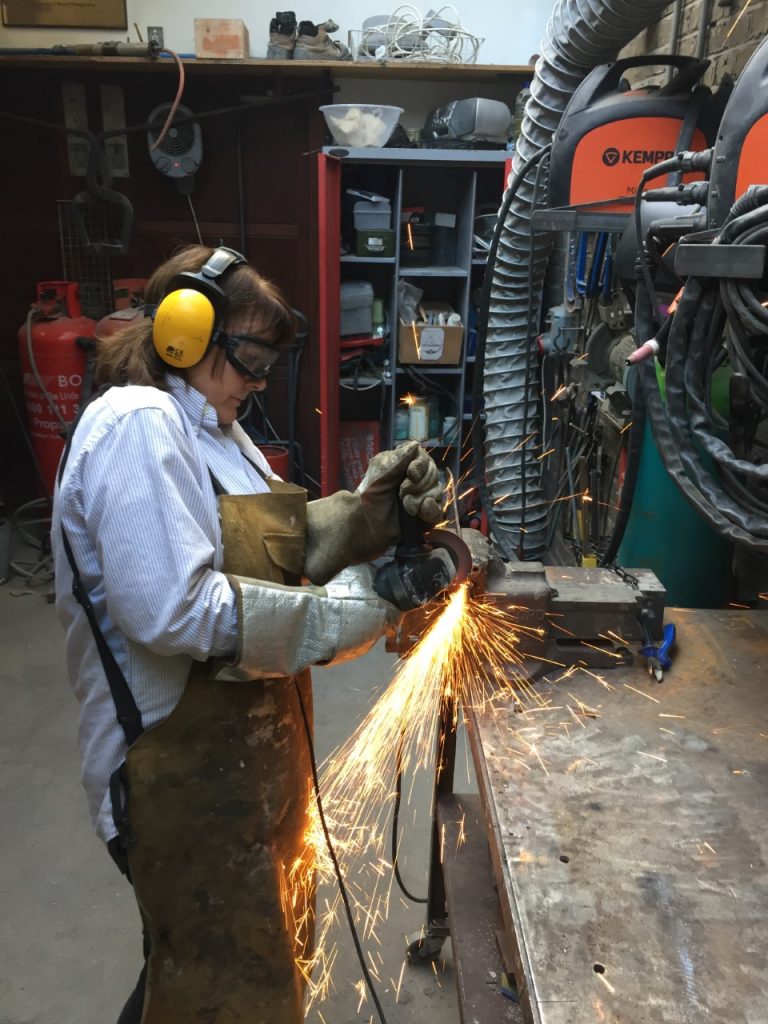 Tina working on a piece in the Art School's Metal Workshop
Cody Cochrane, 3rd year, BA (Hons) Conservation: Stone, Wood & Decorative Surfaces
Before coming to London to study Conservation at the Art School, Cody owned an antiques business in Toronto, Canada, repairing and restoring pieces she collected on buying trips to the Southern United States. The diversity of applied disciplines on the Conservation course is one of the things she enjoys most about her degree – no few days are ever the same! Following graduation, Cody hopes to go on to postgraduate study, specialising in preventive Conservation, and wants to work in the preservation of historic homes and properties. Outside of her studies, she loves nothing more than playing scrabble, collecting house plants and, when it's allowed, giving her friends a tattoo!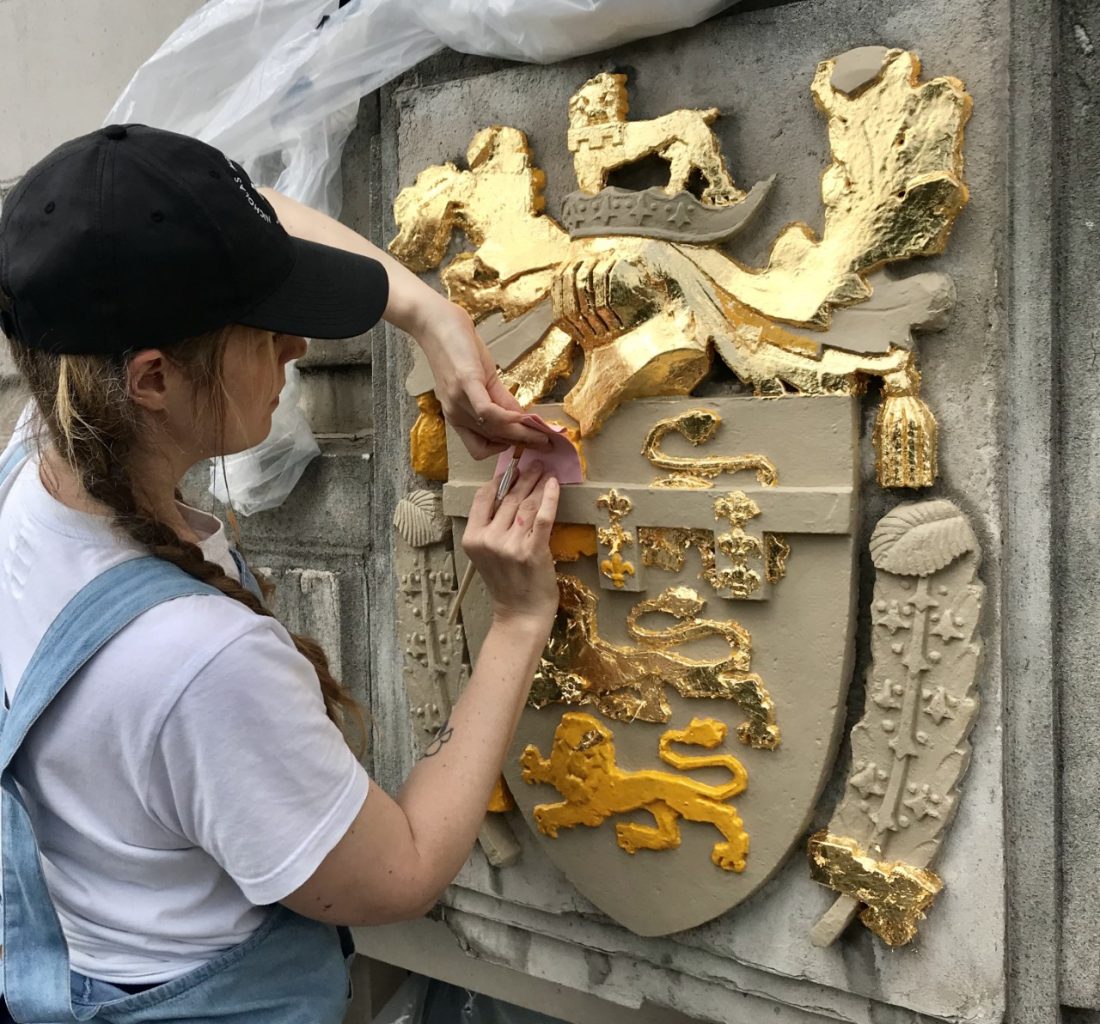 Cody applying gold leaf to the stone crest at Lancaster Place, the headquarters of the Duchy of Lancaster,  on a Summer work placement in 2019
Aysha Nagieva, Foundation Diploma Art & Design, 2018; 3rd year, BA (Hons) Fine Art
Aysha studied Foundation at the Art School and decided to develop her practice further and continue onto the Art School's BA Fine Art course. She tells us that the outstanding levels of support she has received from tutors and technicians at the Art School has helped her really challenge and extend her practice and develop as an artist. After graduation she wants to continue her practice and explore the world, and will consider a postgraduate Fine Art qualification in the future.  Aysha loves reading and writing and has a passion for true crime podcasts.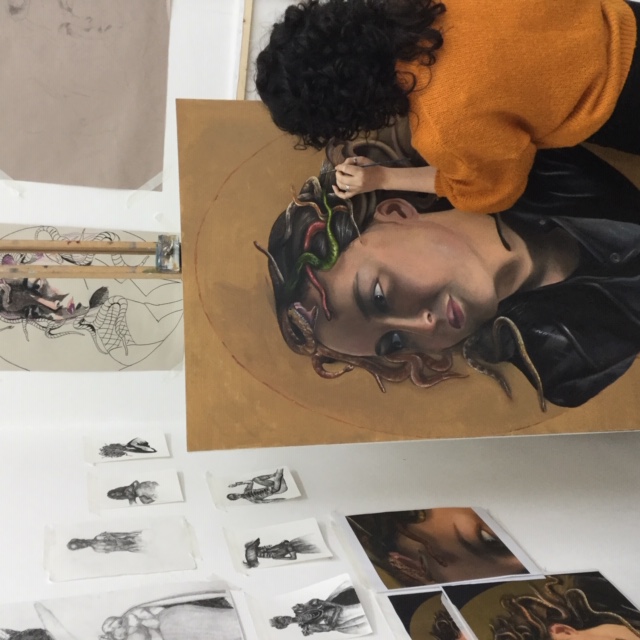 Aysha, in her second year, working on a piece in her Art School studio
Louise Davison, 3rd year, BA (Hons) Conservation: Stone, Wood & Decorative Surfaces
Louise gained a Fine Art degree at UCA Canterbury before coming to the Art School to study Conservation. In her first year on the course, she took part in a study trip to study Urushi (a Japanese lacquer) for two weeks in Japan, and it's the opportunities to travel and to work on fascinating conservation projects that Louise finds most inspiring about her course. She wants to go on to study MA Conservation at the Art School and looks forward to a global career in conservation. When she gets some spare time, Louise enjoys crafting, DIY and visiting art galleries.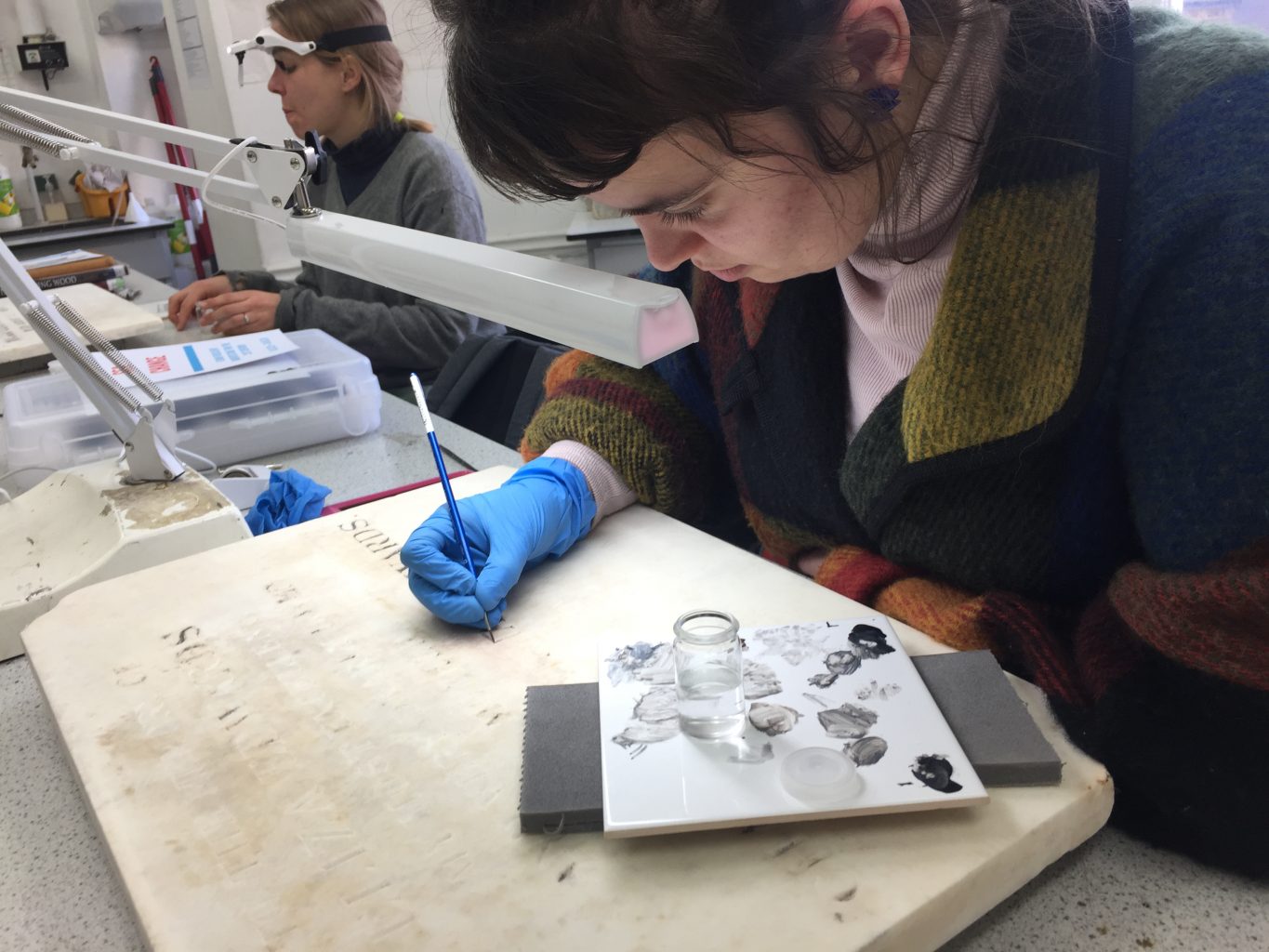 Louise carrying out conservation treatment on a memorial plaque from Kensal Green Cemetery in February 2020
Joanne Grogan, 1st year, BA (Hons) Historic Carving: Woodcarving & Gilding
Having worked as a fashion designer for the last twenty years, Jo took the brave decision to make a career change and cultivate new skills on our woodcarving and gilding degree course. Although this has been a huge step for her, she is never happier than when she is in her studio, using the tools she is becoming acquainted with, and learning from master craftspeople. As a creative and hands-on person, Jo unwinds by pursuing her passion for painting and drawing, and when she gets the chance, she spends time in her local park enjoying the great outdoors and admiring passing dogs!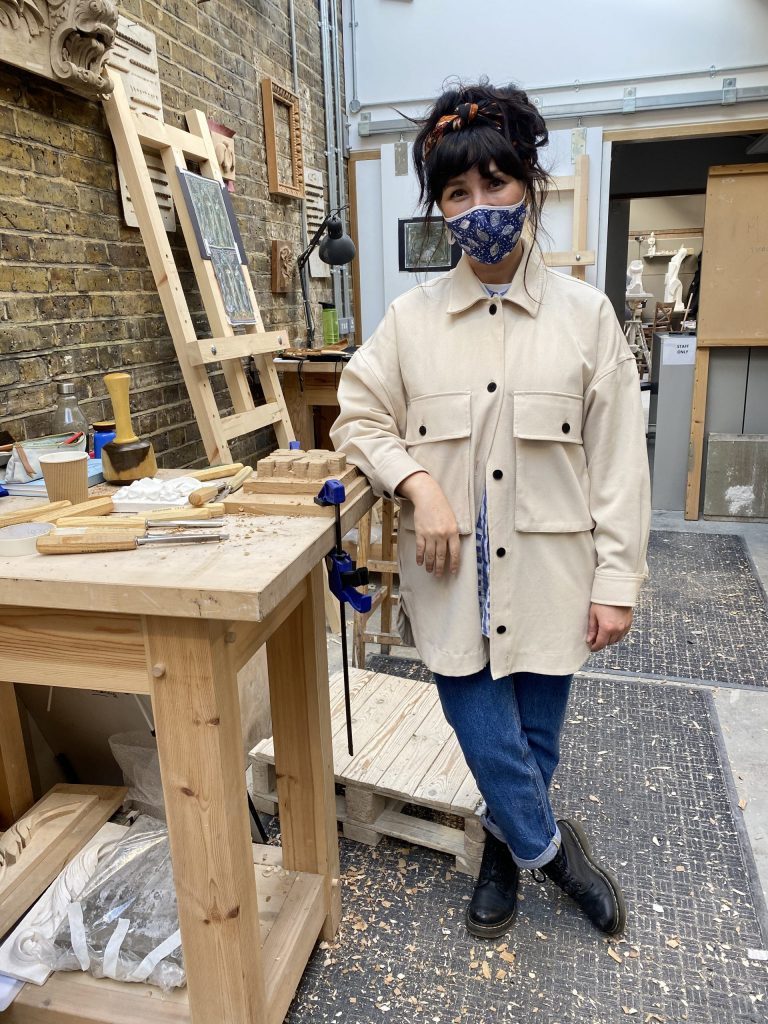 Jo learning to carve an acanthus leaf in the Woodcarving Studio at the Art School during the Autumn term.
To take part in a Student Virtual Chat, register for a place here.
To book onto an online open day, click on a link below:
Historic Carving
BA (Hons) Historic Carving: Architectural Stone
BA (Hons) Historic Carving: Woodcarving & Gilding
Art Histories