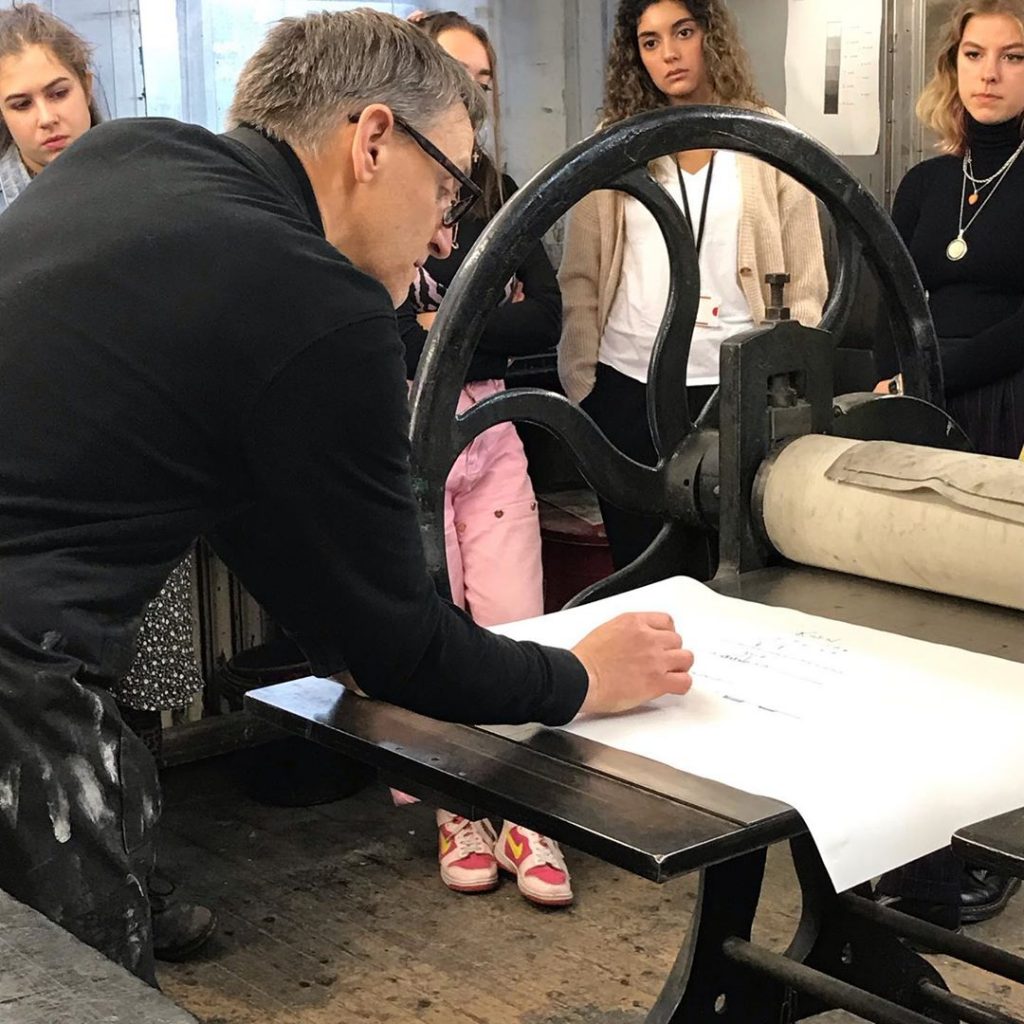 We are delighted to announce that, Head of Printmaking, Jason Hicklin, will be demonstrating the traditional intaglio print process during a free virtual event as part of the 2020 Woolwich Contemporary Print Fair. Vincent Eames, Director of Eames Fine Art, will also join Jason to discuss the importance of passing on traditional printmaking skills to new generations.
The free virtual session, which takes place via Zoom from the Art School's Print Room, will be held on Tuesday 24 November, 4pm – 5pm as part of the WCPF's online event programme. Anyone wishing to attend can register here.
HISTORIC PRINT ROOM
Established in the late 19th century, the Art School's historic Print Room offers a facility for printmaking open to every student across all our courses: Foundation Art & Design, BA and MA Fine Art, Conservation, Historic Carving and Art & Material Histories.
Professor Norman Ackroyd CBE RA ARCA was instrumental in re-establishing the Print & Engraving Room as a thriving centre for teaching and practice in the 1990s. We focus on the traditional intaglio processes which is taught by our Printmaking Tutors and Fellows, who are all practising artists working with etching. Students have the opportunity to achieve an understanding and gain the confidence to make the process their own through hands-on experience.  Our aim is to keep the bridge to the Old Masters open. As more and more colleges abandon traditional etching, this position is becoming increasingly unique.
JASON HICKLIN
Jason Hicklin's own work captures the feel of the weather and light and its effect on the landscape. Jason begins his work outdoors, walking and climbing through the terrain he wants to capture, often in extreme weather – a process that makes him feel part of the land itself. Charged with an atmosphere born of an intimate knowledge of the landscape, his work conveys the bleak essence of driving rain, when the mist closes down, and masters the polarities of bright skies and shadowed rocks.
Jason studied at St. Martins College of Art, where he was a student of renowned printmaker Norman Ackroyd. After completing a postgraduate course at the Central School of Art in 1991, Jason combined working as Ackroyd's studio assistant and editioner with producing his own work and teaching printmaking with us at the Art School.
Elected a member of the Royal Society of Painting and Printmakers in 1993, Jason has had numerous solo and joint exhibitions in the UK and abroad.
VINCENT EAMES
Vincent Eames is owner and Director of WCPF exhibiting partner, Eames Fine Art. Specialising in the work of established masters of Modern and contemporary art, Eames deals mainly in original works of art on paper; particularly original etchings, lithographs and drawings.
WOOLWICH CONTEMPORARY PRINT FAIR
Established in 2016 by  Fine Art alumnus Jack Bullen, Woolwich Contemporary Print Fair, has grown to become the UK's largest contemporary Print Fair. It features work from emerging artists alongside well-established names, providing an important platform for up and coming printmakers. Many Art School alumni, Tutors and Fellows have been selected to exhibit at WCPF over the years, including Polly Bennett, Kristina Chan, Catherine Greenwood, Laura Clarke, Geraldine van Hemstra, Jemma Gunning and Rachel Goodison.