Our 2019 Summer School programme opened on 15 July, with the first four of our eight specialist courses running until 19 July, and a further four courses starting on Monday 22 July.
This year, we are delighted to announce that four of our historic craft-focused courses have been selected to form part of the Michelangelo Foundation's inaugural Summer School Programme. Eight students and recent graduates from within their European network have been invited to attend the courses in order to broaden their horizons by exploring new skills beyond their specialised field.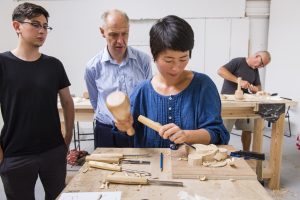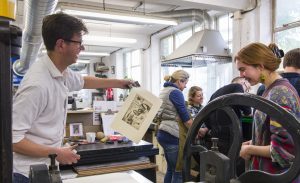 The four short courses chosen from our Summer School portfolio are:
–          Etching Fundamentals (New for 2019)
–          Stone Carving for Beginners
–          Introduction to Ornamental Woodcarving
–         Gilding and Verre Églomisé
The eight students chosen to participate are: Lexie, a ceramics student at Maynooth University in Ireland and Martin, a PhD design student at Slovak Technical University, Slovakia (Stone Carving for Beginners);  Lydia from the Design & Crafts Council of Ireland's Ceramic Skills
and Design course and Arne, a graduate of the Royal Academy of Fine Art Antwerp in Belgium (Introduction to Ornamental Woodcarving); Cécile, a fashion design graduate of HEAD – Genève in Switzerland and Claire Luna, a student on the Design & Crafts Council of Ireland's Ceramic Skills and Design course (Gilding and Verre Églomisé); Jenna, a textile graduate from the Ecole Nationale Supérieur des Arts Appliqués et des Métiers d'Art (ENSAAMA) in Paris, France, and Laura, a textile graduate of La Massana in Barcelona, Spain (Etching Fundamentals).
The Michelangelo Foundation's Summer School Programme aims to promote master craftsmanship and pass on traditional skills and knowledge to the next generation, a vision shared with the Art School. Other prominent European institutions included in their Summer School Programme are: Museu de Arte Popular, Portugal; Cité Internationale de la Tapisserie, France; Fluid, Belle-île-en-Mer, France.
Tamiko O'Brien, Principal of City & Guilds of London Art School, said: "The Art School is delighted to be partnering with the Michelangelo Foundation on the Summer School. At a time when digital technologies appear to question the need for the handmade, this is a timely intervention, and a fantastic opportunity for young artisans and designers to explore a craft tradition outside of their own specialism. It is essential that those of us who champion the dialogue between the eye, hand, material and intellect, collaborate to promote the very important role that traditional crafts play in society. Through this project we aim to stimulate, educate and encourage future makers."
We look forward to welcoming the students from the Michelangelo Foundation's network and hope they will find the courses a truly rewarding experience that will inform and develop their work as makers.